The main purpose of this visit was to catch up with old friends, to see new places and to try and see the sakura in full bloom. We had visited Japan in 1997 with a party of schoolchildren but the flowers were late blooming. Consequently, we hardly saw any sakura in bloom.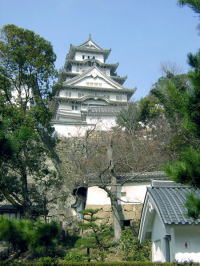 Himeji Castle
After arriving at Kansai airport and catching the train to Himeji, we dropped our luggage and headed up to the Castle for a night viewing. The Castle was majestic but unfortunately my photographs were not. We went back there the next morning to view it in daylight and we were equally pleased with what we saw. As we were leaving the grounds, an elderly gentleman came up and presented us with some photographs of the Castle taken at other times of the year. How kind.
From Himeji we travelled to Karatsu to meet up with our friends at Yoyokaku. This was, indeed, a fortunate decision. On our previous visit, we discovered that our mobile phone would not work in Japan and so we had decided to buy a phone when we arrived. Little did we know that only Japanese residents could purchase mobile phones. However, after a quick phone call, Den came down to the shop and purchased it on our behalf. How kind.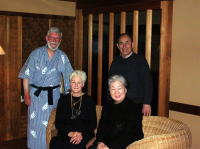 David, Ann, Harumi, Den
As usual, we had a wonderful time at Yoyokaku and as we were leaving, we were introduced to Harumi's mother, a dear old lady. Den travelled with us on the train to Hakata where we parted and we carried on to our next stop at Nagoya.
It was here that we had a problem over our reservation. Asuka, our Japanese 'daughter', had made the reservation on our behalf. The problem was that she had made it in Japanese and had spelled our names in katakana. At the desk, I spelled my name in English and the desk clerk could not match the two up so I had to make a call to Asuka to sort it out. Thank you again Den. We had stopped in Nagoya so that Ann could visit the Noritake Garden, as she is very interested in china.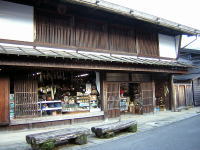 Tsumago street
From Nagoya we travelled up into the mountains to stay at the small post town of Tsumago. The minshuku (Fujioto) at which we stayed made us very welcome and the quality of service, food and accommodation was excellent. The next day we travelled to Magome by bus and walked along the Nakasendo back to Tsumago. It was a beautiful walk.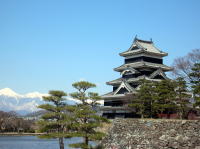 Matsumoto Castle
Our next stop was at Matsumoto where we visited the Castle, the City museum and the Timepiece museum, all of which were well worth visiting. It was then down to Kanagawa to stay with friends where we had a really enjoyable time. One of the highlights of the weekend was our visit back to Kamakura. Here we managed to see some new temples as well as visiting some old favourites. We then went on to more friends at Susono. It was here that we first had a look at sakura in abundance. We also had some majestic views of Fuji san.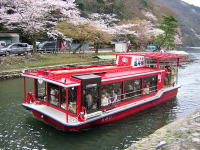 Pleasure boat on Oigawa, Kyoto
The final few days of our brief visit to Japan were spent in Kyoto. When we arrived at our Ryokan, we were informed that they had no record of our booking even though they had faxed confirmation to us several months before. We went down to the "Welcome Inn" centre at the station where they they found us a very nice place to stay. During our time in Kyoyo we made a lightning visit to Kanazawa. There were two reasons for this, the first was to have a look at Kenrokuen in spring and the second was to stock up on our favourite Japanese sweet, the "shoga fune" ("Ginger boat") biscuit. As we had a Japan Rail pass, the journey to Kanazawa was free. We also visited Arashiyama where once again we found the sakura in its fullest splendour. It was while we were here that Ann wanted to purchase some dolls for our granddaughters but unfortunately, the shop was unable to take credit cards. So I set off to walk to the post office that was about two kilometres away. I had to ask directions from a lady who was riding her bicycle and she very kindly escorted me to the post office where I was able to draw some cash from the ATM.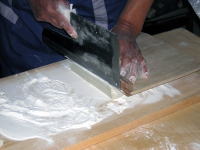 Cutting Soba noodle
On our last full day we went to visit some friends in Nara. While we were there, Mr. Tanaka made some soba noodles for us, which were delicious.
Then, after an all too brief visit it was time to head back to Australia. But we do have lots of photos and memories of wonderful, friendly people.