Ann and David's trip 2002


Hello, friends.
I would like to introduce you Ann and David Maclennan who live in Tasmania.
They were here last year. They had a most wonderful world trip.
I asked David to let other people see what they saw in Japan last autumn.
Autumn in Japan is so beautiful.

Enjoy your trip with Ann and David!



---
Ann and David's trip 2002
by David Maclennan

It originally started out as a three-month trip to Japan. We had already visited Japan in springtime, early summer and winter and wanted to go back to see the beautiful colours of the trees in autumn. We started planning over three years previously. To start with, we wrote to every Tourist Information Centre in Japan and received massive amounts of information. We wanted to go to places that we had not been to before. We also wanted to visit our friends in Japan.

Through the information we had received as well as reading various books on Japan, we decided that we wanted to visit Karatsu and particularly the Kunchi festival. We first wrote to Yoyokaku in the middle of 2000 requesting to stay on first night of the festival. Harumi told us that they were full on that particular night but could accommodate us the following night. This we accepted.

About a year later, we realized that Ann's mother was becoming very frail and that we should take the opportunity to visit her. This completely changed the complexion of the trip and we decided that we would visit places around the world that we had not yet seen. We purchased an "around the world" ticket and planned to visit Thailand, India, Austria, Hungary, Czech Republic, Switzerland, Canada, Hong Kong and Singapore. By doing this we shortened our time in Japan from 13 to 7 weeks.

Nevertheless, we still managed to visit most of the places that we had planned to go to in Japan. The only real difference was that we did not get to spend the amount of time we would have liked to at each place.

All our travel in Japan was done by public transport mainly using JR rail passes and staying mainly in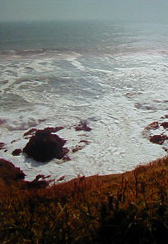 Waves of Cape Erimo

Ryokan, Minshuku and the like. We flew into Kansai airport and spent our first night in Kyoto at the Ryokan Hinomoto where we had stayed on several previous occasions. From there we caught the Shinkansen to Morioka before arriving on Hokkaido the following day. One of the places that we stayed at was a small village called Ogifushi, about two hours travel north of Cape Erimo which we visited; the waves there were awesome. I had not realized that it was a public holiday and that the buses ran on a different timetable. We missed our connection for the train in Samani. Luckily there was another gentleman who had done the same thing and he called a taxi on his mobile phone and asked us to share it with him. While on Hokkaido, we also visited Kushiro, Sounkyo and Sapporo. Wherever we went, the people were most helpful and kind.

We moved on to Honshu and caught the local trains from Aomori down the Rikuchu Kaigan coastline. Unfortunately, it poured with rain and blew a gale for most of the day and we did not really get a good look at the beautiful coastline. That night we stayed at a small town called Miyako, where we were met off the train by Sasaki Masato and his family. We had originally met on the Internet when I was trying to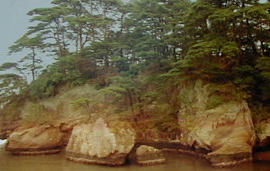 Matsushima

book accommodation. They took us out to dinner and on to a karaoke bar which was a completely new experience for us. The following evening we arrived in Matsushima and stayed for a few days stay, visiting Yamadera as well.
The next port of call was Nikko and the colourful Toshogu shrine. From Nikko we traveled to Kawasaki where we stayed with the Matsuo family, our friends of 12 years. It was great meeting up with them after four years absence. We then went to Susono to stay with the Osada family whose daughter, Moena, we had hosted for several months the previous year. Once again we had a really wonderful time, including a trip part way up Fuji-san.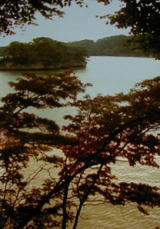 Matsushima


We left Susono early in the morning and made the long trip to Yufuin on Kyushu. Ann wanted to go to the porcelain area in the Saga Prefecture as she had started her working life in a China store in England. We were lucky enough to arrive in Imari at the time of its autumn porcelain fair. Then it was on to Karatsu and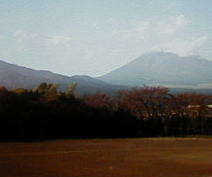 Mt. Fuji and Susono

Yoyokaku.

Luckily we arrived early, even as guests were still leaving. This, however, did not faze Harumi in any way whatsoever. She had been trying to contact us via E-mail for a few weeks, not realizing that we were traveling around the world. It was a very, very warm welcome but she pushed us out of the doors almost immediately as the Kunchi procession was due to start and she knew that this would be our only chance to see it.

We walked quickly to a vantage point and we did not have to wait for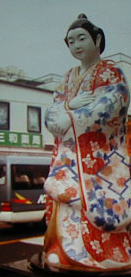 Town of Imari

too long before the action started. Although the weather was overcast and cold we did not really notice it. The different floats were quite magnificent and it was interesting and heartwarming to see the very young children taking part in pulling them. It was only when the procession had finished that we noticed how cold we were and we headed off to get a cup of coffee and something to eat from a roadside stall. We made our way towards the station along streets packed with all sorts of goods for sale, which made a dull and cloudy day appear so much brighter. It was such a shame that the sun did not shine. After we had visited an internet cafe at the station, we walked back through the town and up to the beach which was bounded by thousands of pine trees. It was now getting late in the afternoon so we headed back to Yoyokaku where once again, we were greeted like a long lost friends.

Harumi and one of her maids escorted us to our room and sat talking to us for quite some time while we drank some tea. This made us feel quite at home. We rested for while before getting ready to go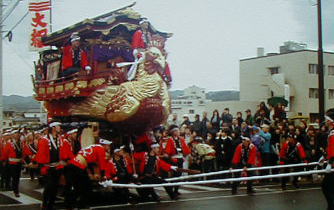 Karatsu Kunchi Festival

down to dinner. The dinner was really quite a sumptuous affair, the main course was a gigantic fish. The service was magnificent as the maids filled both your plate and glass as soon as you had finished it. It took nearly three hours before we were finished and after that we sat and talked and sang and even danced before going off to bed a couple of hours later. What a wonderful evening we had had. Well worth the effort to visit this small town which is off the normal International tourist route.

Our next stop was at an even smaller place called Takabe just out of Okayama. We stayed at an international villa and the room was quite comfortable even though it housed the smallest bathroom we have ever seen. During our stay there we visited the sights in Okayama and Kurashiki.

Our next stop was with another friend who lived in Atsugi. Once again we had met through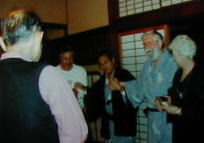 Party at Yoyokaku

corresponding by E-mail. They had, however, come out to Australia the previous year and we had met up with them for the first time in Melbourne. The Tagami family took us to some interesting places and we watched a Shichi-go-san ceremony for the first time.

Kanazawa and the Noto peninsula were the next places that we visited. We love the Kenrokuen garden in Kanazawa, having visited it in the other three seasons. Four days later, we were on our way to Takayama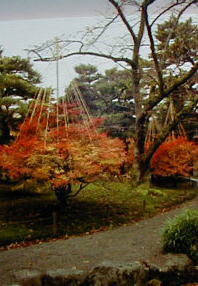 Kenrokuen

for an overnight stay before making our way by bus to Shirakawago. This is a small village way up in the mountains and the ground was covered with snow when we arrived. The houses have very steep thatched roofs to combat the heavy snow that is experienced in winter. The Minshuku at which we stayed was very comfortable and the conversations with the other guests at dinner were most enjoyable.

It was at this point on our trip that the first major problem in travel occurred. We had booked seats on the Shinkansen from Nagoya to Yokohama and we had intended using a JR bus service out of Shirakawago. This was to connect with the local train from Minoshirotori that took us on to Nagoya. Unfortunately, this bus service had ceased several months previously but the gentleman in the information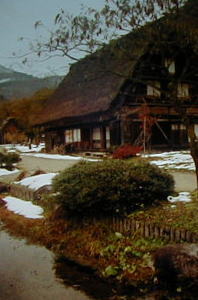 Shirakawago

office was able to find us an alternative route to Nagoya by back tracking by bus to Takaoka.

We duly arrived on time in Yokohama to meet up with the Matsuos once again and spent a few more days with them before heading off to Kyoto. We always have a wonderful time with the Matsuo family and this was no exception. Sachiko, the mother, is a wonderful cook so meal-time is indeed a feast. Asuka, her daughter, who had stayed with us for a year as an exchange student twelve years previously, took us out for two glorious meals. I have always wanted to eat 'fugu' but have never had the opportunity. Asuka made sure at this wish came true.

It was when we got to Kyoto that we were able to see the autumn trees in their fullest splendour. The walk down the philosopher's path from Ginkakuji was quite breathtaking, as were the trees that were lit up at night in the grounds of the various temples. After a wonderfully relaxing week in Kyoto, it was once again off on a plane, this time to Hong Kong, to meet up with family and friends as well as a day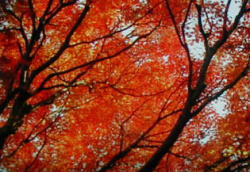 In Kyoto

trip into China. From Hong Kong we flew to Singapore for a few days before heading back to Melbourne and home.

Even though we were exhausted when we arrived back, we had met so many wonderful people and had so many magnificent memories, captured on over 1200 photographs, that the whole trip had been absolutely worthwhile.

---
Thank you , Ann and David!
I envied you and probably those who read this page also did.
Now, David, would you please introduce yourself? My friends who read this page regularly will want to know who these new friends are.
.



We were both born in England some 65 years ago. Although Ann's cousin, Ian, was a friend of mine, Ann & I did not meet until another of her cousins, Joan, came over from Canada for a holiday with her friends. Ian & I went to meet these foreign girls at his grandmother's and Ann was also there at that time. Ann & I did not meet again for several months when, on vacation from University, I took her to the cinema.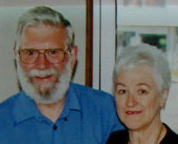 David and Ann

We were married three years later in 1962. Our first son was born just over a year after that and we then decided to leave England. I applied for several teaching positions in various parts of the world and we eventually chose to come to Tasmania, the southern most state of Australia. Our second son was born in Tasmania and about one and a half years later, I joined the Royal Australian Air Force as an instructor and was posted to Wagga Wagga in New South Wales. Our third son was born while we were there.

We did not like the high temperatures during summer in NSW and decided to move back to Tasmania in 1969, where we have lived ever since. We built our first house with help of a couple of teachers in the Manual Arts Department who had previously been in the building trade before taking up teaching. During the six years that we lived in that house, both sets of grandparents came out from England for a visit to see their grandchildren. Not long after they had left, a real estate agent came and asked if we wanted to sell our house. The offer that was being made was too good to refuse and we had to start looking for somewhere else to live.

We eventually chose to move up to our present home, which was set on ten acres of land and 20km from town. The house was over 60 years old and rather rundown, so the children and I set about refurbishing the place and that process took several years. The farm, at least that was what we called it, was really great while the children were growing up. We had all sorts of animals ranging from horses and cows to ducks and hens. At one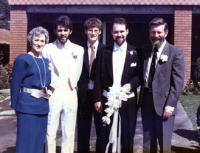 Ann, Iain (eldest), James (youngest),
Alan (getting married) and David.

stage we had a flock of over 50 stud sheep. These were quite valuable animals and when they were lambing, the boys and I took it in turns of checking them every couple of hours during the night. They thought that this was great fun.

Not long after we had moved up to Preston, Ann started to take any interest in beauty therapy, which she did part time. This became more and more a full-time interest once the boys had finished their education. That was also when we felt that we were able to take a holiday for the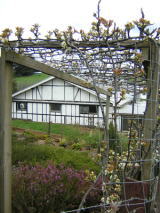 The back of the house taken from part of the garden. The tree framing the picture is a Nashi pear


first time, not having been back to England in nearly 25 years. It was while we were in America visiting Ann's sister that we heard that the person who owned the beauty salon had tried to commit suicide and when we got back we made an offer for the business, which was accepted.Ann's salon has grown over the intervening years and even though I have retired she still continues to work for the love of her occupation. Since retiring from teaching, I have started a new project, that of saffron farming. It will be several years yet before we know whether it is going to be successful or not.

We have made the several trips around the world to meet up with friends and relations who are scattered to all four points of the compass and on our last trip we made it to Karatsu as you can see from our contribution to Yoyokaku's web-site.


Thank you so much, David. I think it is spring in your country now. Are you enjoying beautiful days?
Thank you too, my readers. I hope you enjoyed meeting David and Ann on this web-page.

---
Thank you very much for visiting this page.
I hope you will return next month.
Yours, Harumi Okochi
Proprietress of Ryokan Yoyokaku







Mail to Harumi Okochi