Surprises of joy and disappointment.
The trip of 2011.
by David MacLennan
Let me say at the start that there were not too many disappointments as you will find out as you read this tale, but there were many pleasing surprises. I am sorry for the length of this essay but we were in Japan for nearly two months.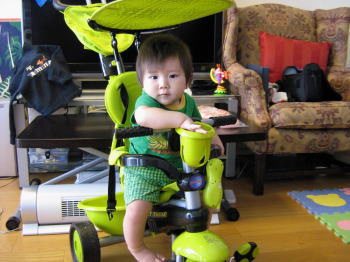 Kaito and his new bike
This seven week trip had been some time in the planning as we wished to meet with all our friends as well as visiting several places not yet visited. Our first port of call in was in Tokyo with the exchange student that we had hosted over 20 years ago. This was a must as her son Kaito had his first birthday while we were there and we went to Disneyland for his birthday lunch.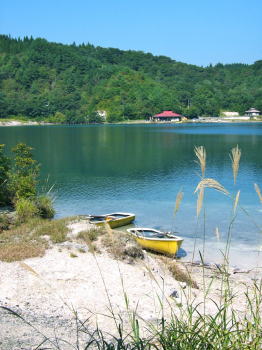 Katanuma-ko
From there we went to Naruko Onsen which we had visited once before but had not seen all there was to see. This time we walked up to Katanuma-ko to see this lake. It was a very steep and tiring climb in the heat but well worth the effort. We called in at the cafe for a welcome drink and asked how long it would take to walk round the lake and was told it would be about three hours. I think the true answer was lost in the translation as it only took us just over 30 minutes.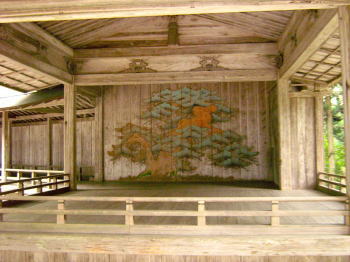 At Chuson-ji, Hiraizumi
We had wanted to go to Hiraizumi because of its application for World Heritage listing. It obviously has great meaning as far as the historical value is concerned but it was one of the disappointments. We had expected so much more than was there. Motsu-ji was very pleasant but with little more than a nice stroll garden and lots of areas where there had been significant structures in the past but now only blank spaces. The following day we walked up to Chuson-ji which we found even less picturesque and interesting.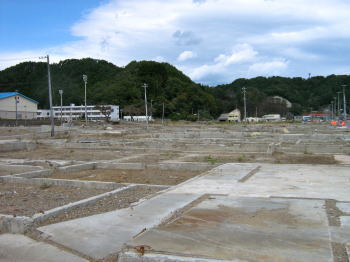 Tsunami damage in Miyako
Next we visited some friends in Miyako on the coast which was hit by the Tsunami. They were extremely lucky as the tsunami stopped about 400m from their neighbourhood. We arrived on a day of the annual fair and enjoyed the various exhibits and were entertained by a group of ladies dancing.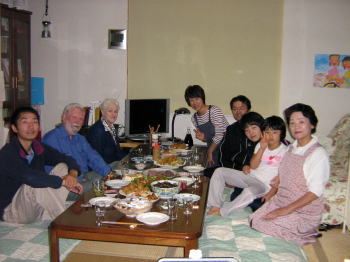 At Keiko-san's birthday
We also found out that it was Keiko-san's birthday that day so we ended up having a second birthday celebration on the trip. Two pleasant surprises on one day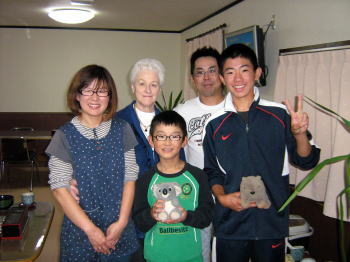 The Yoshida family, Ogifushi
From here we overnighted in Hakodate before continuing on to Ogifushi near the southern tip of Hokkaido. On the second day, we went down to Cape Erimo and had another pleasant surprise. On a previous visit about ten years ago we had paid ¥2600 each for the return trip from Samani station. This time JR Bus had taken over the service so we were able to use our JR Pass.
We left Ogifushi the next day after a night of heavy rain and the train ground to a stop about halfway to Tomakomai due to the track being flooded. We were sitting there for nearly three hours. By the time we arrived in Sapporo we were a little behind schedule and did not get down to Susukino and only got out to a Soba Restaurant that had been recommended to us. The restaurant was extremely busy and noisy but was a great experience.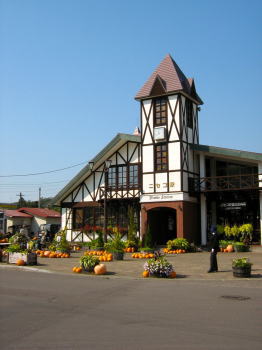 Niseko Station with pumpkins
The next morning we caught the train to Niseko. We stay at a Pension at the bottom of Mt Annupuri where there are nature walks and a Cable Car ride almost to the top. Niseko was having their Halloween a month early as it interferes with their normal festival calendar. Everywhere was decorated with pumpkins and round the station the street was lined with hundreds of painted ones. Another pleasant surprise.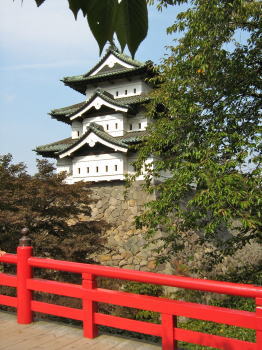 Hirosaki Castle
(Natiomal Important Cultural Property)


Next stop was Hirosaki where they were getting ready to celebrate their 400th year. What a shame we were a week too early but the Castle Grounds were nearly ready in their fullest splendour. From Hirosaki we took the train along the northwest coast to Kakunodate. The scenery along the coast was spectacular and well worth the ride. Kakunodate was a little disappointing but the next stop at Aizuwakamatsu made up for it.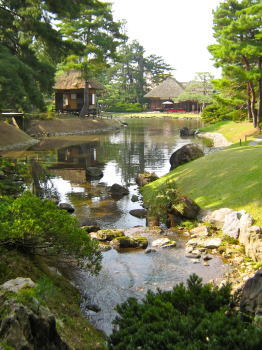 Grounds of Oyakuen
We did not get to see as much of Aizuwakamatsu as we would have liked and there is still more to see so maybe another trip is deserved. The Castle and grounds are wonderful and we visited a place called Oyakuen. This was the residence and grounds of a local noble. In the grounds there is a medical garden full of plants with various medicinal uses which proved very interesting.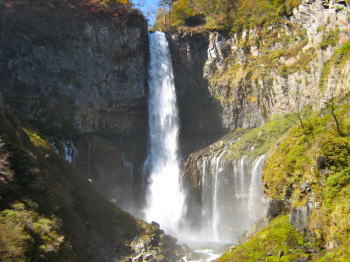 Kegon Fall, nikko
We went to Nikko next. The owner of the minshuku where we stayed asked if we were going to the Autumn Festival that day but we did not know about it and had planned to go up to Lake Chuzenji and the Kegon falls. Autumn was in full swing on the hills around the lake. It was our first true glimpse of the autumn colours that we had planned to see at most places on our visit but the continuing warm weather had denied us the pleasure until now. When we arrived back, our host enquired if we had been to the festival and when we replied in the negative he said it did not matter as it was on again in the morning. The parade was quite spectacular with about 900 participants all in period costumes and playing various roles. Another pleasant surprise.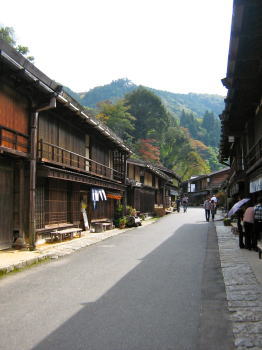 A street in Tsumago
From there to stay with various friends in the western outskirts of Tokyo before heading to Nagoya where Ann wanted to visit the Noritake porcelain factory. She was rather disappointed as it turned out that it was closed on the day we were there and we had not checked that it would be so on a weekday. From here we went up to Tsumago, an old village about an hours train ride east of Nagoya. It was a post town on the Nakasendo, a road from Kyoto to Edo. With the coming of the car it was doomed into a slow death. However, the people decided to make it a tourist destination by keeping it as it was in the 1850's. No cars are allowed in the streets between 8am and 4pm. There is a great walk of about 11 km between Taumago and Magome along the Nakasendo. We have stayed at Ryokan Fujioto on several occasions and we had a pleasant surprise as our host took us out in his car to a beautiful spot in the Kiso valley for a walk along the river to a beautiful waterfall.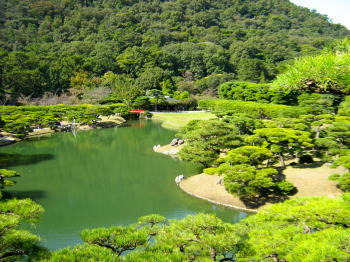 Ritsurin Park
Our next stop was at Takamatsu on the island of Shikoku. Ann had not been there before and the only time I had been there was in the middle of winter. We had a wonderful three days there, visiting Ritsurin Park where a young couple had just got married and were posing for their wedding photos and kindly allowed me to take one of them for my collection. After Ritsurin we went to the Castle where there was a Flower show. The following day we went to Shikoku-mura, a historic collection of houses spread around a scenic park. We spent many hours looking and learning. While we were in Takamatsu, we found a small restaurant that served the best tempura that we had ever tasted in our Japanese travels.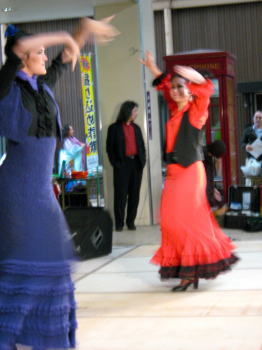 Flamenco dancing
It was then on to Yamaguchi where we struck their "Spain Fiesta", which we did not know was on, and had an excellent afternoon watching the performers and the exhibits.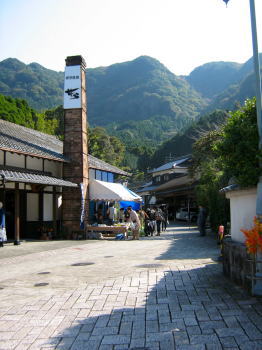 Porcelain fair. Okawachiyama, Imari
We went to Imari with the express intention of visiting the Porcelain Fair at the village of Okawachiyama. It is beautiful little village and we met up with a famous potter who has his kiln there and viewed some of his collection of beautiful old pieces.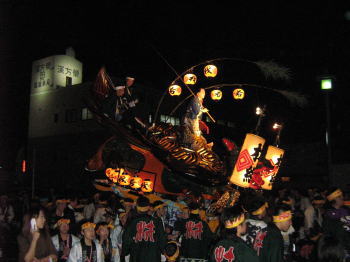 Night parade
Then it was on to Karatsu and the Kunchi Matsuri. We were again surprised by the evening parade which we did not know about and it was quite spectacular, as was the daylight festival the next day. That evening there was a wonderful dinner at Yoyokaku, with the added interest of entertainment by some of the musicians from the parade.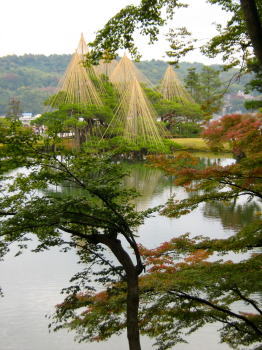 In Kenrokuen, Kanazawa
The next day we travelled to Kanazawa and what did we see? Another wedding party. But now for one of the major disappointments of the trip. In our travels we had met up with two sets of fellow travellers, one from Sydney and the other from New York. They were going to Kanazawa and we told them about a tremendous Okonomiyaki restaurant there and told them they must eat there. Imagine our horror when we found that it was not there. The Department Store had been taken over by another group and there was a different Okonomiyaki restaurant close-by. It was terrible, just terrible. No service and the food was so poor after what we had eaten for many years in the other restaurant. We truely hope the fellow travellers did not go there for a meal.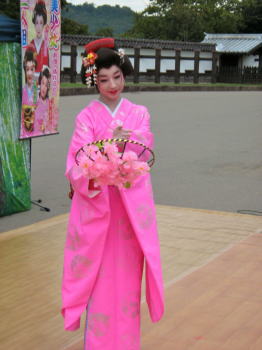 Dancing at Kanazawa Castle
We came across some traditional Japanese dancing in the grounds of Kanazawa Castle. It was another beautiful surprise. It started to rain and we had left our umbrellas at our hotel. Imagine our surprise in learning that we could borrow them from the Castle Information Office and leave them at our hotel to be picked up. What a service. Thank you Kanazawa Council.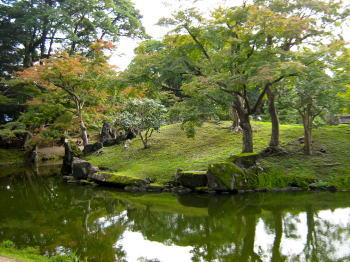 In the Castle Grounds
We next went to Hikone and viewed the Castle and Grounds. In the grounds there was a photo shoot for a Magazine with about six photographers there and it was a wedding shoot. We were even able to get the models to pose for us. They were so kind and considerate.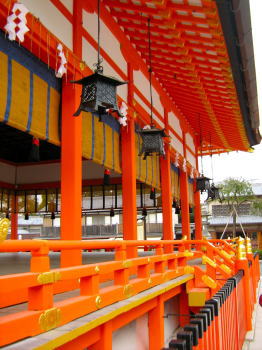 At the Fushimi Inari shrine
Lastly we visited Kyoto and met up with an exchange student who had stayed with our son and his family two years before. We went with her to Arashiyama and had a good day out. The following day we went to the Fushimi Inari shrine for the first time and thoroughly enjoyed it. And that was the last of Japan for this trip and we are looking forward to the next one in 2013.