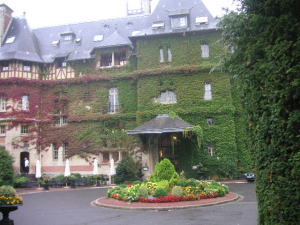 Chateau de Monvillargenne

August 22, 2007
 Left Karatsu at 7:00am. and arrived at the Aeroport Charles de Gaulle at 7:30pm (Japan time 2:30am next day). Rain outside. A little chilly. I have heard that in Europe the weather was also abnormal and that it would get cold sooner than usual. So I was prepared for the coldness. Our accommodation today is in Chantilly. 40 minutes' drive from the airport. We arrived at Chateau de Monvillargenne. Soon after check-in,
I jumped in the bed even without unpacking.

August 23, 2007
 Breakfast at 6:30am.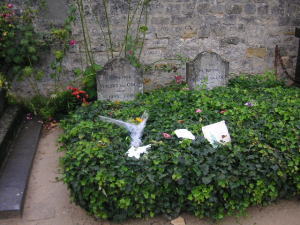 Auvers-sur Oise

Satisfied with the abundant buffet. Stepped out from the terrace and from the garden looked at the architecture. This chateau was built by the Rothschild Family in the 19th century and changed to a hotel in 1985. It has 120 guest rooms, and this is the biggest chateau hotel in France.
Chantilly is a town famous for training race horses. Today, there is a horse-show called ' The Spectacle'. In the morning we went to Auvers-sur Oise. This is the tomb where Van Gogh sleeps next to his brother Theo. Saw the rye field and the church Gogh painted, and then went to Ravoux Inn. Saw the loft where Gogh passed away. Then we had a lunch at the restaurant which was designated as a Historical Architecture, being renovated completely. Our lunch was: Pressee de Laperean sur Lit de Salade de Lentilles de Pub, and Beanquette de vean a l'ancienne. Wine, Cotes de Bourg 2004. Went back to Chantilly and entered Le Chateau de Chantilly.
4:30pm The Spectacle of Musec du Cheval was full with families. Dinner at An Soleil de Moroc. We tried Kuskusu and Morocco wine.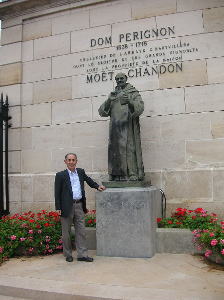 Statue of Dom Perignon

August 24, 2007
 Checked out at 8:00am. Left Chantilly for Reims, 150km east. Saw the Cathedrale Notre Dame and Capelle Foujita. Had lunch at a small village before Epernay. Arrived at Moet et Chandon Company. Beside the entrance there is a statue of the monk Dom Perignon. At 2:30pm we were guided by a Japanese guide. Learned about Champagne, being a mixture of the three species of the grape, Chardonnay, Pinot Noir, and Pinot Meunier with some liqueur. To complete a bottle it takes so much time and labor. Degustation of Grand Vintage 2000, white and rose. We crossed a bridge over the Marne, and went up the hill to the vineyard. The town of Epernay was below our eyes, and looking at the green hillside and the blue sky we were quite excited with the anticipation of the vineyard tour. Via Troyes went into Bourgogne. 200km South from Epernay, and arrived at the Chablis vineyard. We stopped our car in front of the Les Cros field of Grand Cru. Arrived at Auxerre at 8:00pm. The bridges over the river Yonne, and the buildings alongside the river are lighted up. and the boats filled the shore. Checked in at Hotel Maxim. Dinner at La Ptete Beursauded. Ate the famous Bourgogne stakes. Wine, Irancy red.

August 25, 2007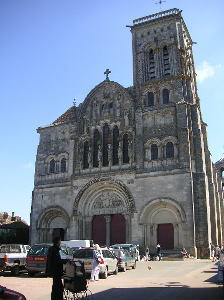 Basilique Ste. Madeleine Bourgogne

 I watched the foggy river. Unfamiliar scenery for me. Foggy morning will herald in a clear day. The town was crowded with antique markets. Visited Cathedrale St-Etienne and saw Fresco pictures on the ceilings of the underground Crypte.
At 10:00am went to the town of Chablis. We do not see old buildings here, and that somewhat dissatisfied me. Many places were closed because it was Saturday. Went into the Domain Camus. We tried Chablis Grand Cru here.
12:00 arrived at Vezelay. The road up to a World Heritage, Basilique Ste. Madeleine Bourgogne was too crowded with sightseeing guests,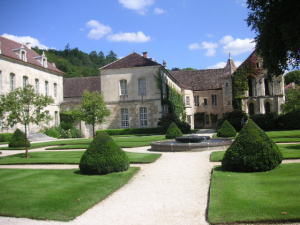 Abbay de Fontenay

so we went up the back path. From the terrace there we had a view of the wide vineyards of Bourgogne.
2:00pm Visited Abbay de Fontenay which was built in the 12th century. This is also a World heritage. This abbey stands so quietly in a forest, and the sightseeing people are not too many. I felt a solemn feeling again just like I did 5 years ago here. 3:00pm We entered an village, named Flavigny sur Oserain, where we found a sign-board to tell that this is one of "The beautiful village of France" (L'un des plue beaux villages de France). We had apple pie and coffee at a cafe run by the village folk. 141 villages in all France are designated as the Beautiful Village of France. One of the conditions is that the population should be less than 200. This village is famous because the movie 'Chocolat' was filmed here. 5:00pm At the river side I took pictures of the old streets of Semur en Auxois. 7:00pm Arrived at Chateauneuf en Auxois. Stayed at Hostellerie de Chateau. This chateau is on a hill in a flat field, and from the castle both sunset and sunrise can be seen on the horizon. Before dinner, we saw a beautiful sunset. Dinner at L'Auberge du Marronnier. It was nice to see Mr. Gay, the owner, again. We enjoyed escargot and sausage terrine. Wine, Corton-Charlemagne 99 and Echezeaux99.

August 26, 2007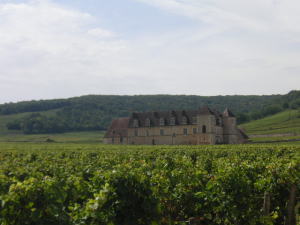 Chateau du Clos de Vougeot

 From Chateauneuf to the city of Beaune is about 30 minutes' drive. Simple breakfast at a cafe in midtown. Visited Hotel Dien, Muses duVin, Marche auz Vins and in the afternoon, went to ALoxe Corton and went through Cort de Nuits, the world-widest Pinot noir vineyards. We also saw Nuits-St. Georges, Echezeaux, Vosne-Romanee fields. Quite excited to see the adoring Romanee-Conti yard. Many people come to see this field in stone walls. There was a sign not to enter the yard. It is strange that the same species of grape differ in the taste according to the soil. We dropped in Chateau du Clos de Vougeot, which is the symbol of the Laconfrerie des Chevaliers du Tastevin, and is a representative Cote de Nuits architectures. The huge grape presser, which was used by the monks in the 14th century, and a banquet room. At Le Chateau de la tour, inside Clos de Vougeot, we tried Clos Vougeot 2000.
Through the village Gevrey-Champbertin, we went to Dijon, and visited the Musee des Beaux -Arts of the Palais des Ducs et des Etats de Bourgogne. 7:40pm Went back to Beaune and checked in the Tulip Inn. We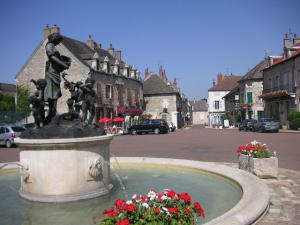 Meursault Village.

were invited to dinner by Mr. and Mrs. Henry Montagny in Volnay. They visited us in Karatsu in February, 2007. Mrs. Montagny had prepared for us the famous Coq auVin since a few days ago. Mr. Montagny went to gather wild escargots. Wine: Kir, Savigny 2000 white, Pommard 2001 red, Volnay 1989 red.

August 27, 2007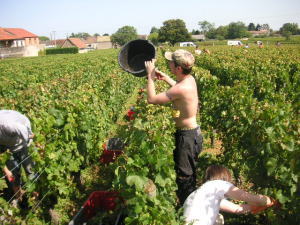 Harvest in Puligny Mont Rachet

 In the morning, we visited Mr. Montagny's carv to say thank you. We asked him to let us buy his Volnay 89. Lunch at Les Arts in Meursault Village. Here, folks were harvesting the grapes in Puligny Mont Rachet. We saw the yard of Chassagne-Mont Rashet. These are the world best quality white wine makers. We saw Rochepot castle.
6:30pm Checked in the Hotel de la Post in Chagny. We dined together with Mr. and Mrs. Montagny at Lameloise. The course dish was fabulous, and I was amazed with so many kinds of desserts.
Wine: Coups de Champagne, St. Aubin les Chamois 2002 white, Vosne-Romanee les Bossieres 1996 red. While we were dining, Mr. Jaques Lamloise came to our table.


August 28, 2007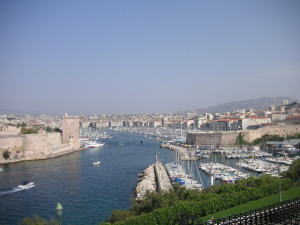 Vieux Port, Marseille


 7:28am Left Chagny by train to Lyon Part Dieu. Caught taxi to Vieux Lyon, and rode the cable-car up to Fourviere to see the town view of Lyon. Left there and went to Marseille St. Charles station. Our hotel was the New Hotel of Marseille in Vieux Port. This hotel was built two years ago. Across the street there was a park, Parc du Pharo. We could see Vieux Port, Fort St. Jean, and the Mediterranean Sea. It was quite a fun to watch so many sail-boats come back from the sea. 8 years ago I ate Bouillabaisse at Michel and wanted to go there again, but we could not reserve seats. So we ate at a restaurant alongside the road with the harbor view.


August 29, 2007
Took train for Montpelier, and wandered about the streets for two or three hours.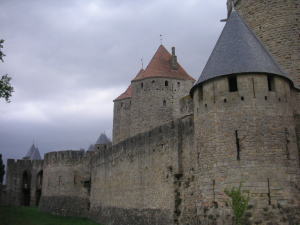 La Cite

In the afternoon we forwarded to Carcassonne, and arrived there at 3:00pm. Checked in Hotel Trois Couronnes. We quickly left the rooms and went up the slopes to La Cite, a medieval fort town. This is a World Heritage, and the streets were full of sight-seeing people. They were enjoying the last few days of their vacance. We had dinner at downtown. Compared to the crowd of the Cite, in this restaurant, the guests were only us. We ate Cassoulet that has made Languedoc famous. Wine: Minervoir AOC. From the bridge Pont Vieux over the river Aude, the lit-up walls of La Cite was quite impressive, and we watched it for a long time.






August 30, 2007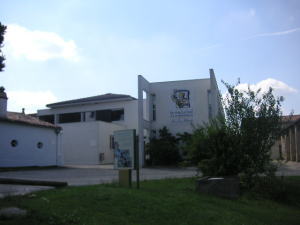 Chateau la Tour-Blanche


 9:11am Left Carcassonne. The railway was under repair, and our train was much delayed, and arrived at Bordeaux at 2:00pm. We rent a car at Avis and drove to Sauternes. We saw Chateau la Tour-Blanche.
Then to St. Emilion. In the way we lost our way and entered into a village Pellegrue. We were happy because we thought we were in a town famous for its Foies gras, but it was a mistake. Perigueux was the famous town. This one was famous because the bird cranes stop by in their flight. 6:30pm arrived at St Emilion. Hotel: Au Logis Des Remparts. Stone-paved, curly narrow streets, and the stone-made hotel. Interior was very modern, back yard was so wide and even a swimming pool was there. This hotel became the most favorite of the ones we stayed at during this journey. We dined at L'envers du decor at 8:30pm.


August 31, 2007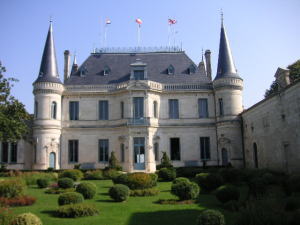 Chateau Margaux


 9:00am We went to Maison du vin de St.Emilion. The clerk there recommended us St.Emilion Grand Cru Chateau Corbin 1999 and 2002. They don't send to Japan, so we decided to bring them back. 10:00am Left for Medoc. In August, Chateaus like Margaux were not open. Only the Mouton-Rothschild Company accepted our visit at 2:30pm. Until the time we went to see the outside of the Chateaus. First, Chateau Siran, where the Lautrec family lived, Chateau Margaux, and Chateau Maucaillou. In comparison with Bourgogne, we could say that in Medoc, the yards were wide and flat. We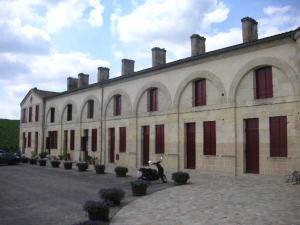 Chateau Lafite Rothschild

took a rest on the bank of Fort-Medoc, where we could see the river of the Gironde. Then a beautiful 18 century building, Chateau Beychevelle. The tower of Chateau La Tour was seen far beyond the grape fields. Chateau Lafite Rothschild. Chateau Cos d'Estournet , and returned to the Pauillac town. We had lunch at one of the roadside restaurants. 2:30 We went to Chateau Mouton-Rothschild Company. First we saw the video about the history of this company. Then we went to see the various grapes in the yard, grown for the visitors, and picked some and ate them. We saw the cellar, guest rooms, and museum and had degustation of some Mouton-Rothschild. Chateau Mouton requests world famous artists to paint the label of the bottle. In 1991, a Japanese artist Miss Setsuko Migishi painted for this wine. 8:00pm Ibis Hotel near Bordeaux St. Jean Station. We took tram to downtown to have dinner.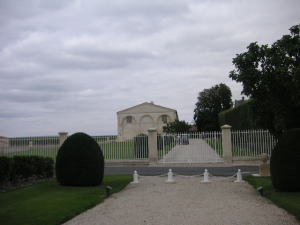 Chateau Mouton-Rothschild





September 1, 2007
Had a walk around downtown of Bordeaux city. In the afternoon took TSV to Paris, and checked in Castille Hotel. At the bar here, reasonable price wines are enjoyed easily. Dined at a nearby bistrot.
This was the last day in France.
We went round many wine villages, and tried many wines. How enjoyable was this journey! From now on, each time I screw off the cork, the bottle would remind me of the memories of this journey.