Beyond the waves
Yoshiteru Egashira

---

Prologue
"Hi, Yoshiteru-san, this is Harumi calling."
The young voice of the sudden call puzzled me. Who is this young girl? The only person of that name I know is Harumi Okochi, not young like this....
"This is Me, Harumi Okochi. Did you forget me?"
"Oh, no, I didn't mean I forgot. I was just surprised to hear so young voice." To be honest, I was surprised with the big gap between Harumi's aged look and her young voice. Did I flatter her, or offend her?

Harumi said, "I heard you sailed to Cheju Island of Korea recently. Will you write about it for my web site?"
This woman's voice has something hypnotic. Before I noticed I answered, "Why not?"


46years ago, when I was a highschool freshman, I was walking along the beach and passed by a sailboat. A girl was going to get on the boat. This was Harumi. "Join!" She said. On the boat, a lady who seemed to be Harumi's mother, and another person who was one year senior to me waited. This was my first experience of sailing that became my most enjoyable passtime. How could I decline the initiater's request?

12 years later, at the age of 28, I and some friends bought a small sailboat. Our dream was to cross this sea to the other side. Twice we changed them to bigger ones. Twice at my age 40 and 50, we sailed to Karatsu's sister city Yeosu, Korea. Our group is named Karatsu Ocean Sailing Club, KOSC for short. On these two trips, 18 members of the club sailed three boats. Both voyages were tough in rough weather.

Again 12 years later. This time, our aim was another sister city Seogwipo City on Cheju Island, Korea. This was a solo voyage. The name of the boat is 'Hatenko', which means to go through a mission impossible. The length is 9 meters. The oldest of the 7 crew was me, 62 yrs, youngest, 54, on an average, 58. Each one is a captain of his own boat. Captain was Morooka, Engine Kajiyama, Weather Matuura, Nishimura has strong arms, Radio Egashira, Sailing-technic Eguchi, Writer/photographer/cook Kimura

About one year ago, we were chattering.
"Now that we are 60 years old, shall we challenge a long cruising before we lose our muscles?" "How about going around Kyushu?" "Korea will be better." "How about Seogwipo, since it is our sister city?" "Then we will need a life raft, satellite telephone, EPIRBE (Emergency Position Indication Radio Beacon)...... we need much money.""The sea will be too rough there."

The most experienced guy, Eguchi, had sailed between Fukuoka and Pusan more than ten times, twice to Cheju Island too. He was the one who said No to this plan of going to Cheju. Through his experiences he knew how a small mistake turns to be fatal. Waves are higher than the mast. Lightnings stab the sea. On either way to or from, we will surely be hit by an enormous storm.
Surely, the word Genkai-Sea means a 'dark end of the sea'. The two coast lines of Japan and Korean Peninsula make a big V , and this place is at the joint of the big V. If North-east wind blows, waves rush here and this has been known as a difficult spot since old times.

The words that persuaded Eguchi were:
"We have all visited our sister city Yeosu, but to another sister city Seogwipo no one of us have sailed. We must."
So it was a deal.
My prologue was too long.
Let's go! Anchor away!


To Nozaki Island of Goto
April 28,2007
7:00 a.m.
Weather: Fine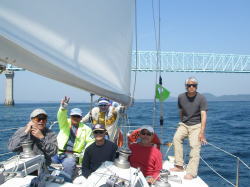 Going under Ikitsuki Ohashi

Left Karatsu Bay. Westward 270゜. Wave 2 meter high. Wind 10kn/h abeam. Perfect. Our voyage of 400 miles to and from Cheju-do Seogwipo has sailed out.
From Karatsu to Hirado is our familiar route. The bow cuts the waves more quietly and comfortably than ever.
Without any problem our boat passed ashore of Hirado Island.
This sea witnessed many histories since old time. 400years ago, here at Hirado Port, Dutch and Portuguese competed their business. Until the time Japan closed every door to the world with only one exception of Nagasaki , Hirado flourished for about 30 years. Francis Xavier visited here for missionary, and still now here remains the corner stones of merchants' houses', wells and stone walls.

Our boat went through between Hirado Island and Ikitsuki Island. In Ikitsuki Island the descendents of the people who hid themselves as Christians still live. They secretly kept their religion under the prohibition for 250 years. Seen from the sea, the island is a rocky coast line with small patches of flat land. Each tree and weed bends southward. North wind must be fierce, but today sea is so calm and our boat smoothly progresses.

2:00 p.m. Sun is above us, The fishing needles tailing from our boat have no catches
.
"Spring sea
Everybody idles
Cans of beer." (Haiku!)

At the south end of the island, we went under a big bridge, Ikitsuki O-hasi. Here is a dangerous reef. Once, it hit Eguchi's keel. Since then we take care and go in the middle of the span. Out here, we enter the East China Sea. Our next stop is 25 miles ahead, Nozaki Island of the Goto Islands. Out here, we had a little better winds at last.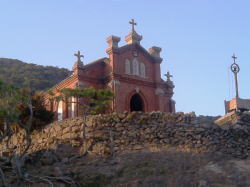 The Church

Nozaki Island is a tiny small island now uninhabited. Among the islands of Goto which stretch 100 kilometers from North to South, Nozaki Island is the third from the north. Water is transparent, white sand beach, deer are seen, and in the valley, we could see a small red-brick church. The beauty of the nature is astounding.
Until 5 years ago, about 40 people lived on this island. But all of them moved to mainland, and this village was deserted. Still now, this is a popular sightseeing spot, a rare case that regularly ships go to a place where nobody lives.

18:00 Anchored. Tonight we sleep here. 7 guys. Toast with Mackerel cans like cat food!

Toward Seogwipo
April 29
Morning.
Last night, winds were whirling on the mast. Now got calm. Another fine day.
The Islands of Goto locate at the west end of Japan. They lie before our eyes as if they were halting us. Strange shaped rocks like a sail, a kettle hand, etc. Sailing through the rocks, we entered the East China Sea, of which it was sung "Under the far clouds, is it the Kingdom of Wuyue?"

10:00 a.m.
Radio called,"Sailboat Hatenko!"
The Fisheries Agency patrol ship Hakutsuru (White Crane) approached us and asked where we were going.
"Sailing to Seogwipo" we answered.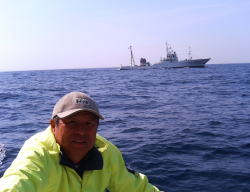 Me and Hakutsuru

The boat moved to the west. Go and stop, go and stop. Seemed like it was leading us. Sea was calm, but fishing boats on work were few. The boat was waiting for us at the territorial waters. Its loud speaker wished us a safe voyage, and it turned to the east and disappeared.

15:00 p.m.
We slept in turn. On the horizon, once in a while we saw big ships.
Toward sunset, we at last caught two big dolphin fish. They were huge, almost 1 meter long. Everybody got excited. Kajiyama quickly used his knife. Sashimi, and butter fried. But the fish was too big. We have no refrigerator. All our ice has gone already. We had to throw half of our game.

A bird, which we call "Kaccho" in Karatsu, flew in and perched on the hatch of the cabin. This is a migratory bird that comes to Japan to herald in winter. Kimura, the writer and photographer, tried to take its picture, but his motion scared the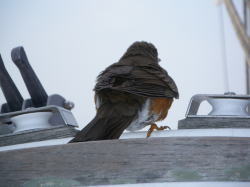 Kaccho

bird and it was gone. No ship was seen near. How could the tiny bird find the next stop? Well, Nature will help him.

19:00 Crimson sun sinking. The sky still leaves the hint of blue, and already the moon of 11days appeared. In the daytime we had seen no fishing boats, but now, the horizon was full of twinkling lights of squid fishers.

Had a new day on the sea.
April 30.
02:00 I woke up and went to the cockpit. Mist. Far lights are vague now. Tiller reported to have sighted a light of Cheju Island. One flash per 20 seconds. Probably the east end lighthouse of the island. Even if we hurry to the place, we could not land. So we took time. From this moment, Cheju looked even farther. The lighthouse would not move. For a long time it seemed to stay at the same angle, same spot. At dawn, we finally were off shore of Seogwipo. Checking the chart, we went round the aimed island. Matsuura found a waterfall which fell from the high cliff into the sea. We viewed it for a while and then entered the port. Korean flag on Starboard, a yellow flag meaning "We request quarantine" on Port side, and at Stern a Japanese flag, observing the entry manners.


Seogwipo
Cheju Island is a volcanic island that locates to the south of Korea Mainland. Here and there in the island craters remain as hills. The shape of the island is a Rugby ball, 50 kilometers North-South, 100 kilometers East-West. Big cities are Cheju City in the north, and Seogwipo City in the south. This land is a popular sight seeing spot as 'a Hawaii in Korea'. Accessible in one hour from Seoul, China, and Japan. More than 30 thousand guests come down from airplanes everyday. I remembered seeing from our boat many jet streams in blue sky. People go to Cheju in one hour. We came here sailing 48 hours. In the 48 hours, people go and have fun overnight and leave. Us? Well. we are quite self content with our foolish style.

8:00 a.m.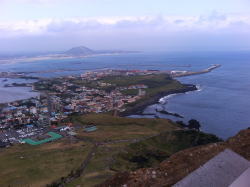 Seogwipo City

Entered the port slowly. We had seen by Google Earth how this port looked. And just as what we saw, fishing boats, sightseeing vessels, small size war-ships with guns were at anchor. Deja vu! Strange feeling. During our voyage, we had talked on the satellite phone with Korea, and GPS (Global Positioning System) always told where we were. What a convenient world!

We brought our boat to the inner pier, and waited for the officers. Soon, Mr. Hyon DokHyon and Mr. Oh SuWon appeared. They were in Karatsu some years ago, and while they were with us, we sometimes dined together. We once invited them to see the first sunrise of the year on our sailboat. We were glad to meet again. They had arranged that we could have a smooth entry.

An officer came, and Miss Kim EnnKyung translated for us and told him that we were here as a mission of sister city friendship. We were easily admitted.
Our purposes to visit here are, 1. Seeing old friends 2. Eating Korean food 3. Sightseeing.
Let me talk time following.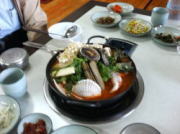 Lunch

Lunch: Sea food. Prawn, crab, shellfish, in boiling pepper-red soup. Eating with a burning mouth was quite a thrill.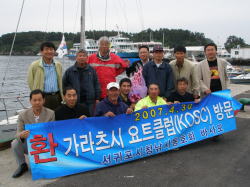 Fishing friends

Dinner: A traditional Court cuisine restaurant. But we ate horse meat here. We had an idea that Korean people do not eat horse, but anything can change. Soup, raw meat, hamburg steak, grilled meat, and so on. All horse meat! If here happens to be an English gentleman, he would have taken off this white table cloth to write a placard against horse-eating. This dinner was an invitation from fishing friends of Matsuura's. We introduced each other and had a quite fun.
We slept on warmed floor of a traditional inn. We had still a sense of swaying sea, so the solid, warm floor soothed our bodies.

May 1
Morning.
We went to Cheju City.
Ate abalone porridge. Abalone bowels in soft cooked white rice. Faint smell of sesame oil and the taste of sea itself. This is the food I am fond of more than anything among Korean foods, and it is not an exaggeration if I say I came here only for this. Abalone steaks and Shochu (Korean alcohol drink). Everybody was quite satisfied.

At the Immigration Office our passports were stamped, and a chartered bus went along the west coast for sight-seeing. This bus was kindly offered to us by the City Office since we came all the way by sea.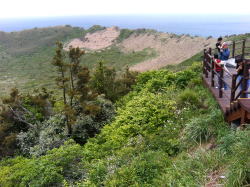 Sonsan-ilchulbon Hill

We arrived at a hill called Sonsan-ilchulbon. It is a crater jutting out into the sea, and its height is about 200meters. "Let's climb this hill." Someone said. Why do these old guys always pretend to be young? The high cliff we looked up from the foot. Many people were walking up the hill in a line. Highschool girls, coming down, said in their just learned Japanese, "Ohayo gozaimasu". They made us happy. We bought them ice cream and took pictures. Old men are easily tempted when it comes to young girls.

After all, we climbed. The sight from the top of the hill was amazing. The sea we sailed yesterday was now beneath our eyes. The island of the lighthouse we saw yesterday, Udo Island, was surrounded with whitecaps today. After the hill, we visited Minzokumura, where old houses and utensils were exhibited. This was the place where a famous TV drama Tae JuangGum was filmed.
Too large. Got tired and hungry.

For lunch we went to a Channo-chibe (eel restaurant). Grilled eel is served by kilograms! Eel with pepper-paste, garlic, etc., rolled in a kind of spicy sesame leaf was quite tasty. This island has pure water and eel farming is prospering. Satisfied again!

Next we dropped in a huge supermarket, E-Mart. Bought sea food and vegetables for our return trip. We went to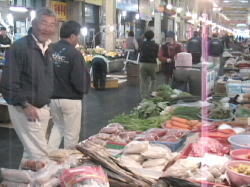 market

an old market too and Nishimura bought trivial things. The City officer did not understand why we wanted these useless things. Japanese people are ununderstandable for them. Maybe for Korean people, 'sightseeing' means to see beautiful sceneries like picture post cards and huge famous architectures. Not yet, experience-pursuing sightseeing is popular here, it seems to us. I hope these small things do not disappear before Korean people notice their importance.

That night we arranged dinner in return at a pork-grill restaurant. Full to the throat again.


Departure and home
May 2
8:00 a.m.
Breakfast was Sollongtang, noodle in beef broth, at a breakfast house on our way to the port.
Finished custom house matters, and left Seogwipo. Off shore, Coast Guard came near to us. "Where are you going?" they asked. "We are going back to Japan directly." They understood and let us go.
Luckily, winds were favorable. 6 meters wind from behind. Engine, fine. The Tsushima Current helpd us, and we moved 7 knots. When we came we made 6 knots. We will be home earlier than expected.

In the afternoon, near the border, a Korean Coast Guard and a big container ship approached from the south. Our way may cross each other. Radio was saying something. I intercepted. Coast Guard was telling the ship to be careful of a sailboat. We expressed our thanks to the Coast Guard by passing behind it. This route may be Shanghai-Pusan line, and today we saw a few big vessels.

19:00 p.m.
Crimson sun set behind us. Turning back I saw a crimson moon in the east. What a mystery of Nature!
In the middle of the ocean, winds were getting rough. All put on oil skins (raincoat) ,life jackets, and life belts. Before dark we must prepare ourselves for the night sailing. If we do this in a storm, it would be too late. We reduced the main sail size by 15%.
Now the time. We are ready to face it.

Moon was full, and it shined the sea silver. Winds were turning backward to us. Back winds might occur wild jives. If the boom swings to the opposite side in a moment, it is like hitting your head with a metal bat. If you fall in the sea, it will be desperate. This is the most dangerous accident. 10years ago, the famous diverJacques Mayol came to Karatsu on board Umimaru, Captain Nanba's sailboat. Later Nanba was lost forever in the dark sea.

WHUMP! It did happen. With a terrible sound the sail turned. Waves were higher now, and they tossed up the stern. Opposite list! A rope to keep the boom was cut. Eguchi shouted at me. Nobody was injured, thanks. Nighttime, 3 crew took rest in turn for avoiding danger and for rest. Only the minimum numbers stayed in the cockpit. Captain Morooka's special talent is to sleep anytime and anywhere. Since all the other crew are experienced captains, Morooka did not have to give orders here. He was sleeping before we noticed. The heaviest Nishimura sat on the windward and balanced the boat. At tiller, veteran Eguchi - Kajiyama team.

Midnight. A little egret perched on our lifeline. Shaking line. The bird could not stand and flew to the deck.
Egret and me

Morooka said this bird had been flying around our boat for these two hours. She looked like exhausted. She tried to keep herself straight, but could not. Then she jumped on my legs that I stretched in the cockpit. I don't welcome Bird-flu, but even a hunter would save a bird if it jumps into his bosom. After I kept still in the same position for two hours, I got tired. Deposited the bird to Eguchi and got back to the cabin to sleep.
Two hours later I woke up to find the poor bird still in Eguchi's arms. Outside was still dark.


May 3
Sunrise at 5:30. The Islands of Goto were in sight. Getting near to an island, the bird finally left our boat. We wished her a safe flight.
7:00 Passed the channel of Uku. Aiming at Ikitsuki Island, some sail-boats passed by.
18:00 Our return trip was rapid. Thanks to the current, it took us only 34 hours to get back to Karatsu Yacht Harbor. Safely we were home. On the pontoon, we took a deep breath. Ancient voyages might have been like this.

This was just a small friendship exchange, but we all hope it makes bigger waves.

Thank you.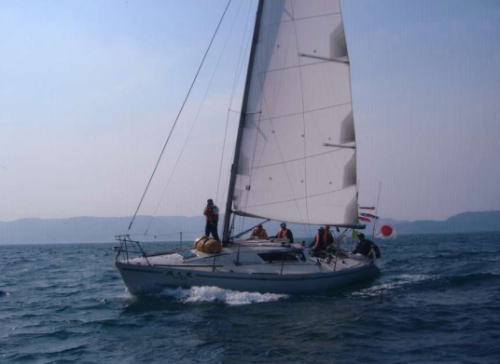 Nearly home. A passing-by boat took our photo and sent us later.
Crew List

Hisashi Morooka (age 60)
Kazunari Matsuura (54)
Toshiyuki Eguchi (56)
Narito Nishimura (60)
Tokuji Kajiyama (60)
Yoshiteru Egashira (62)
Shinichiro Kimura (56)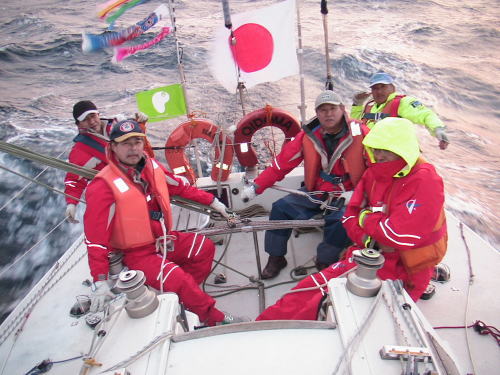 One hand for ship another for oneself
The route