High on a hill outside the town of Karatsu, in the Saga prefecture of Kyushu Japan, two adjacent driveways leave a thinly populated narrow winding road and veer away from each other. They pass two sides of a 54-foot long rectangular building sheathed in corrugated steel siding. At 9:00 pm on an April night, the sound of a steady spring rain falling outside mixes with the soothingly haunting melody of Bach's cello suites playing inside. It is comfortably cool. This is the kind season, a season of tempered weather between the cold dampness of winter and the oppressive humid heat of summer. Inside, Hanako Nakazato, a 34-year old potter, sits near her wheel attending to a board full of half dry cups. She is 5'3 with broad shoulders. Her oak colored skin stretches over wide cheekbones and her thin lips rest in a slight frown. Her seat faces a row of picture windows. The glass divides her well-lit throwing room from the thick darkness of the rainy night. The windows reflect her surroundings back at her. The room is all wood rising from a cement floor. The walls are paneled in cedar and large wooden beams support the high roof. The building is exquisitely crafted, an honest structure made of honest materials. It is handsome in its simplicity and quietly boasts the skills of its makers.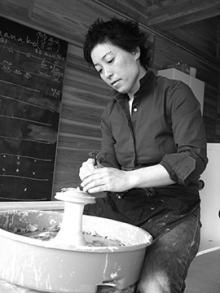 Hanako, a Karatsu native who left Japan at age 16 and spent the next 16 years in America, is nearing the end of her long day. After a year back in Japan and merely three and a half months in her new studio, she has recently entered the second production phase of what is proving to be a very busy year. With ten shows scheduled throughout Japan and one in New York City, her only time away from the studio these days is spent eating, sleeping or traveling for exhibitions. Tonight, she diligently attaches lumps of clay to each one of the cups before her and tugs them into graceful wide handles transforming the vessels into mugs. These popular porcelain mugs are one of several designs in her production line, the bread and butter of monohanako, her new business. "I'm stunned," she says, looking up from her work. Big brown eyes shine out below the thin arches of her eyebrows. Her left eyebrow is pierced and sports a silver ring. "I have so much work that I have almost forgotten what I was feeling a year ago." She refers to the doubts and uncertainties she faced while deciding to return to Japan and build a studio in the hometown she left in 1989. "I need to be here at this moment. There is no thinking back. It's like playing tennis at Wimbledon."
The tennis reference is not an arbitrary one for Hanako. In junior high school, Hanako was a devoted tennis player. After winning the Kyushu Jr. tournament, she was given the opportunity to spend two weeks at the Nick Bollettieri tennis camp in Florida. Upon her return to Japan, the 'study only' ethic of Japan proved troublesome to Hanako. Like everyone her age, she was marching toward a prescribed goal, getting into a top university. "Life in Japan is so known, so expected." Hanako describes the experience of Japanese youth as that of stepping along prescribed steps, a sequence of uninteresting years spent accomplishing a predictable string of tasks. "It all felt so meaningless, so empty. I wasn't interested in that. I wanted to experience more than 'normal' life. I wanted to be in a different culture, meet a different mentality."
In 1989 Hanako started her sophomore year at a Florida high school that she believed would support her tennis and academic goals. Unsatisfied, she moved around throughout her high school years, never finding the right mix if a good education and great coaching. Back in Florida, after high school, Hanako's energy was depleted. "I knew my level, and Florida wasn't a good fit." But going home wasn't an option for the driven teen. "I couldn't go home," she says. "To burn out on tennis and then go home would be a failure." Hanako retired her tennis racket and entered Smith College in Northampton, MA.
<![if !supportEmptyParas]> <![endif]>
At 7:30, the light of the rising sun illuminates a hillside of bare dirt and hardy weeds, the landscape of recent construction. Hanako walks a newly made pathway from her small house above to her studio below. Her short black hair, styled into a fashionable mess, juts out at random angles. The cherry blossoms heralding spring have fallen and each day the procession of green advances. The gently slanting roof of her studio, with a generous overhang, produces a swath of shade that travels the north length of the building as the sun shines through the south facing picture windows warming the length of the building throughout the day. Hanako enters and turns on her ipod, her constant companion. The electronic Argentinean tango of Gotan Project fills the room. After a few minutes spent organizing her space, she sits down at her wheel, pushes up her sleeves and starts throwing. She is producing for three shows throughout June and July and has calculated that she needs upwards of 2000 pots. All must be made quickly. Throwing is just the first step in production. Each pot must be trimmed, bisked, glazed, fired, sorted, labeled, and packed before they are ready to send to galleries. She leans into a large piece of clay on the wheel and centers it in a series of repeated motions, squeezing the clay with strong arms upwards into a cone and compressing it back down again. She then takes a fist-sized piece between her hands and rounds it. Pressing the clay between thumbs and palms, she opens a new pot. "I am interested in the form," she says. "I like the immediacy of the action and reaction. A slight movement will affect the clay. It's sensual to me. Pottery is very sensual." Her head bobs slightly as she follows the spinning shape before her. In just a few swift movements she has pulled the clay into a delicate bowl. As it turns, she smoothes the lip and wraps a yellow cord around the base cutting it free of the still unformed clay below. "Pottery is immediate," she says, "but it also takes a long time. The feeling changes. When you fire it, it changes." She gently lifts the complete bowl, sets it on a board to her right, and begins the next pot. She moves quickly, repeating the shape many times over.
Hanako's agility with clay is a direct result of her vigorous training, a training she never fully intended to undertake. After graduating from Smith in 1996, Hanako was faced with the sobering reality that once out of school, she was no longer guaranteed a visa to stay in the United States. "I wasn't prepared at all." A shadow of regret darkens her eyes as she continues. "I hit the reality. I had one more year to figure out my life and my visa. I had no practical skills. I was thinking sushi chef or language interpreter or Japanese something." But after several months searching for an employer to sponsor her, she felt defeated. "I couldn't convince myself, therefore I couldn't convince them. I felt forced to go home."
At that time, Hanako's father, an accomplished potter, was traveling and working in various art centers around the world. She joined him as his assistant in Denmark, Colorado and Hawaii, and in her time with him, she began to work with clay. "Back then, I didn't really think about becoming a potter." But her father was showing her a lifestyle she had never before associated with pottery. "He was demonstrating that you can travel and see different people. You meet not only potters, but architects and designers. It was very inspiring."
She returned to Karatsu with her father and moved back into her childhood home, a large drafty house overlooking a lush valley. But her home was not a quiet place for contemplating the future. Though idyllic in nature, it is a busy pottery production center called Ryutagama. Apprentices assist and learn in the studio where her father and brother run a production line and make pieces for individual shows. A staff of four run the office where hundreds of pots are organized, labeled, packed and shipped weekly. And in the large kitchen of the family house, a full time cook prepares lunches shared by all employees. Idyll hands were not tolerated and the pace of the studio did not allow Hanako to simply play with clay. Hanako remembers that time saying, "If I wanted to touch clay, I had to become an apprentice." Perhaps, for lack of another plan, that is what she did. For two and a half years, she lived at home and apprenticed with her father. She spent long days cleaning, wedging clay, splitting wood, glazing and firing the Ryutagama production line. In the early morning and late night hours, she practiced at the wheel throwing the same shape over and over until she could replicate it without variation.
<![if !supportEmptyParas]> <![endif]>
Hanako still dreamed of returning to America. "I wanted to go back to the States. I just felt like Japan wasn't the place for me.' In America she had experienced the freedom to present herself outside the context of her family and culture. And her time away had provided the opportunity to see Japan from afar. "Developing my identity outside of Japan made me examine my cultural identity, Japanese culture. I really care about that." While in America, she studied Japan's religions and core cultural traditions including the culture of tea. She was able to isolate the parts of Japanese culture that she deeply respected. And she was able to separate the parts she respected from the parts made her leave, mainly the sense of being molded into a common identity that had restricted her as a child. She became selective. "I could pick and choose what I like about Japan and exaggerate that part of me." But her time away prevented a smooth re-entry into Japanese society. "I came back here with a new respect but everyone treated me as an Americanized girl. It made me feel like an outsider in my hometown." Hanako was anxious to leave Japan again. "But I couldn't leave my own home without skills. Even though I didn't like what I was doing, I decided that I was going to finish it."

With her training completed and her new skills as a production potter, Hanako looked for a way back to the States. Malcolm Wright, an American potter who had studied with Hanako's grandfather, an internationally recognized potter, in the late 1960s, agreed to sponsor her as a skilled worker in his studio. She credits pottery as her "door, like tennis, back to the States," but says, "I didn't want to admit that I was making a serious commitment [to pottery]. I thought, I'm a potter now but I could be something else." In 2000, Hanako left Japan for the second time and settled in New England to work in Malcolm's studio. While there, she had the opportunity to begin making her own work. "I enjoyed [pottery] as soon as I left Ryutagama. I enjoyed making my own shapes and as a result, to my surprise, what I made sold pretty easily." Hanako continued with pottery under the pretext, "as long as it lasts, I will keep doing it." She worked at Malcolm's studio for five years. "My stuff sold more and more," she casually states. "I stopped thinking "oh, there's another job for me.' I was starting to accept pottery and make a commitment."
<![if !supportEmptyParas]> <![endif]>
Though Hanako found some success selling her work in America, the majority of her sales were back in Japan. Participating in family shows that led to solo shows, Hanako was producing pots in America and flying 80 percent of them back to Japan. Though pottery had afforded her the opportunity to live in America, the country that felt like the right personal fit, it was proving to be an inefficient professional fit. In 2002 her father was diagnosed with colon and liver cancer. Three years earlier, Hanako had seen her mother through cervical cancer. Both of her parents surmounted their illnesses but it drew Hanako's attention back to her family. Faced with the realities of growing older, her parents began getting their affairs in order. Politics were shifting at Ryutagama as her brother took over management and it was agreed that the family business should be officially handed down. A new house was built away from Ryutagama where her parents would live out their later years. And as her sales increased, Hanako was outgrowing Malcolm's studio.
<![if !supportEmptyParas]> <![endif]>
Hanako sits at her large dining table after lunch catching up on correspondence. She is coordinating delivery dates for her upcoming shows, negotiating the gallieries' desire for an early delivery with her need for plenty of production time. Before her two large glass sliding doors overlook the roof of her studio on the right, just yards away from her parent's house on the left. One can see over the two buildings to the distant rounded hillsides and rippled mountains. "I never expected my life to be this," she says, sounding a bit surprised. "I'm really glad I found this. This is really me." Her words are a startling, even to herself. "A year ago I was totally nervous. I was building a studio and home back in Karatsu thinking this is not exactly what I want."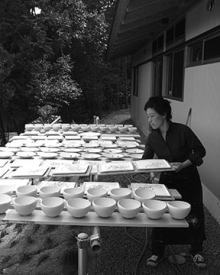 Hanako looks out on the view outside her windows, the large studio full of unshaped clay, the hillside in need of landscaping, and her parent's home just yards away from her own. "This is a serious challenge," she says, her voice layered with exhaustion and determination. "I want to prove to the public that I am independent, independent from my family. She speaks of the Nakazato potters, her father, grandfather, and the 12 generations of potters said to precede him. It is a family whose respected presence in the field of Japanese pottery is her best asset and worst liability. To be a Nakazato potter is to be instantly respected and instantly classified. Hanako struggles to rightly earn her own respect and resist that classification. Although highly influenced by Karatsu pottery and her father's pottery, her work is strikingly different. "Tradition is something to learn from, not to copy," she says. "Karatsu is not modern. I like the structure and bones [of Karatsu pottery]. It's gutsy. The structure [of my work] is Karatsu, but in terms of surface and shapes, I'm interested in modernism, form and function. Scandinavian designs inspire me."
Hanako's description of her pottery, Western designs disguising a Karatsu skeleton is an accurate metaphor of her own composition. She has made peace with her two identities, a Japanese core coated in non-Japanese traits. She faces the same challenges re-entering Japanese society now as she did in her first return to Ryutagama as an apprentice. She feels the weight of preconceived notions as people make assumptions about her based on the family she comes from and her years away from Japan. But this time, she says, "I'm okay with the sense of being an outsider. Because of that, sometimes I see things with a different perspective, meaning clearly. I'm celebrating having that perspective. That feeling pushes me. It's my inspiration. I want to create a cultural bridge in a unique way."
Hanako is doing just that, producing strong, elegant forms with clay that proudly defy classification. They are absolutely Japanese pots, but they are absolutely not simply Japanese pots. Her audience is predictably wide. In June she will show at the Manyodo Gallery in Tokyo, an established gallery steeped in the traditions of tea. In July she will show in New York City, at the Bespoke gallery, a Chelsea gallery dedicated to presenting new, innovative artists. She has a similar message to send to both audiences. "Everything revolves around food. How we eat makes us who we are. Japanese eating culture is so unique. We combine different kinds of dishes on the table whereas in the States, every dish matches, like a uniform. American culture celebrates differences but not at the dinner table." She sees similar restrictions in the Japanese use of pottery. "I deeply respect the tea culture but it is so easy to hold on to it and feel safe. Tea used to be avant guard, an honest expression of compassion with the host creatively setting an environment to please a guest. Now tea is all rules. It is mechanized and strict. I want to say, 'anything can go, but let's really pay attention to what we are doing. Let's make it fun and interesting.' I want to introduce the idea of freeing your mind from the rules. I'm expressing my cultural heritage in my own way, my own interpretation."
<![if !supportEmptyParas]> <![endif]>
Back in the studio, Hanako begins to stack dry pots on kiln shelves. She is preparing for the first of a dozen upcoming firings. She currently works with a gas kiln, favoring clear and black glazes. Her pots emerge from the kiln in even monochrome shades. Once glazed and fired, Hanako's work with the pot is done. "It's finished but it's not yet completed," she says. "I'm interested in the fact that it's beyond my control. It's in other people's hands. It changes in everyday life. I hope that my pottery is living in somebody else's life." As she works, she listens to her favorite American radio show, NPR's Fresh Air, downloaded onto her ipod. She looks around her studio as she talks. The arrangement of things, chairs scattered about, clusters of buckets and piles of glaze chemistry makes the space look used but not yet lived in. Things feel shuffled about as though they have not quite found the right space to inhabit. But how could it be otherwise? For the first time Hanako is in her own space and she is racing to keep up with herself. "People ask me, 'so, are you settled in Japan?' Yes and no. I always have America in the back of my head. I want to stay in between. That's where I belong. In between is not wishy-washy. Knowing black and knowing white allows you to see gray. That's where I want to be."