Footsteps with Ryokan-san
Michael Podlin

In June of 2006 I fulfilled a lifelong dream of traveling to Japan, a country and culture that has intrigued me most of my life. Four years ago I began a personal and spiritual journey through a meditation practice that would eventually point me directly to Japan. It was my meditation teacher, Rev. Eido Frances Carney Roshi, Abbot of Olympia Zen Center in Washington state, who introduced me to the poetry of the Zen master Taigu Ryokan, Japan's beloved hermit monk. My trip this summer was a pilgrimage to trace the footsteps of Ryokan-san, a journey that would bring alive his poetry and Japanese culture.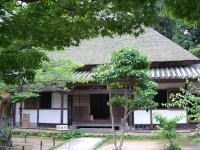 Ryokan-do in Entsuji

Led by our meditation teacher, Eido-san, and joined by four other students, our pilgrimage began at Entsuji Temple in Tamashima. Founded nearly 300 years ago, Entsuji is where in 1779 at age twenty-one Ryokan-san followed his teacher to undergo austere priest's training. It is an especially meaningful temple for members of Olympia Zen Center, for this is where our teacher studied with her teacher, the abbot of Entsuji, Rev. Niho Tetsumei Roshi.

To our jet-lagged surprise, we were met at the train station in Kurashiki by a film crew who would record our next five days at Entsuji for a documentary. Among the most memorable moments at Entsuji were those with members of the religious and lay community. We were welcomed with the most incredible generosity, graciousness and hospitality I have ever experienced. We were deeply honored to be invited to stay at Ryokan-do, the original house where Ryokan-san lived. I slept soundly and dreamlessly on the same floor that he walked some 225 years ago.

Sweet memories linger--sitting zazen at dawn washed by the sound of heavy rain, and the immense spider who joined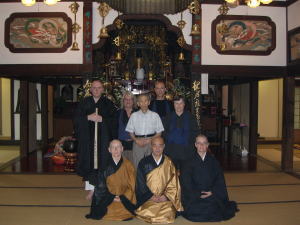 At Entsuji
Rev. Niho Tetsumei Roshi
(front center)
us. Sleepily, I was sitting with eyes closed when a quick nudge from my meditating neighbor, Kate, alerted me to the spider crawling directly in front of us. It meandered back and forth until it began to crawl up the robe of my other neighbor, Fletcher. Only our eyes moved to follow the path of the spider. Then in one quick flick of his robe, Fletcher flung the spider inches away, where it curled into a ball and slipped into a hairline crack between the platform and wall. For the rest of our pilgrimage during zazen, my eyes remained half-opened as they should for meditation practice!

At Entsuji we were treated to a music performance, tea ceremony, Tai Chi, a dinner in our honor, and the warm embrace of the community. We took a day trip to Hiroshima Peace Park, where we chanted the Heart Sutra in memory of those who senselessly lost their innocent lives, as well as those who continue to suffer the bomb's devastating impact. I felt frightened and sad that today the world remains dangerously capable of such mass destruction.

We continued our journey to Izumosaki, in Niigata prefecture, where Ryokan-san was born and died. We climbed Mt. Kugami and visited Gogo-an, the forest hut where he lived for some 26 years, coming down into nearby villages and towns to beg, play with the children and drink sake with the villagers. Perhaps because it was almost lunchtime, we enjoyed nearly an hour in solitude, free from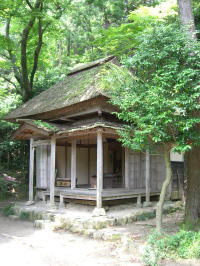 Gogo-an

busloads of tourists. We visited the Ryokan museum and, having read his poetry and seen his calligraphy only in books, we were awed by the tangibility of the original work before our eyes.

As the pilgrimage part of our journey came to an end, we spent a night at Eiheiji Temple in Fukui prefecture, which is regarded as one of the world's most influential Zen temples. Eiheiji was founded in 1244 by Zen master Dogen Zenji, who studied Buddhism in China and introduced Soto Zen to Japan. As one of two head temples of the Soto sect of Buddhism, it is an active monastery with some 200 monks in residence and training, with a great number of visitors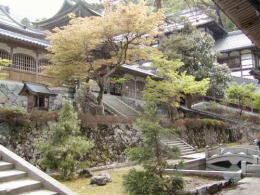 Eiheiji

practicing Zen meditation.

Eiheiji is a deeply powerful, sacred place that awakens the senses all at once-- the enormity of over 70- inter-connected buildings nestled in a valley of 700 year-old pine trees; the aroma of cedar from the buildings and lingering incense from ceremony; the smoothness of steep wooden steps, well worn from the slippered feet of monks and hundreds of thousands visitors; the loud silence of the forest interrupted by the rustling of monks' robes, ceremony bells, gongs and taiko drums.

The official part of our Ryokan-san pilgrimage now over, we spent a few days in Kyoto soaking up culture, temple gardens, and shopping for gifts for family and friends at home. Instead of returning to Seattle with my fellow travelers, I continued on to the island of Naoshima to Benesse art site, the Chichu Art museum, and the Art House project.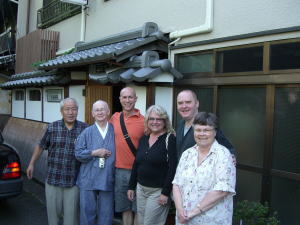 In Kyoto Mr. Miyake from Entsuji, Rev. Eido Frances Carney Roshi, Michael Podlin. Kate Crowe, Fletcher Ward, Mickey Olson

Switching from the richly historic aesthetic of Zen temples to the contemporary concrete and glass architecture of Tadao Ando was a dramatic yet seamless transition from visiting holy sites to mainstream culture. I love the sleekness of contemporary architecture and, when done well, it expresses the most elemental aspects of Zen. Stunningly set on a bluff above the ocean, Benesse House is a luxury hotel and contemporary art museum all in one, exhibiting the works of illustrious visual artists such as Sam Francis, Jackson Pollock, Andy Warhol, and many others.

From Naoshima I traveled to my final destination, Ryokan Yoyokaku. It is there in the caring comfort of the proprietors, the Okochis, and their attentive staff that I made my home for six days as a base for exploring Karatsu and the surrounding area. While anticipating my pilgrimage, I happened upon the August 2005 issue of Gourmet Magazine and the feature about the form and function of pottery and food. The article cited Yoyokaku and immediately I knew I would go there.

Through a Seattle friend, I was introduced to Terry Welch, who has a long-time close personal connection to the Okochis (see Terry's essay on the garden). It was Terry who helped refine my personal itinerary and focus on the gardens of Kyoto during my time there.

Back in Karatsu, I explored the local area and indulged my interest in fine pottery. I had the good fortune one Sunday afternoon to visit Takashi Nakazato in his studio. Working clay into vessels with baroque music playing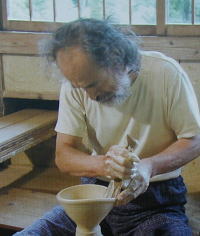 Takashi Nakazato

softly in the background, his work is meditation practice. What I saw is an authentic man fully present and engaged in life and the creation of art. I brought back to Seattle a tea ceremony water jar made by Takashi, and it sits where I can see it as a daily reminder of my visit with this national treasure!

I will always remember the people of Japan and my good fortune to experience the country as an "insider." I spent my birthday on a day trip to Arita, which also happens to be the day when children decorate trees with hand-made ornaments in celebration of the Milky Way. On the way to Arita riding a single-car, yellow diesel train, a mother with her two children left another warm impression on me about the generosity of the Japanese people.

As I boarded the train, one of the children--a boy about 8 years-old--looked up at me from his ice cream cone, laughed and shouted "Gaijin!" He continued to watch me curiously from across the train and finally came over to sit beside me. "American?" he asked. With body language I made a motion as if swinging a baseball bat. "Yes, from Seattle-Ichiro!" I said. His eyes lit up and he presented me with a small bag of candy that moments before a businessman man had given him from across the aisle. My heart melted. He sat next to and leaned into me until his mother, sister and he got off the train at their stop.

I fell in love with Japan--the land, people, culture and food. Land of great care! It will remain among the fondest memories of all my travels and I will be back again soon. I am grateful to the many people who reached out to me with openness, curiosity, and generosity.

With dedication and deepest gratitude to my family, teachers, and friends,

Michael Podlin

Michael Podlin was born and raised in Chicago, Illinois and lived for ten years in San Francisco. He now lives in Seattle and is Assistant Dean for Advancement in the College of Arts and Sciences at the University of Washington. Michael may be contacted at mpodlin@sprynet.com