In Yoyokaku, you will find here and there calligraphy by Takumi Soh.
He is a calligrapher who does not aim at fame or wealth. H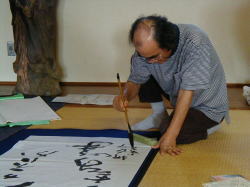 e writes only what deeply impresses him. His words, not by mouth but by his brush, only speak truth to us.
He is a silent man like a hermit. He never denies other people. His way of teaching calligraphy is not "correcting" other'"' writing, but "praising" the good part of the writing.
When I look at his calligraphy, I feel as if the words asked me a question,"What are you doing here?" or "Are you living a true life?"
His expression of the words are like hearing a wiseman's philosophy.
Here are some of his works. Concentrate on the letters, please, and let the words ask you ....."Are you happy?" or.....maybe, "Quo vadis?"







---
Never stops.
The Nature goes on and never stops.



Your joy will last long,
and you have not yet come halfway.



If you have two hands,
work,
to nourish your soul.


The cheeks of the Stone-Buddha
Swelling into a smile
In a Spring breeze.


My iron-kettle, boiling, is waiting for you.


Straight
Go straight, think straight, live straight.