My full name is Ben Thomas Suga. If you were to see my face, you'd have no idea that I have Japanese blood flowing through my veins. In fact, I've been mistaken for just about everything but Japanese: Italian, Spanish, Greek, and Mexican. My grandfather is Japanese; my father is half, which puts me at something like a quarter. Statistically speaking, I'm 50% Irish, 25% Japanese, and 25% Danish.
Growing up in America, I was always drawn to the mysteriousness of my Japanese heritage. The difference between Western and Japanese culture was so potent. It was something that I could see in my grandfather and father's eyes, taste in the foods we ate, and feel in the texture and emotion of the Japanese art that we had in our house.
It wasn't until after my grandfather died and after entering college that I began to put into words and action the questions that I had held since childhood. During my second year of college, I studied for a semester at Senshu University in Kawasaki City near Tokyo. That period of time gave me access to knowledge and experience that I never knew existed. From then, I began studying Japanese, exploring new interest in Japanese art, and incubation a greater desire to understand how and why my Japanese ancestors made their adventurous move to the west.
Nearly one year ago, I arrived in Karatsu to work as an Assistant Language Teacher for the Karatsu City Board of Education as a member of the JET Program. I chose Karatsu not for its location on the beach, but for its incredible tradition in creating pottery that remains mysteriously beautiful while maintaining a rustic and simple feel. It was my dream to one-day study Karatsu-yaki. Being able to meet my distant relatives seemed like a wild dream or some farfetched plot for a book of fiction.

Mr. Makiyama
Just nearly a week after arriving in Karatsu, I became able to participate in an English conversation class held once a week. Through this class, I quickly formed relationships with some of the most generous people that I have met in Japan. One man in particular, Mr. Makiyama, treated me with an incredible amount of empathy and generosity that made me feel welcomed warmly in a culture and land of innumerable unknowns.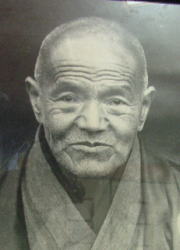 Great-grandfather's oldest brother
I soon began to seriously consider the possibility of meeting my distant relatives in Japan. I contacted my distant relatives in Seattle, Washington who happened to have a single piece of paper that belonged to my great-grandfather explaining very briefly the circumstance of his family when he moved to America. Incredibly, that seemingly insignificant piece of paper placed my great-grandfather's birthplace less that a 3 hour drive from Karatsu in the city of Kitsuki, Oita. What incredible odds, I thought, to have been placed so closely to my great-grandparents hometown. It truly seemed as though something stronger, more spiritual than chance guided me so closely to this source of my family's origin.
Mr. Makiyama used some of his many connections to contact the Kitsuki City Hall. To our surprise, our questions were not met with hesitation and doubt. Much the opposite, we were met with kindness and an honest desire to unwrap the mystery we laid out in front of them. It wasn't long before we began receiving new information. Every week, I would see Mr. Makiyama for English conversation class and without fail he would offer new information in the form of names, dates, and theories according to each. As time passed from one week to two, from two weeks to two months, we gradually received enough information to construct a rough sketch of my grandfather's side of the family tree. It was all so unbelievable. My family nave had been traced back five generations before my eyes.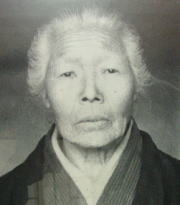 Great grandfather's brother's wife
Winter passed and spring brought the possibility and hope of a Suga family reunion. My parents would be coming to visit during the beginning of April so there was no better time than then to organize the gathering. The date arrived more quickly than I could have ever imagined.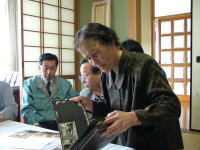 Relative Tama-san
On an early Thursday morning in the beginning of April, my mother Maureen, my father Bob, my sister Ellyn, and I packed into Mr. Makiyama's car and headed to Kitsuki City. We arrived in less than 3 hours at the Kitsuki City Hall. There, we were able to meet the people who so generously invested their time and energy into helping my family search for its roots. We spoke for a short amount of time, offering thanks and small gifts from America. It was wonderful to finally be able to thank them all in person.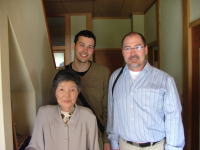 Relative Tami-san, Me, My father Bob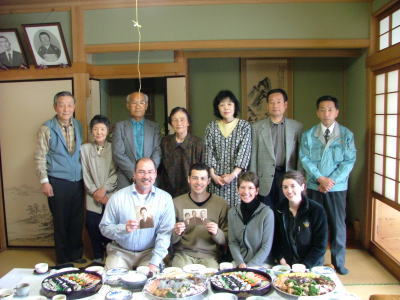 The Sugas and the Morotomis

From the city hall, we drove to the very house that my great-grandfather was born.

We didn't know whether to expect a small gathering of 2 or 3 or a large family reunion.

It ended up being a comfortable gathering of just over 10 people.



We were met with welcome smiles and an amazing spread of sushi, soup, and dessert.

After a round of quick introductions, we immediately began discussing the family and how we were all connected.

At any given time, there could have been 6 conversations filling the room, two in Japanese, two in English, and two in a mixture of both.

After a bit more conversation, my mother pulled out some pictures that she had received from my grandfather's wife.

Incredibly, minutes later they pulled out the very same one.

It was at this point that the reality of our connection became fully realized.

It was no longer non-physical words, names, or dates.

It became something so real, something that could be touched and compared.

I felt a part of something much bigger than myself, a product of history, a piece of history in the making.

I felt so lucky to be a part of such a beautiful experience.

I hope to travel to Oita to continue the amazing relationships that were born on that Thursday afternoon in early April.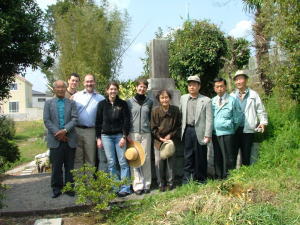 The graveyard of the Morotomis
I've had so many friends and family come to ask me, "What did you find out?" For me, that's a difficult question to answer. I could answer it simply, the way they'd like me to: I traveled to the birthplace of my distance relatives, I met some amazing people, and I took away a better understand of how I came to be. Like I said, however, that's the easy answer, but it's only the beginning. Still today, I learn from that special day. Most importantly, I've learned the value and incredible importance of the family I'm able to talk to everyday, my mother, my father, and my two younger sisters. Just as the many questions of my distant past remain cloudy and untold, each of my family members has just as many mysteries and stories to be told. Because of that day, I will listen more intently and ask with more curiosity than I ever had before. Because of that day, I see with more clarity and understanding the beauty that connects us all.