Karatsu Kunchi Festival and boys


Hello, friends. November is our festival time. I have written about the Karatsu Kunchi festival in my previous issue #8.
Today, I would like to introduce, as the narrator of this page, a boy who has grown up with the festival music as his lullaby.
His name is Matsuri Kojima. Matsuri means Festival. Matsuri is 15 years old now. These boys are the real supporters and the successors of the good traditions of Japan, I believe.
Please enjoy meeting with Matsuri kojima.


---

 
The autumn festival is the most exciting fun for us Karatsu boys. Some freaks make fuss about the festival all the year round. The festival is the time when people who live far away from home town come back once a year. Just like at the new year season, they enjoy reunion with their friends and relatives. It is a time when the quiet Karatsu suddenly changes into a noisy place.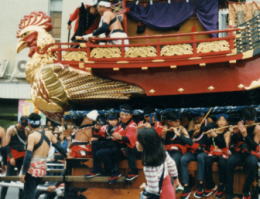 Baby Matsuri, tied to Dad, rides on the float.

 

Speaking about my festival, because my Dad is a real festival fanatic, repairing the float, teaching music band, doing everything to keep the float in good shape, I was privileged to get on the #6 Float "The Phoenix" only when I was 7 months old. When I started walking, Dad's students, or Dad's friends' children pulled my hand and let me join in "Pulling the Float". My younger sister Toki pulled too until she was 4th grader. She gave up because girls are not allowed to join. (Children are allowed.) Toki misses pulling very much.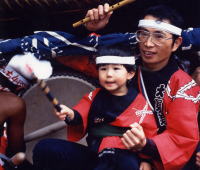 Matsuri (age 2) and Dad

Dad's dream is to make the 15th Float for the children and adults who live in towns where they have no floats, and he and his young students have a happy conversation about the dream. Dad tells me that he has studied painting,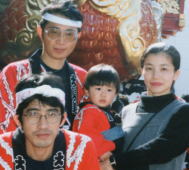 Matsuri and parents

sculpture, Urushi (Japanese lacquer wear), flute playing, etc, to make his dream come true. He says, "Matsuri, you find something which you can devote yourself in, study for it, and help me with the students when I make the 15th float." But I spend most of my time with my friends pulling the float. I know I must start practicing the drum or flute, but you know, students are pretty busy with many things to do.

 

When the festival gets near at hand, and we hear the band practicing the float's marching, I get excited in anticipation and hardly settle down. I throw away my textbooks and run out to hear the band. This may be the happiest moment of the festival. On the 2nd of November, the Festival is at last here, and we make a wild fuss in the evening parade.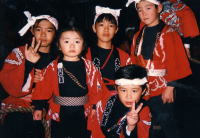 Sister Toki (2nd from left)

This year, I am tall enough, so I am going to get Dad's special festival costume as promised. The costume has red thread embroidery everywhere, If I wear that, I will look really cool.
 

Karatsu Kunchi Festival is known for its gorgeous feast spending three months' income, and for the frank hospitality without social status consciousness, and many friends and relatives are welcomed to each house of festival participants. I follow Dad, with other students, to some houses, and find many guests enjoying the feast. Somebody calls out, "Here you are! We've been waiting for you, boys" Those are the guests who like to hear our festival band every year. Each house prepare a big feast of special food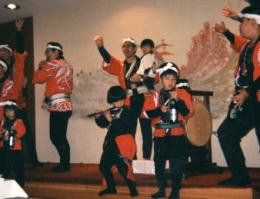 Matsuri, playing the flute (center)

. Our group try to behave ourselves in a good manner, and eat only a little to save the cuisine for the later guests. Thanking for the food, and also wishing the best for the house, we play the music and proceed to the next house. If we are not behaving well, adults warn us. Now I am a junior high student, I go round with my friends, not with Dad, but in many places people invite me to come with Dad. I am glad and proud. People whom we visit every year are now like our relatives, and it is, I think, one of the most wonderful parts of the festival.


While we are yelling in the float pulling, the days 2nd, 3rd and 4th of November pass so rapidly. and the festival is over so quickly. In the night of November 4, we reluctantly go home, looking at the traces of the floats'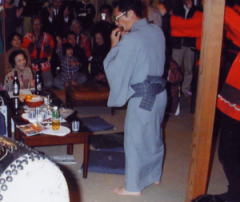 Dad is invited to play the flute

wheels, feeling so sad. The flute, drum and the boys' shouting linger in the ear for 4 or 5 days after the Festival. We all miss the festival right after the festival, and wish the next year festival comes soon.
Thanks to the Karatsu Kunchi Festival, people get to know people, boys make friends, and become interested in various things. After each Festival, I make up my mind that next year I will practice drum and flute.....
 


When autumn wind begins to blow, it is the sign of approaching festival. For me, a Karatsu boy, Kunchi Festival is the, really, truly, happiest moment.

Matsuri Kojima
October 13, 2004


---
Thank you very much, Matsuri. I wish you to know that the adults sometimes wish their sons to stop growing and stay as a boy forever. But we know that you will grow quicly, and will leave your parents all too soon, just like the festival leaves you too soon.
To grow up is to know the sad feeling after the party is over.
Well, Kunchi will come next year, so cheer up!

Thank you too, dear readers. I hope you will come back to this page next month.