Den Okochi's Europe Tour 2004



Hello, friends.
I have at last succeeded to persuade my husband Akihiko Den Okochi to write about his recent Europe tour for this October issue of the GREETING !!!

Can you guess how I did it?
I blackmailed him.
"If you do not promise to write, I will not let you go on that tour!"

Remember, please, that I did not go with him.
Somebody must take care of the business.
So I stayed.
I always do.
What a pity!

He had a hard time to write his homework composition after the wonderful journey.
I hope you will enjoy his diary of the tour.


---
Monday, August 30
At 9:30a.m. I left Seoul by Air France for Paris. The weather there was very fine and clear while the typhoon 16th was attacking Karatsu. Arrived at Aeroport Charles de Gaulle at 2:40p.m. (France time). Took a thalys and reached Brussels Midi at 5:14p.m. Hotel Arlequin is close to Grand Place and was easily found.

Tuesday, august 31
Took a city tour bus at 10:00a.m. We got off at Palace de Heysel and took pictures of Atomium-nine balls-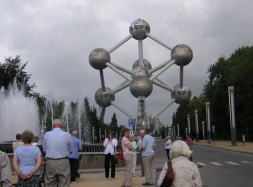 Atomium

built at world fair 1958.
Went mates with a Korean young man in the bus. We had the moules lunch at 't kelderke, the basement of Maison des Ducs de Bradant. At 6:00p.m. Michael ( a Belgian friend) came to see me at my hotel with his beautiful wife Patricia. We had wonderful chats at classical lounge of Metropole Hotel and Villa Lorraine.


Wednesday, September 1
Left Brussels Centraal Station at 7:49a.m.
Arrived at Haag (H. S.) at 9:57a.m.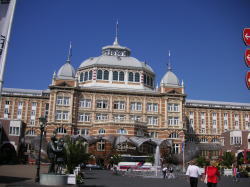 Hotel Kurhaus

An information center introduced Hotel Sebel. Went to Scheveningen. Summer seemed already pass away there.
Ate a famous "Broodje hearing" at Simons. Visited Mauritshuis Museum in the afternoon.
Dutch Olympic medalists on the horse-coaches were welcomed by citizen near Binnenhof.


Thursday, September 2
Left Den Haag Centraal at 8:29a.m. Arrived at Amsterdam Centraal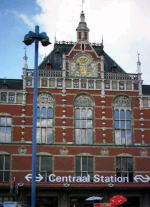 Amsterdam Centraal Station

at 9:20a.m. This station influenced Dr. K. Tatsuno. Japanese architect from Karatsu, to build Tokyo Station in 1914.
Checked in Grand Hotel Krasnapolsky. Stayed there over two nights.
Van Gogh Museum was quite impressive. I studied how much he had been influenced by Japanese UKIYOE through his paintings. There were held a special exhibition of Edouard Manet's "impressions of the Sea", which was very good.


Friday, September 3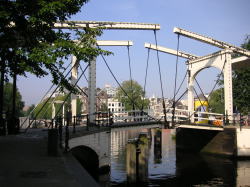 Magerebrug

Took a walk around the Magerebrug bridge and Botanical garden. In the afternoon I listened pipe-organ in Westerkerk Church, where Beatrix, the Queen of the Netherlands had a wedding. There were many crowds and much noises in front of the hotel at Dam circle till late at night.



Saturday, September 4
The town was still in sleep when I took earliest tram to Centraal station. Took 7:28 train for Maastricht. Sunshine attacked the window over the meadows in mist for some time. At Roemond ( at 9:34) I had to suddenly change the train to the bus till the next station. They say this happens so often at weekends. Changed into the train at Sillard and got to Maastricht around 11:30a.m. Checked in Hotel Beaumont, went to downtown. So many people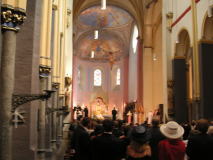 wedding

were walking in the streets like of Karatsu Kunchi festival. There was a wedding at St. Sevaasbasilick. It was my first experience to attend the ceremony in the church.

Sunday, September 5
Mornings start late on holidays in Europe. There also was much noise on the streets in the midnight. I met only a few walkers along the way to the station. The earliest train for Liege started at 8:09a.m. Waiting at Liege about half an hour. I took the direct train to Luxembourg. This time once again I had to get off the train at Gouvy at 10:30 and rode the bus till troisvierges. Arrived at Luxembourg at 12:30.
Depositing my luggage at Central Moliter Hotel, I went to Constitution Plaza across the Adolph Bridge. Started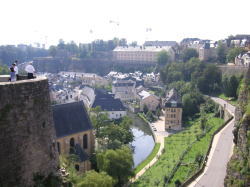 Luxembourg

sightseeing there by Tour bus. Luxembourg is much more magnificent city than I had expected. The scenery from Casemates du Boch is especially breathtaking.
New quaters of the city are also beautifully arranged by the buildings by world-wide famous architects.


Monday, September 6
Left Luxembourg Station at 7:55a.m. Got to Nancy at 9:26a.m.
Pl. Stanislas was under construction.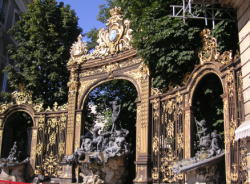 One of the gates of Pl. Stanislas

The gates there are marvelous. Visited the Museum of Fine Arts and appreciated Daum brothers' glasswork's production. The school of Nancy Museum was closed on Monday. I missed Emile Galle very much. Dined at Excelsior getting the feel of Art Neuveau till the train for Dijon at 6:04p.m. Arrived at Dijon Center at 8:35p.m. and checked in Hotel Companile in front of the station.


Tuesday, September 7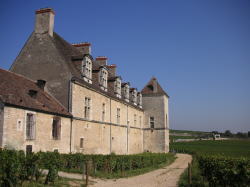 Clos de Vougeot

Mr.Yamada of Patriarche Co. came to see me at the hotel at 9:00a.m. He was going to show and teach me about Burgundy wine. We drove round the vineyards in Cote de Nuits and Cote de Beaune. Chateau du Clos de Vougeot is impressive. The single vineyard of Romannee-Conti excited me very much. The harvest of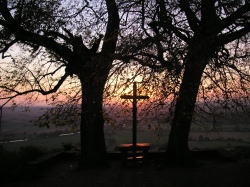 Sunset seen from Chateauneuf

grapes comes near at hand. They were washing the old barrels here and there. We visited one of small wine-makers in Volnay. They still bottled wine from a barrel by hands. We went to Cave Patriarche in Beaune to test wines. It was difficult for me to differ each quality.
We appreciated the sunset from Chateauneuf-en-Auxois and enjoyed the Volnay and Crepe D'Escargo at L'oree Bois Restaurant there.

Wednesday, September 8
Slept a sound sleep at hotel Chateau de Challanges in town of Beaune. Mr. Yamada picked me up at 10:00a.m. at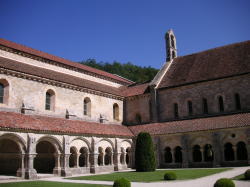 Abbaye de Fontenay

the hotel. We drove to Semur-En-Auxois and Abbaye de Fontenay, where there were beautiful fountains. Its quiet and simple surroundings moved me very much. It is designated as UNESCO World Legacy.
We went back to Dijon. Mr. Yamada sent me off TGV at 3:24p.m. Reached Gare de Lyon at 5:00p.m. I tried to find a room in the hotels around the station, but in vain. Moved to Gare du Nord. I finally checked in Hotel Gare du Nord after 7:00p.m. I walked along Avenue des Champs Elysees and enjoyed the last night of my trip.




Thursday, September 9
Air France took off after 2:00p.m. about an hour late. It was so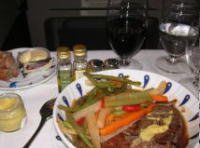 dinner on board AF

clear weather that I could see the islands of Denmark or Sweden in the feeling of an astronaut. There was Chablis 1er Cru of Burgundy on the plane, but I chose Sauternes 1er Cru for Foiegras Terrine and Chateau La tour Carnet for Panseared fillet of beef. It was a very comfortable flight. Air France landed at Seoul at 7:50 a.m. on the following day. Korean Air waited for me to take me home safely.





---



Well, thank you very much for reading Den's diary.
While he was away in Europe, our district was attacked by two typhoons Chaba (#16) and Songda(#18) in a week. These two typhoons were huge and terrible goddesses, in a furious rage against, say..... human arrogance or foolishness. I was hysterically taking command of this emergency, shouting and yelling to let the staff nail the windows and remove things, even tape the window glasses to make them stronger and safer if broken.
When Chaba and Songda were gone, leaving less damage than was afraid of, my staff said with a deep sigh, "Well, we are glad that the Typhoon HARUMI is gone now !!!"