Hi, friends.
I hope all is well with you.

I have to tell you that I broke my left leg on the 3rd of May,
and have been staying in hospital since then.
I will be here until the middle of June, at least.

I slipped and fell down in rain in my garden.
I was too heavy and my bones were too fragile.

I had an surgery on the 8th of May.
One titan plate and ten nails are in my leg now. The X-ray film is scaring.
I feel as if I were a cyborg now!

Friends are visiting me.
Every person says, "This is a vacation given to you from Heaven"


So I think I will enjoy this unexpected vacation.
I can read, listen to the music, watch movies on TV.

Three weeks have passed after the operation,
and now I am quite fine except my solid left leg.
Almost no pain.
Many small inconveniences.
I have started to move on one leg with two arm-sticks.
I am clumsy and my arm-muscle is weak.
It would be much easier on a wheel-chair.
But my rehabilitation adviser trains me with a thrash!

Please don't be worried.
I will survive!



Doctor advises me that I should keep my left leg higher than my heart.
I am trying.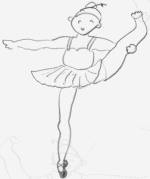 This is almost the end of May.
Now I am back home for three hours,
but I have not enough time to prepare for my June update of this page.
I am sure I can write my July essay.
So please see me next month.

I hope you will take good care of yourself.
Don't walk in the garden on a rainy day.


With love, Harumi Okochi
May 30, 2004