Japan is a beautiful country.
And what makes Japan so beautiful is the four seasons, said one of my non-Japanese friends.
The passing of the time is visible, and people talk about weather or season to each other as a decent subject.
In spring, we go to see the cherry blossoms. In June, we enjoy hydrangea, iris, rhododendron.
In autumn, we love maple leaves. Oh, we see the full moon, too.
In winter, what do you guess I watch? Snow? No. In Kyushu, we do not have much snow. In winter, I look at the branches without any leaves. They are also solemnly beautiful.

But the most beautiful season is Autumn, in my opinion.
There are sayings, probably Chinese. Maple leaves turn red only after frost. The red leaves are more beautiful than spring flowers. I think these mean that a woman, after having a harsh time of life, turns more beautiful than a mere young girl. My interpretation may be funny, I admit, but still it encourages myself, a woman after much frost!

So, today, I will talk about the autumn flowers.

Have you ever heard of 'Man-you-shu'? It is Japan's oldest anthology of poems. It was edited almost 1200 years ago.
One of the poets, Yamanoue-no-Okura, dedicated a poem to 'The Seven Flowers of Autumn'.
The rough translation of the poem is :
In the dewy field of Autumn, I count, folding my fingers, seven flowers of the season.
They are Hagi, Obana, Kuzu, Nadeshiko, Ominaeshi, Fujibakama, and Asagao.
Since the poet admired these flowers, they have been always honored in Noh, Kabuki, Kimono designs, literature like Haiku or Waka, art, and common life.

Here, I will introduce you The Seven Autumn Flowers with old poems from Manyoushu or other anthologies.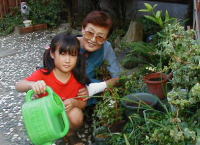 Tomiko-san



The pictures were painted by my neighbor, Mrs. Tomiko Morisaki. Tomiko enjoys chatting with her grand-daughter Mai, growing flowers in her garden, and sometimes painting pictures on the post-cards for her friends. I wish I could paint like her!










Hagi

Dews on Hagi flowers
When autumn winds come
Drop like irresistible tears.





Obana

A shrike is shrieking in the bush of Obana.
Do you hear, my love?
It's me, calling you.


Kuzu

Up the cliff high on the mountain,
Unnoticed by human eyes
How long the vine of Kuzu crawls
Like my yearning for you.



Nadeshiko

Nadeshiko is now in bloom.
My love sowed this when she left me.
Come Autumn, you will miss me, said she.



Ominaeshi

I picked some Ominaeshi
Then my sleeves also smelled.
Alas, with dewdrops, the flowers fell.



Fuji-bakama
(Hakama, a man's clothes, is pronounced Bakama,
when pronounced after a vowel.)

In this autumn winds
The forgotten Hakama must be broken.
Grasshoppers chirrup,
Stitch, stitch, stitch.


Asagao
(Asagao now means Morning Glory, but in old days,
it meant a different flower)

Asagao blooms in the morning sun, they say.
But it is more beautiful in the fading evening light.


---
Thank you very much for visiting this page.
I hope you will return next month.
Yours, Harumi Okochi
Proprietress of Ryokan Yoyokaku


Mail to Harumi Okochi