In the world history, there must be famous names of pirates in many seas. I have not studied about piracy, so I cannot tell the names. I hope you do not ask me.
But also here in Japan, in the middle ages, from 12th century to 16th, pirates did exist. One of the most famous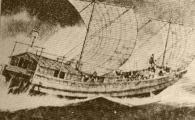 Bahan-sen of Matsura-tou

groups spread its territory in and around Karatsu. They were called "Matsura-tou". They were a kind of united forces of some clans which were related closely to each other in blood.
Usually they were friendly traders with people living on the coasts of China or Korea or Southern seas. Sometimes they fought for the country, when there was a threat of invasion to Japan. They were a strong navy. But sometimes, they did piracy.

Here, hundreds years later, people still talk about Matsura-tou. Elder people study about the history, and they seem to be proud of being the descendents of the pirates.
About the young people, even though they have no knowledge about Matsura-tou, they sometimes take actions which you might owe to the pirate blood.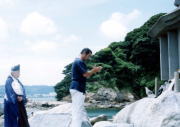 Akihito prays for the safety of the race at the Shrine on Torishima


This month, I would like to introduce you a descendent of Matsura-tou.

His name is Akihito Kuki.
In Chinese characters,'Kuki' is written 'nine demons'.
How scaring !
But he is a gentle person with subtle artistic fingers. He is the third generation confectioner of traditional Japanese cakes.

Twenty years ago, Karatsu Junior Chamber of Commerce started 'Raft Race'. It was a race of hand-made rafts. They row to and from the Island Torishima, 800 meters far from the beach. In two or three years, the race grew to be a very popular amusement of the summer.
But after nine years, JC announced that they were not going to continue this project any more.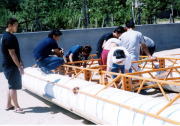 Making a raft


Citizens were much disappointed,

Then Akihito Kuki, made up his mind to take it over. He declared that the citizen group would continue the race.
He and his friends had a great success. The 10th Race attracted more participants and observers.

10 years have passed quickly. Akihito can not believe that he has done this for 10 years now.
Companies or friends make rafts of various materials, spending two or three months in preparation.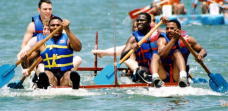 Sinking? Too heavy for this raft.

US Marines join every year. They come from Sasebo Navy Base, two hours drive from here. They use rafts for rent.
They are Popeys with huge muscles, but they have no chance of training beforehand. The hand-made raft, I guess. is not easy to control. So far, US Marines have never defeated the descendents of Japanese pirates.

In case you join in the race next year, I will explain the rules.
The raft should be a hand-made one.
There is no limitation about the figure or size.
If the 'thing' you made can float on the water, it will be admitted as a raft whatever material you may use.
The crew must be at least 4 people.
You must row. Never use a sail, nor an engine.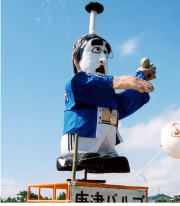 Who is this Samurai?


There are two competitions. Speed and Design.
There used to be another: Ladies' Speed. But judges suspected there were some very masculine girls.
Be careful. Your wig might be blown away when you are speeding against the wind! This year, girls raced with men. Equality!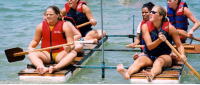 Most beautiful crew.

This year's award for the winner of the Speed was 100,000yen.
For the Design, 500,000yen!

Now, what makes Akihito Kuki do this?
His true hope is to retrieve the beach.
The Nishino-hama was a very beautiful beach 40 years ago. But there was a kind of 'developing' burying of a part of the bay. The current changed its course, and the sand of Nishino-hama beach was washed away. There was no sand-beach at all, and waves came too near the houses.
5 years ago, the government of Prefecture started to put in sands.

Now we have the beach again, even though the color and the feeling of the sand is a little different from that of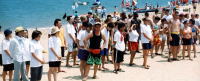 Crowd on the beach again.

old days.
Have children come back to the beach? No, not yet.
Akihito was born near the beach, and this sea was his main playground. He loves this sea more than anything. What he intends by doing the Raft Race is to bring back people to this beach.

"Yes, they will come back," said Akihito to me. "Children should be trained in the waves. Swimming pools have no waves. They are too safe. Children who were trained in a safe water might not survive a rough water. And salt water is good for the health."

I agree with him. We should be prepared for rough water. Too late for me, though.
This pirate-descendent Captain Nine-Demons is a true man of sea. Come and see him. The sea of Karatsu will always welcome you.

Here are some photos of this year's Race, held on 28th of July 2002. Enjoy!


They clean up the beach and the Island
before the race.
Happy winners of Design, 2002
Design Winner raft
Happy cheer girls.
Happy team in Happy-coats
Party after the race is another fun.