Naruko-Dayu, a Gidayu artist
\A beauty, making beautiful old rhyme\
WHEN in the chronicle of wasted time
I see descriptions of the fairest wights,
And beauty making beautiful old rime,
In praise of ladies dead and lovely knights,
Then, in the blazon of sweet beautyfs best,
Of hand, of foot, of lip, of eye, of brow,
I see their antique pen would have expressfd
Even such a beauty as you master now.
So all their praises are but prophecies
Of this our time, all you prefiguring;
And, for they lookfd but with divining eyes,
They had not skill enough your worth to sing:
For we, which now behold these present days,
Have eyes to wonder, but lack tongues to praise.


Sonnet CVI. by William Shakespeare

---


I guess you have heard the name of Chikamatsu Monzaemon, the greatest playwright of Edo Period, who is often compared to William Shakespeare.

In Karatsu. there is a temple called Kinsho-ji, where it is said that Chikamatsu Monzaemon studied for some time of his young days.

Chikamatsu Monzaemon's literature has been cherished for hundreds of years, mostly in Japanese traditional theater-arts like Kabuki and Bunraku.
In Bunraku, puppets are worked by puppeteers, and the story is told in a style of music called Joruri.
Among some schools of Joruri, in 17th century, Takemoto Gidayu was so famous with his outstanding art.
So his style of music was called after his name.
In Gidayu, someone plays the Shamisen and someone tells the story in a mixed way of singing and talking. It is quite like Korean Pansori, I 'd say.
Gidayu tells the essence of human joy, grief, suffering and salvation. So Gidayu is called 'The Master of all kinds of music' because only the person who has achieved his true self is qualified to tell the story of true life.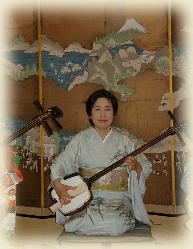 I am very proud that the only one Gidayu singer in Kyushu lives here in Karatsu. Her art-name is Takemoto Naruko ( the Third), a beautiful small lady with powerful voice. When we call someone of distinguished Gidayu art, we put Tayu after the name. Tayu is often pronounced Dayu when it is pronounced right after the name.

This month, I would like you to meet Naruko-Dayu.
Her real name is Yasuko Yamasaki.


---

Yasuko was born in 1949 in Karatsu as the fourth of five children of the Matsumoto family. Her father was injured in coal-mining, and her family got poor. Yasuko started to help her family delivering newspapers when she was only six. After graduating from highschool, she started to work at the city-hall. There she met Hisashi Yamasaki. Yasuko married him when she was 21. Her first child Junko was born in 1971.
It was after Yasuko had a baby when she made up her mind to learn Gidayu from a far relative, Naruko-Dayu the Second, who had kept persuading her to do so for more than ten years.

I can imagine how hard it was to begin some kind of Japanese traditional art after growing up, and moreover, it must have been so difficult to study something when she was married and having family and working.
Her mother-in-law Suma Yamasaki, like other conservative ladies, was against her studying Gidayu. But even in complaining, Suma took good care of the baby Junko, and the second child Hideaki, while Yasuko was working or studying. Yasuko's father-in-law Yuichi was a school principal, and he encouraged Yasuko to continue her lesson.Yasuko's husband Hisashi supported her all the time.

The culture of Gidayu is so old and in the modern society, it is not as popular as in the old times. Yasuko was the only one apprentice of Naruko-Dayu. This old man loved Yasuko like his own daughter. He handed down to her every art he had . He died in 1985 at the age of 80. Then Yasuko Yamasaki succeeded the name, and she became Takemoto Naruko-Dayu the Third.

Now Naruko-Dayu has expanded the area of her activity of Gidayu.
She performs in major theaters in big cities.

In March 2002, Naruko-Dayu held a recital in memory of Naruko-Dayu the Second. It was a great success.

I believe that the former Naruko-Dayu must be very proud and happy 'behind the grass-leaves' (we Japanese think that our ancestors are watching and guarding us from behind the grass-leaves).

Naruko-Dayu thinks that it is her destiny to preserve the art of Gidayu forever. Her daughter Junko plays the Shamisen also, and young generation is growing up. Her son Hideaki is a good adviser and critic too. It is Naruko's dream that someday Gidayu becomes as popular as it was in Edo Period, and then Japan will be as beautiful as old days.



---
Naruko-Dayu sings.
Tomoji Tsurusawa, Living National Culture, plays Shamisen.
This respectable artist is 89 years old.
She lives in Awajishima Island in the Setonaikai (Inland Sea).
On 17 March, 2002, many people came to see Naruko-Dayu's recital at Karatsu Citizen Hall
Imazu Puppetry Theater in Fukuoka Prefecture joined the recital.
Children are the puppeteers there.
Naruko's lesson is severe.
Naruko said "I am more strict to my students than my teacher was to me".


Naruko's daughter Junko Mori (age 31) took apprenticeship with the National Culture Tomoji Tsurusawa when Junko was 23. Mother advised her that she should learn from the best teacher ever possible.
Junko is a happy wife and a mother of Sawako, who was born in March this year.
Junko says she is luckier than her mother, because Junko's parents-in-law are very kind to her and they support Junko's hope to continue to study. The Mori family has a Kimono shop in the neighboring town Hamatama-cho. Junko also sometimes plays at big theaters.

Yurie Yamashita (age 15) started her lesson of Shamisen at the age of 4.
She played a tiny little toy-shamisen at her first stage when she was 5 years old.
Her grandmother Fujiko likes Shamisen and always goes to the lesson with her.
Yurie says she wants to play the Shamisen every day.


---

Thank you very much for visiting this page.
I hope you will return next month.
Yours, Harumi Okochi
Proprietress of Ryokan Yoyokaku


Mail to Harumi Okochi