Introducing a Wild-Boar Man,
A Triathlete Mr. Masaaki Harada
2019 is a year of Wild Boar in Lunar Calendar.
This year's new year issue is an interview with a Wild Boar Man.
Please enjoy!

◎ Harumi Okochi, interviewer
★ Masaaki Harada, Guest
Photos from the pamphlet of their Triathlon 2018 Meeting in Karatsu.


---
◎Hi, Masaaki-san, it has been a long time since I saw you last. How have you been?

★ Yes, 5 years. Today you are going to interview me, and you are already scaring me!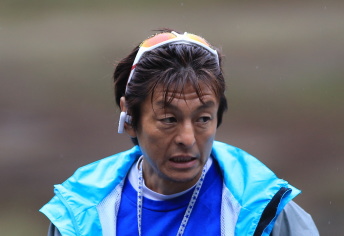 Masaaki Harada


◎Don't be scared. I 'm a gentle grandma to a handsome young man.
OK. let's start!
First, explain me about the triathlon competition you are holding in Karatsu these years.

★ We are doing this under the name "Nijino-matsubara(Rainbow Pine Forest) Triathlon in Karatsu".
Competitors swim in this bay, ride along this pine forest, and run along this Matsuuragawa river.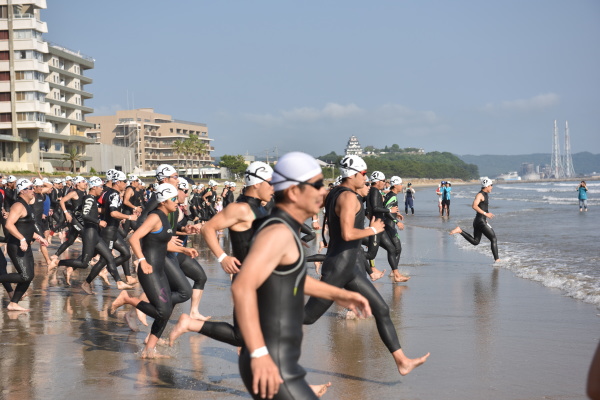 Swim 1.5km


◎How long have you sponsored it?

★This year's competition is the 20th meeting. It is held on July 16th, 2019.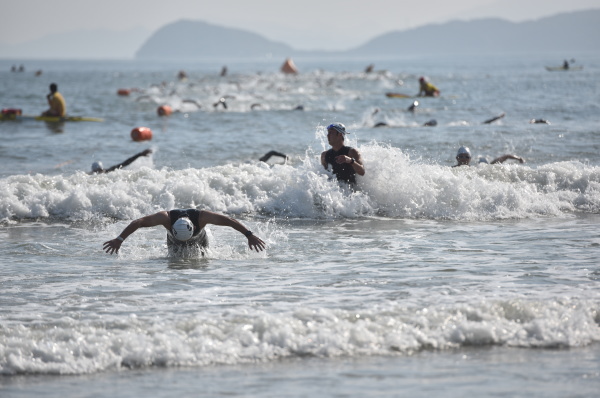 Beautiful beach along the long, rainbow-shaped pine forest

◎Is there anything special with this meeting in Karatsu?

★Yes. We are proud of the guest-runners who join us with our invitation. Japan's top triathlete Junichi Yamamoto has won 9 times. Mr. Hiroshi Inada is a world-respected runner as he is 85 years now and still doing this. Harumi Yanagawa is a blind runner who wan the Gold Medal at Atlanta Paralympic Games.
These three were the last year's guests.


◎Wow! Amazing! But how come you do this?

★I 've always loved sports. When young I did Rugby. After I got injured, I started triathlon as my rehabilitation exercise. I joined Amakusa meeting and Miyazaki meeting. After only two meetings, I thought how wonderful it would be if I could do this in Karatsu.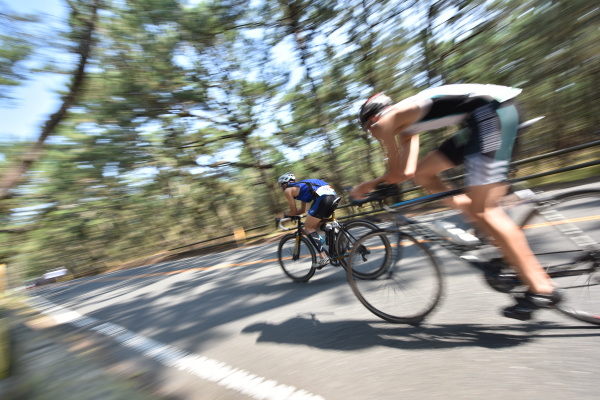 40 km by bike inside the pine forest


◎How did you do the first time meeting?

★We had practice meetings five times in five years. First, 7 runners entried. We were 7 staffs. Gradually the number increased. Runners and the staff grew up together.
And we had the first official meeting 5 years later.
At the first meeting, the winners of two divisions, general and women, were both foreigners.
The second meeting, Mr. Yamamoto joined and won with the record of less than two hours. 27 runners then, and 37 at the 3rd competition.
Last year, 319 runners entried, from 13 year-old boy up to 85. Volunteers were more than 7 hundreds. 

◎Overwhelming! I know you are doing this with another man, don't you? Who is he?

★Mr. Yutaka Kawazoe, 5 years my senior, is the chairman of this event, and I am the executive director. Today I wanted you to meet him, but he could not come.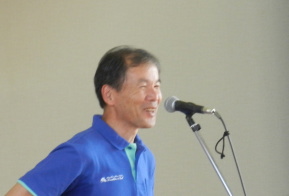 Yutaka Kawazoe


◎Why do you do this in the rainy season?

★In autumn we have the big festival. In high summer, many people swim in this sea.
Rainy season is the safest timing both for us and Karatsu citizen.

◎I understand. How are the courses of Karatsu meeting?

★The Genkai Sea is so beautiful, the pine gloves supply much oxygen, run alongside the Park of Matsuura River, these are really enjoyable courses, but to link all these three into one, much effort is necessary with ideas and passion. The courses should made up in one day, so many people must do together.
We have cleared problems one by one.

◎Who pays for this event?

★Everything is afforded by the entry-fee. First, 12000yen, now 16000yen. It is not expensive compared to other districts.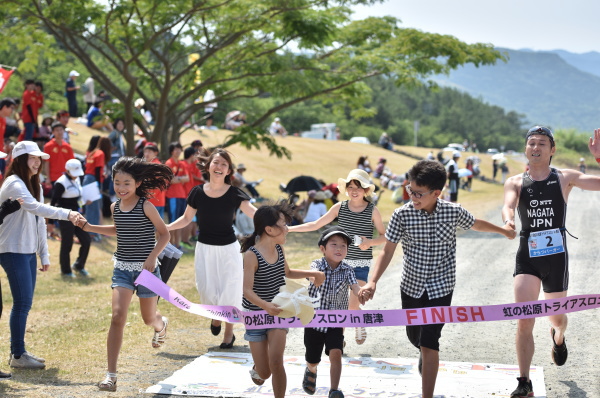 Dad is back!


◎I know your occupation. You are a seal-maker. Are you engraving stamps as earnestly as running?

★My shop was almost going bankrupt since I was always out. But now, my son is doing, and I think we will be safe. 

◎It's good! How about Mr. Kawazoe?

★He was a power plant engineer. He is retired and charging himself now.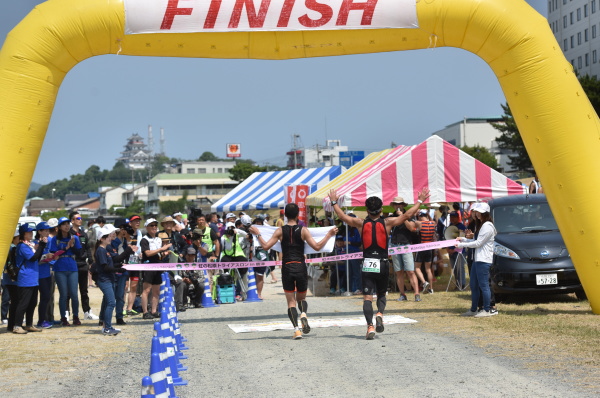 FINISH


◎What part of triathlon attracts you so much?

★In the viewpoint of a sponsor, it is quite thrilling and joyous that many volunteers get together and uniting their wisdom, energy and good-will, they make up three different race fields only in one day.
In the competitor's eyes, it is quite interesting and exciting to do three different races in one time. Being exhausted and becoming almost unconscious, then suddenly with only one sip of sweet thing, we come back to ourselves.

◎You have your family's understanding and cooperation?

★I certainly need it, since I practice 4 or 5 hours a day, or do running at midnight. I really thank my wife for it. We got married at the same time of our 1st competition, so it is 20 years since we got married. We have a daughter and two sons. The second son is now succeeding my job.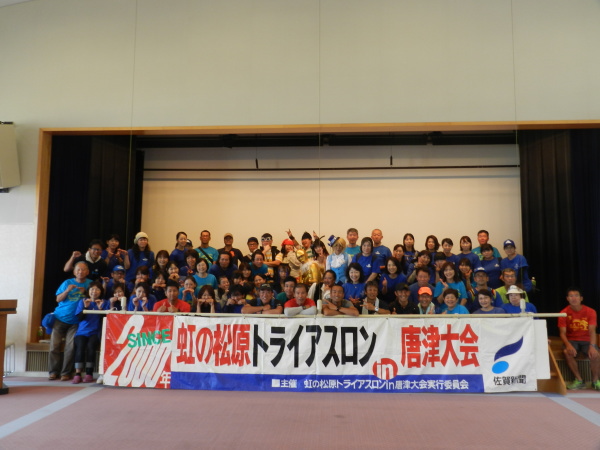 The team


◎After the 20th competition, what do you want to do?

★The hotel, where we put so many bikes for the competitors who finish their swim and come back to land is going to be renovated. We do not know yet where we can prepare the bikes. We sincerely hope that we can continue.

◎I hope so too.
Oh, by the way, tell me your story of the wild-boar. I saw the news on the internet that a rugger-man caught a wild-bore with bare hands. I was excited that it happened in Karatsu, and it was you who was the hero. But I also knew you were injured then.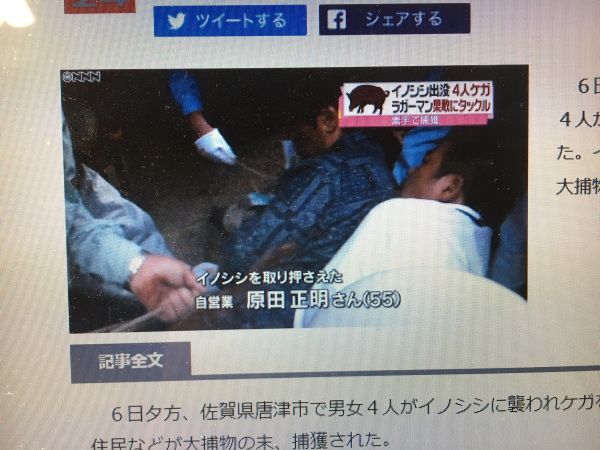 Photo from the news. Masaaki is the blue shirt man.


★It was on October 6, 2015. Karatsu citizens were quite nervous because a wild-boar appeared in downtown of Karatsu and some people were attacked. People were worried about children. An elderly lady was attacked and was injured seriously. I thought in my mind if I happened to meet the animal, I would be the person who catch it.
On the day, one of my friends called me and told that the animal appeared and was now in Kinshoji Temple. I sped there on bike and met it. The wild-boar dashed at me and bit my legs and arms. 4 or 5 times the attacks continued. I made up my mind. If I let him go free, he will injure more people. So I tackled him. I pressed him down and held him maybe for 5 minutes or so. Police came, and the people with rifles came too. There was no shooting, though. The wild-boar, with short legs and a neck which can not be turned stopped resisting as soon as I held him down. Our eyes met. I found the animals eyes so clean and pure. I felt something sorrowful. After it was roped and taken away, I do not know what happened to him.
I went home bleeding, and my wife scolded me for my reckless act.
She said nobody would praise me doing such a foolish act.
The next morning, the top news on the internet was a rugger-man in Karatsu who caught a wild-boar.
I got hundreds of praises.

◎You were not reckless. You have trained yourself enough. Also you were courageous. I praise you much!
Well, interview is over now. Thank you. I enjoyed.

★Good-bye now. Thank you.

---
How do you like this wild-boar man?
He looks quite young for his age 60 (this year). He is the year of Wild-boar.
Later, I found that the wild-boar was a female, weight 60kg, size almost 1 meter!
I don't know if she had babies in her or not. The story of her eyes impressed me deeply. There must have been some reason for the wild-boar to come to human territory.
I wish Masaaki Harada, together with Yutaka Kawazoe, will be able to continue the triathlon hereafter too.

Thank you for meeting our Wild-boar man. Stay healthy and strong in this year of wild-boar.


I do not know when I can write the next issue. Maybe two or three months later.
Until then, please stay happy!