Invitation to a cup of tea.
Ogasawara Sencha-do (Way of Sencha)

Explanation of The way of sencha (Wikipedia)
This month, you are invited to Sencha-do.
I hope you will enjoy this amazing culture of Japan.

A Sencha ceremony was held in Karatsu last month.
This was Ogasawara-ryu (school) of the way of Sencha.
This school was started more than 100 years ago when the lord of Karatsu, Viscount Naganari Ogasawara, advocated to found a way of tea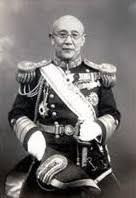 Viscount Ogasawara

to make a cultural feeling among people who were at a loss after the Meiji Restoration.
Ogasawara Clan's temple is Kinshoji in Karatsu, which has a long history,
and where the generations of lords of Ogasawara were buried.
The present tea master of the Ogasawara-ryu is Mr. Shudo Ogasawara,
the 5th generation, and he has long wanted to donate a cup of tea to the initiator of the school.
Strange enough, the school flourished not in Karatsu, but mainly in Ashiya, in Hyogo Prefecture. Now they have many branches in all over the world.

So this time was the first tea ceremony by Ogasawara school in Karatsu.
The stage of this ceremony was of course the temple of the Ogasawara family.
Please enjoy the photos of the ceremony.
My husband and I were invited to it, and had a wonderful time.
Please share my happiness.



Kinshoji peony garden is famous.
In May, hundreds of gorgeous flowers bloom.
400 years history!
Inside the temple.
Vice-Iemoto (tea master), Mrs. Ogasawara, prepares for the performance.
Iemoto, Shudo Ogasawara, performs himself.
He makes tea to donate the Lord Ogasawara.
Iemoto's two grandsons help.
The bring sweet things first to the altar..
The sweet is received by a priest, and then to the highest priest of this temple, and he put the sweet before the Ihai (on which Lord Ogasawara's name after death is written).
After the ritual, a light sweet is given to us with a cup of Ume-Kosen (Kosen is not tea itself, but hot water with pickled plum fruit in it.)


Light sweet on the paper on which three diamond shapes are printed.
Three diamonds is the crest of Ogasawara.

The main tea room.
In tea ceremonies, this kind of document is prepared to tell the guests about everything of today's performance. For example, the main tea cup is a work of Kakiemon the 13th (Arita in Saga Prefecture).
This paper goes around the guests, and all the guests can know every detail of the day's combination.
The performer starts with a stick of incense to purify the place.
First, the main sweet of the day is brought to each guest.
Then the first cup of tea is served. We do not eat the sweet yet.
We have to wait.
When the ladies begin to serve the second tea, we can eat the main sweet.

After the performance, the guests can have a close look at the Dogu (utensils) .
This gentleman is Mr. Lee Sampyeon the 14th, the descendant of Korean potter in Arita.
---

We had a very rare experience and enjoyed every moment. Thank you for letting us join this wonderful event.

Dear readers, please see me next month again.
---