80 Jars of Takashi Nakazato, 80 year-old potter
The world-renowned potter Takashi Nakazato showed his 80 jars, made at many places in the world, to commemorate his age 80 (which has some special meaning in Japan) in a department store in Tokyo.
Nihonbashi-Takashimaya Department store was founded 110 years ago, and to celebrate it, the store wanted to hold a special exhibition last November. At this opportunity, Takashi had his 80 jars exhibition.

This is a report of his exhibition, and also a journal of our trip to Tokyo to see his 80 jars.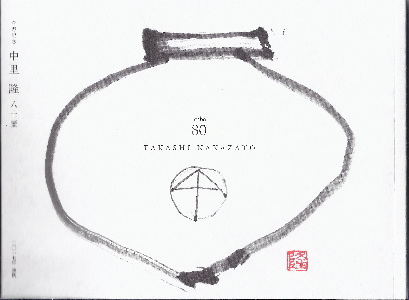 The catalog



On the first night in Tokyo, we got together with our old friends, also Takashi's old friends, Terry and Ben.
We enjoyed a famous Tofu Restaurant near the Tokyo Tower.
The next morning, we visited the Nezu Art Gallery.
Terry is a Japanese -garden architect, and also a collecter of Japanese arts. He had donated a part of his collection of old scrolls to the museum in Honolulu.
We spent some hours in this cozy museum, and had a nice lunch in the garden here.
Ben, the younger one, once studied pottery from Master Nakazato.
We were invited to a Japanese Kaiseki (Kyoto style) restaurant in Shinjuku.

The party at the restaurant was a unique and international one. Americans, Asians, Europeans, and Japanese.
We celebrated Takashi Sensei' 80 years of age, and also these most amazing 80 jars.
On the morning of the show's opening day, we went and saw the works.
It was a spectacle!
Huge jars are laid on the floor. Not on the table.

The jars in between the big ones look small, but each one is also big enough if you go near.
Two photos were taken in the mountain in Colorado.
For example, this middle sized jar is more than 60 cms in width and height
The glazes!
More than 30 kinds from many places in the world.
The places where these jars were made:
Anderson Ranch, Snowmass Village, CO,USA
Arvada Center, Arvada, CO, USA
Arizona USA
Mesa, USA
Ashville, USA
Star,NC, USA
Skaelsker, Denmark
Hohr-Grenzhusen, Germany
Cotia, SP, Brazil
Kohila, Estonia
Tainan, Taiwan
Karatsu, Japan
Tokushima, Japan,
Tokyo, Japan
Shigaraki, Japan
Toki, Gifu, Japan
On the night we saw the exhibition, we visited our friend's sushi restaurant.

The next morning, we went to the Yasukuni Shrine near our hotel.

The last night in Tokyo, we went to see an opera in the National Opera Theater.
We enjoyed very much, and this time's Tokyo trip was a perfect one for us.

When we returned to Karatsu 5 days later, we found that winter had come.

We wish you a peaceful and happy new year!
Thank you for joining me.

---



Harumi Okochi
Proprietress
Yoyokaku
mail to: info@yoyokaku.com