Bunzo Otsuki (1942- )
Noh Player (Kanze School)
Learned from his grandfather Juzo Otsuki and his father Hideo Otsuki.
Debut at the age of 5, and played the main character at 8.
His Noh skill together with his long effort to revive the disappeared plays has been highly estimated, and he was awarded many times. Last fall, he was designated as a Living National Treasure.
He lives in Osaka, and his Noh Theater "Otsuki Nohgakudo" is there.
Mr. Otsuki visits Yoyokaku every year to join our autumn festival, Karatsu Kunchi.

My husband and I were invited to his celebration party in Osaka last December.
It was a marvelous party.
I hope you will join in this occasion on this web page.


More than 500 people were there. Among them, many Living National Treasures, very famous artists( kabuki, johruri, Japanese dancing,etc.), big businessmen, politicians, ........
We, small inn-keepers from a small town in Kyushu, were quite excited, and did not know how to behave ourselves.
It would be impolite to step out and take photos. So we could not take many pictures.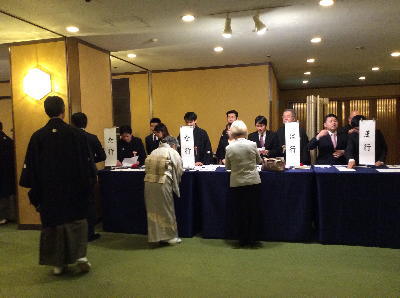 Receptions by more than 30 people.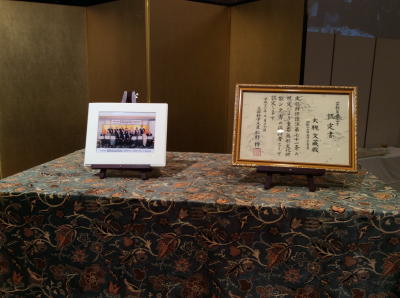 Certificate of National Treasure

 Speeches by VIPs. Then a celebration Noh Play of 'Lion and Peony' by Yuichi Otsuki, the adopted son of Bunzo Otsuki, was energetic and brilliant. The young Lion jumped up so high! Then, Kyomai, the Kyoto style Japanese dance by National Treasure Miss Yachio Inoue, was so elegant and fantastic.
Barrels of Japanese Sake were presented on the stage, and the wooden tops were hammered open by 30 big people.
The master of ceremony was a famous TV announcer who has done Japanese classic art program for more than 30 years.
3 hours passed instantly. We enjoyed every minute.
 


 We were too excited to taste the cuisine. I don't remember what I ate . But the menu which I took home proved that we had a gorgeous dinner.

 One of the main guests, Gensho Umewaka, also a National Treasure Kanze Noh Player, once came to Yoyokaku. He remembered us, and we talked for a short while.

 
Mr. Umewaka noticed my Obi, and asked about it.
The design was three Noh masks at the back, and a drum and a flute in front.
This Obi was my husband's mother's obi. She died in her 40's. She learned Kanze school of Noh when young.
This Obi is more than 100 years old. I wanted to come to this celebration with Mother-in-law whom I did not see while she was alive.
 The party was over after three hours. Then we could go near to Mr. and Mrs Otsuki and took a picture together.


Thank you for joining me.
The photo below is Mr. Otsuki at Yoyokaku party of festival last November.
Even though he drinks much sake, he is always beautiful.


 The photo below is Mr. Otsuki performing Matsura Sayohime, legend of Karatsu, who waves her scarf farewell to her loved husband who is leaving her to go to war.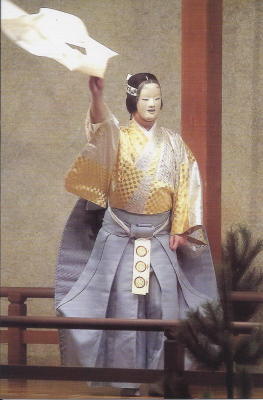 ---
So, I will wave my handkerchief to you to say good-by for now.
Please return although Sayohime's husband never returned.
Thank you.