Come December, I think of, not Father Santa Claus, but of the Guitarist Goro Ito.
These ten years, Yoyokaku's Christmas has been a happy time with Goro's guitar concert. He is a talented bossa nova guitar player, famous in Japan and other countries.
We have met many guests, singers, pianists, other guitarists, who came with Goro.
Every year at this concert, I am busy preparing light snacks for the audience, and also decorating the hall with flowers or something else.
Last year was the tenth concert, and Goro gave me a bunch of flowers to my surprise. Usually, flowers are sent to the person on stage, but last year I was blessed with flowers from the player!
Satoshi Ikeda, who is the representative person of the group of young people who hold this concert, wrote for me the history of these ten concerts.
I hope you enjoy, and send your warm yale to Goro and these young Karatsu people.


---
Goro's concert at Yoyokaku
Satoshi Ikeda
 An acquaintance called me and said that he would like to introduce a Bossa Nova Duo who might be suitable for our activity of making our town happier. I got a CD and listened. And hurried to see Mrs. Okochi, Okamisan, the landlady of Yoyokaku. I asked her to let us use Yoyokaku as a concert hall of this Bossa Nova Duo, naomi & goro.
Okamisan instantly said Yes, and thus it started.
Since then 10 years passed, and we have already had ten concerts with Goro and his guests. I can say this is a quite rare case. Every year, a same musician, for 10 years!
This month, we are going to have Goro's 11th concert at Yoyokaku.

To answer Okamisan's (Mrs. Okochi's) request, I offer here the ten years' records of the concert.



#1 naomi & goro(2006)
I first met Goro Ito in November , 2006. For the first time in my life, I heard the music called Bossa Nova. We were fascinated by Goro's sound and Naomi's angelic voice.
While we were doing rehearsal, Okamisan was busy preparing food for the participants, also decorating the room used for the day's restaurant. The name of the one-day restaurant was The Carnival Shokudo. Shokudo means a small place to eat simple food. The only one menu of the Carnival Shokudo was Brazilian food Feijoada. The funniest thing which made everyone laugh was the sign-board of the Carnival Shokudo. It was a photo of a half-naked girl with colorful feathers on her body.Since then, Okamisan's Shokudo and the food of the day became another attraction.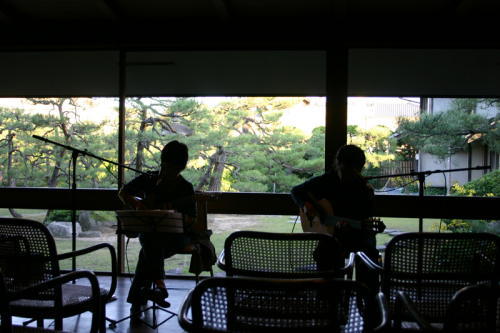 naomi            goro
at the rehearsal





#2 Tomoyo Harada 'music & me' release tour (2007)
Tomoyo Harada, a famous popular singer came with Goro. Goro was the producer of her new album 'music & me' to memorize her 25th anniversary from debut.
From her new album, Okamisan took the name 'JUKLAPP' (Swedish meaning Christmas gift) for her shokudo and meal.
And to our surprise, the garden light was gone suddenly and there we found candle lights of six letters T O M O Y O on the grass.

| | |
| --- | --- |
| Tomoyo Harada | Candles on the grass |




#3 naomi & goro(2008)
The third concert was naomi & goro again. This year's Shokudo was Cafe de Noel.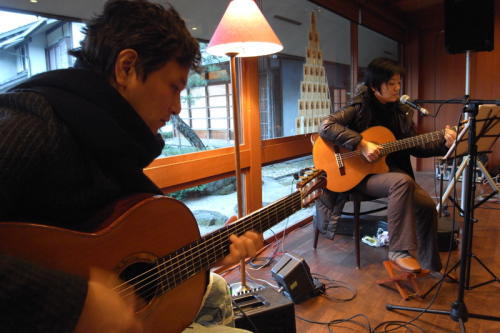 at rehearsal





#4 Hiroshi Takano & Goro Ito(2009)
The 4th concert featured Hiroshi Takano, famous singer with TV commercial songs.
His new album 'Rainbow Magic' was this time's Shokudo name. We enjoyed 7 colors' foods too.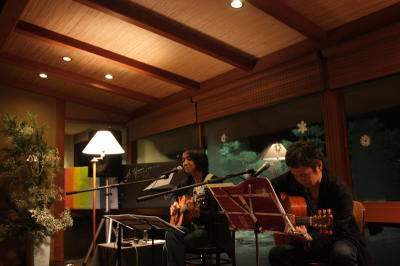 Hiroshi Takano     Goro Ito





#5 Kotoringo & Goro Ito (2010)
Pianist Kotoringo joined this time for the 5th concert. Her new album 'picnic album1' and Goro's latest release 'cloud happiness' were the main feature of this concert.
You can guess the name of this time's shokudo. Yes, it was Happiness Shokudo. and the menu was 'Picnic lunch'.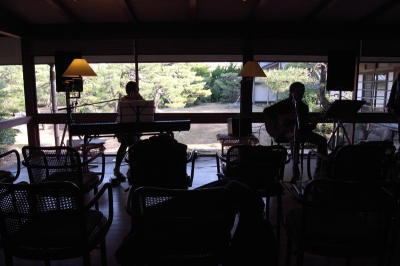 Kotoringo     Goro





#6 naomi & goro(2011)
For the 6th concert, naomi came back with goro. Their new album, 'Calendura' was quite attractive. Late Calendura flowers were decorated in the hall, and Calendura tea was served to everyone at the Calendura Shokudo.




#7 Goro Ito & Tomoyo Harada(2012)
Tomoyo Harada came back. Goro's new album was 'Glashouse'.




#8 Hiroshi Takano & Goro Ito(2013)
The 8th concert is the come back stage of Hiroshi Takano, who met his 25th anniversary from debut. naomi & goro' 10th album,'CAFE BLUE SOLID BOND', Goro's 3rd solo album 'POSTLUDIUM, these were the main tunes. From here, 'Daisy Chain' became the sign board this time.




#9 Goro Ito (2014)
The 9th concert was Goro's solo at last! His latest release 'RENDEZ-VOUS IN TOKYO' was amazing. Okamisan copied this album's jacket and made a huge sign board as below.




#10 Hirotaka Shimizu & Goro Ito(2015)
Two guitarists of quite different sounds! Shimmy's famous Golden guitar sounded deep and gentle. Goro harmonized perfect.
The tenth Goro's concert at Yoyokaku became a special night with these unbelievable sounds.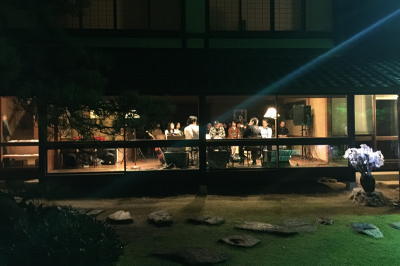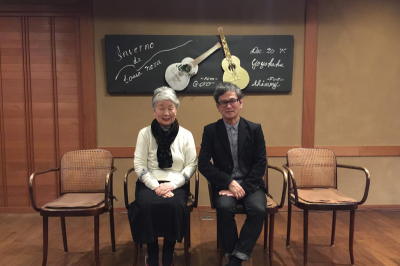 Okamisan with Goro
The guitars on the board were made by Okamisan with cardboard. do they look like guitars?




At the second concert, I joked. Shall we continue this until the 10th? Everybody laughed.
But this joke came true. We did this!
Thanking to everyone concerned, I truly wish we could continue until the 20th!

Christnas never comes to Karatsu if Goro does not come.
See, Goro?

Our 11th Concert is on the 25th of December, 2016.
We will see you then!

Thank you.

http://tetote.jp/?p=191




---
Thank you, Satoshi, for telling us the history of Goro's concert.
I hope I will keep my health until the 20th concert....... I hope.
Thank you for joining me and let us see next year. Wishing you a happy new year, I remain truly yours.
Okamisan of Yoyokaku, Harumi Okochi
---