'Fuji'-(Japanese word for wisteria)-is Karatsu's Flower of the City.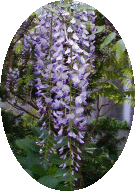 In the Karatsu Castle site, there is an old wisteria tree, that spreads her vines 30meters long with thousands clusters of fairy purple flowers. The fragrance all around ! People have cherished this tree for more than 100 years.
To visit this honorable wisteria , we must climb two hundred steps on the hill. At each wisteria season I try to persuade my poor old knees to carry me up there, but they never consent. If you can not see it, you have to imagine.
Wisteria is one of the most beloved flowers in Japanese art. It appears in paintings, Japanese traditional dance, Noh, and Kabuki. Haiku and Tanka are also written in admiration of wisteria. Would you like to make a Haiku on wisteria? If you did, please send it to me. I will forward it to our Mayor.
Speaking about 'steps', I have something delightful to tell you. It was such a heartfelt experience that I would like you to share with me. Michael Ondaatje was here in Yoyokaku on March 20! He is a poet and professor in Canada, and is world-famous as the Booker Prize-winning author of "The English Patient", which was filmed and won 9 Oscars in 1996.
He and his wife Linda stayed at Yoyokaku just on a right day, the spring full moon night. I wrote a Haiku ( not mine, but a well-known one) on the table mat. "Step out! The spring full moon is hanging so low. You could touch it." Reading this, the poet just stepped out. Then appeared a bright full moon over the 200 year-old pine trees in our garden.
In the course of conversation about Japanese poems, Prof. Ondaatje showed me a translation of a Tanka by Akiko Yosano, and asked me to write the original in Japanese.
The translation said: Of all the numberless steps
Up to my heart,
He climbed perhaps
Only two or three.
During the night I made desperate efforts to find out the original Tanka of the Japanese Muse of decades ago. Without a kind help of a knowledgeable friend, I could not have found it!
Prof. Ondaatje was glad and he kindly wrote for me a phrase of his poem with a brush and Sumi(ink).
It reads: A night of smoky ink in 1361
a night without a staircase (from 'The Great Tree' in Handwriting)
I will long treasure this calligraphy and the memory of the moon-viewing evening.
And 'rTEPS...... ! Steps will be something meaningful for me from now on. Can I go up the steps to the wisteria next year? Can I climb a staircase hidden deep in my own heart which lifts me up to the height of yearning and joy? .........Or could I climb a step or two up to your heart?
Best wishes, and please see me again next month.