THE MIRACLE SWORD (PART II)/ THE SEARCH
BY THOMAS H. SUGG 

Early this year my wife, Diane, who loves Japanese art and culture, and I began to plan a trip for next year to Japan. Never at that time would I have believed that I would now be writing this article. Likewise, I would never have imagined that I would have become involved in a search for a missing American professor who had returned a Japanese Sword (a war souvenir) some years earlier. Let me give you some background information in order that you can become acquainted with the participants of this real life drama. All of these people have been touched in one way or another by the paradoxes of victory and defeat, life and death, and sorrow and joy. Their drama concludes with warmth, love, and a wish for peace.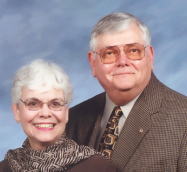 Thomas and Diane Sugg



While serving with the U. S. Navy at Sasebo, Japan, from 1964 to 1967, my wife and I enjoyed the hospitality of Den Okochi at his charming Ryokan Yoyokaku (a Japanese Inn) in nearby Karatsu. Karatsu is located on the northern coast of the southernmost Japanese Island of Kyushu. Having such fond memories of Yoyokaku, it was considered a must to include it on our itinerary of Japan. Since over 35 years had passed since I departed Japan, I had no idea if Yoyokaku was still open or if Den Okochi was still the owner. Thanks to the wonders of the Internet, I found a Web site for Yoyokaku. Den's wife, Harumi-san, answered my e-mail to Yoyokaku. Over the next several months, Harumi-san and I exchanged much e-mail and covered many subjects. Diane and I came to know Harumi-san as a warm, caring, intelligent, and creative lady with an abundance of energy for life and family.

In July, Harumi-san flattered me by asking if I would proofread an article that she had written for inclusion in the Yoyokaku Web site. The article was entitled, The Miracle Sword/A Wish for Peace. Harumi-san had written this article to honor her dear friend and neighbor, Haruko Ichimaru, the surviving daughter of the late Admiral Rinosuke Ichimaru of the Imperial Japanese Navy. Admiral Ichimaru had been the Commander of Imperial Japanese Naval Air Forces and Co-Commander of Japanese Forces on Iwo Jima at the time of the memorable assault of Iwo Jima by U. S. Marine Forces during the Pacific War. The 'Miracle Sword',referred to in her article, was fabricated during the Edo Period by a swordsmith named Tadahiro. It was the personal sword of Admiral Ichimaru. The sword had served him well until the Admiral lost his life on the battlefield of Iwo Jima. The Admiral's body and sword were never recovered from Iwo Jima.
To fully understand the travels and miracles of the 'sword', I would refer the reader to the following link that tells Harumi-san's story in full, LINK

. The major drama of the story develops with the return of the Admiral's lost sword to his widow by an American history professor about whom little was known. It is at this moment that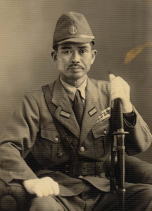 Admiral with the sword

Harumi-san and Haruko-san realized that real emotional closure required that an attempt be made to find the missing American professor. The circle could only be closed if Haruko-san could personally express her gratitude to the professor 'for the return of the sword and her father's spirit' that is embodied in the sword as the 'living spirit of the samurai (warrior)'.

Armed with what information Harumi-san obtained from an old Japanese newspaper, I began my Internet search for the professor. I thought that the probability of finding the professor, while not impossible, was unlikely. The biggest obstacle to the search was that we did not have a name for the professor. The Japanese newspaper article was unable to characterize the sound of the professor's last name so Harumi-san surmised that his name probably sounded like Rane, Raine, Reeve, Lane, Laine, or Leeve. The best lead I had was that he was reported to have been a history professor at Long Island University in New York.

On 22 July 2001, I sent an e-mail to Dr. John Brennan, Chair of the History Department of Long Island University, introducing myself and requesting help in locating the professor. Good fortune was with me as Dr. Brennan replied four days later that retired Professor John E. Lane was our mystery professor. Dr. Brennan continued that Professor Lane was a personal friend with whom he maintained an active correspondence and assured me that he would forward my letter to Professor Lane.

I immediately sent Harumi-san an e-mail to let her know that Professor John Lane had been found. I felt very privileged to have played a small part in assisting Haruko Ichimaru in her efforts to recognize Professor Lane's kind deed while finding peace of mind for herself. I felt as if I was a spectator to an event in history that resurrects the past and brings it into the present. It was like an open circle coming closer to being completed and as soon as letters could be exchanged between Haruko-san and Professor Lane, the circle would be closed. I believe that Harumi-san, Haruko-san, and I were feeling the elation that comes with the accomplishment of something that is very important. I recall that Harumi-san sent me an e-mail saying that she was so excited that she did not think that she would sleep that night. I know that Harumi-san and Haruko-san shared tears of joy that day.

Within a week I had received a nice letter, with copies for forwarding to Harumi-san and Haruko-san, from Professor Lane. Professor Lane's letter related how he was 'flung into the battle of Iwo Jima' and the horrific casualties experienced by his company. He stated that, "Everyone wanted a Japanese sword as a souvenir, but I did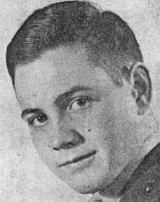 Private John Lane 1945/46

not manage to get one." He said that he had bought a Japanese sword in a junk store in Union City, New Jersey, prior to his discharge from the Marine Corps in 1949. In 1964 Richard Newcomb who wrote, "Iwo Jima", interviewed Professor Lane. Professor Lane learned from this book about Admiral Ichimaru's sword and the swordmaker's mark on the hilt. After confirming his suspicions that he, indeed, had Admiral Ichimaru's sword, the professor arranged for its return to the Admiral's widow, Sueko Ichimaru.

.As an expression of gratitude for the return of the sword, Sueko-san had presented a poem written by Admiral Ichimaru to Professor Lane. Haruko-san was not aware of this gift by her Mother and did not learn of it until she received Professor Lane's letter that mentioned the poem. She was very surprised to learn of her Mother's gift because it was her impression that nobody knew where the Professor lived. Likewise, since Haruko-san had no knowledge of the presentation of the poem, it is unknown how the poem reached Professor Lane. For that reason, Haruko-san has felt an emergent need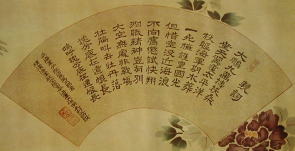 Poem and calligraphy by Admiral Ichimaru

these many years to find the Professor so that proper expressions of gratitude on behalf of her family could be made to him before her time had passed. In his recent letter to Haruko-san, Professor Lane described how the poem was displayed in a prominent place in his home. Additionally, Professor Lane expressed his desire to have the poem returned to the Ichimaru family on his death.

As of this writing, Professor Lane, Harumi-san, and Haruko-san have exchanged gifts and warm letters of respect and appreciation. While it seems that the circle is now closed, perhaps it is as Professor Lane wrote in his letter to Haruko-san as he quoted the novelist, William Faulkner, "The past is not dead; it is not even past." Or we can simply say that we have witnessed the fourth miracle of the sword 'Tadahiro'.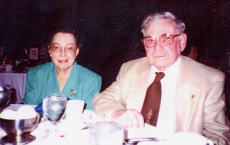 Prof. and Mrs. Lane September 2001


After his discharge, Professor Lane distinguished himself at Columbia University's East Asian Institute studying Chinese and Japanese history, culture, and Japanese language. He continued his studies as a Fulbright Scholar in Japan in 1958-59. Professor Lane has written a chronicle of Company "G", Second Battalion, Twenty-Fifth Marines, Fourth Marine Division, entitled, This Here Is "G" Company, published by Brightlights Publications, Great Neck, New York, 1997. Professor Lane is Professor Emeritus, Long Island University, and lives in retirement in Eugene, Oregon. He is a proud U. S. Marine Corps veteran.


---



ABOUT THE AUTHOR:

Thomas Sugg is a retired U. S. Navy Dental Corps Captain
who resides in Virginia Beach, Virginia, with his wife, Diane.
Dr. Sugg and his wife enjoy traveling and their grandchildren.
Tom says that when you own a home you don't need a hobby.


| | | |
| --- | --- | --- |
| | | |
| Tom and Diane at Niagara | Caroline | Thomas Manuel |
| | |
| --- | --- |
| Dr. Sugg's daughter, Sheryl, is a second grade teacher in Portsmouth, Virginia. | |
| | Sheryl and class |
| | |
| --- | --- |
| | Dr. Sugg has a son, Thomas,JR, who is a Lieutenant Commander in the U. S. Navy at NAS Pensacola, Florida, where he is a flight instructor. He and his wife, Paloma, have two children. LCDR Sugg was born at the Naval Hospital in Sasebo, Japan. |
| Thomas Sugg,Jr. and family | |