#178
January, 2015


This page is written monthly
by Harumi Okochi.
Sometimes Harumi's friends join.
We'd be happy if you look at
our previous issues.

#1 GREETING



My favorite sheep

Happy Sheep Year!
Here are two Japanese official New Year post cards.
The first one was made for 2003's new year card, and the second one is for this year, 2015.
In Asian countries, 12 animals are the symbols of the year. This is the year of Sheep.
Can you see the difference between two sheep?
The first one is knitting something with her own wool.
The next sheep has completed to knit a muffler, and she is happy now with it around her neck.
It took 12 years to finish this! Congratulations!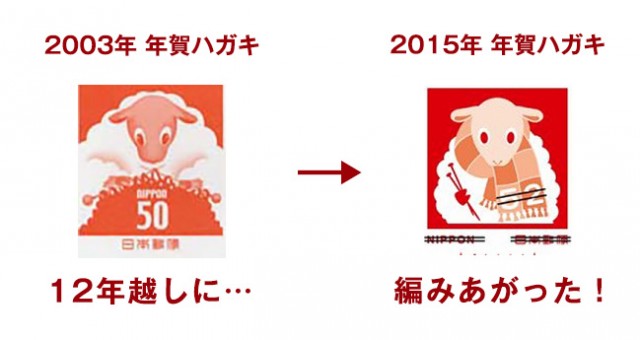 2003 New Year Post Card 2015 New Year Post Card
After 12 years............ Finished at last!


When it comes to "Sheep", the first thing I remember is:
"Mary had a little lamb" song.
When I was a primary school kid, I envied Mary, and asked Mom if I could have a lamb to go to school together.
Mom bought me a little goat. For a child, sheep or goat makes no difference. Sister and I named it "Shiro" which means "White". We had a happy time with Shiro. But we could not go to school together , though. I was not as brave as Mary.
One day, Shiro fell into a gutter and died. It was my first parting from a beloved living thing. Since then, "Mary had a little lamb" became a sad song for me.






Then we knew the story of "The Wolf and the Seven Kids"
Our teacher made us play this story. My part was Mother Sheep. A big boy, who always pulled my hair, acted Wolf. In the play, I did revenge to this gangster. I cut open his belly with big scissors.




Next "The Wolf and the Shepherd Boy"was our lesson not to tell a lie. In Japan, since very old time, this story was introduced in textbooks. Some versions had a cruel ending. The boy was eaten by the wolf. Wolves had always terrible images.







"Heidi" was a very popular TV animation program for children in Japan some 40 years ago.
At that time I had already grown up too old to see the kid's program, but secretly I saw. Even now, I can sing the theme song of Heidi in my particular Yodel voice!



My last sheep is the Golden Fleece which I knew when I read Greek tragedies.
More than 40 years ago I went to see Maria Callas's movie "Medea" by myself riding a train for two hours. On my way back, I vomited in the train, because the movie I just saw had some scenes which were terrible and disgusting. I was so much terrified.
Later, I saw "Medea" by Japanese actor (not actress) Mikijiro Hira. The stage was amazing.
The words were written by a famous poet Mutsuo Takahashi, who is a very good friend of us. Mr. Takahashi invited us to see the play in Fukuoka. The magic of words! Story itself was familiar to me, but the words Medea or Jason spoke were really fantastic.
At each sheep year, I remember the play. How I wish I could see it again.




In winter, the stars of the Ram are well seen.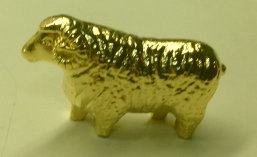 My important Gold Sheep


Looking at the Ram, I wish you every happiness for this sheep year!

---
Thank you very much for joining me.
I hope you will visit us again next month.


Mail to Harumi Okochi