Monday, 21st April. Ulverstone to Kuala Lumpur. Cool to warm.
We got up at about 0615hours. We finished getting ready and waited for a little while for Richard and Dianne who took us to Wynyard and arrived at Wynyard airport at 0945 hours.
We checked in then went into the cafe for a coffee.
We had a good flight to Melbourne even if it was a little bumpy over the city. We were bussed from the plane to Terminal 4 and had quite a long walk to get to the International Terminal. Check-in was very easy having booked the seats on line when we bought the tickets. We had to wait for 90 minutes before boarding so we had a sandwich and coffee while we waited. We also bought a book to read.
We were seated on the plane at 1400 hours. Dinner was OK and the service was good. We arrived at Kuala Lumpur a few minutes early and went into the airport to wait for our next flight. Ann tried her Priority Pass at the Plaza Lounge but they did not have any Soy milk so she left and joined me at O'Briens for an iced coffee. While we were there we met a couple from Somerset, UK, and had a bit of a chat before heading down to the boarding gate.
The flight took off on time.
Tuesday, 22nd April. Kuala Lumpur to Tsumago. Warm to cool & cloudy.
The meals were only fair but there was good service once again. We arrived a few minutes early and had a quick trip through Immigration and Customs, the latter taking 20 seconds. Then it was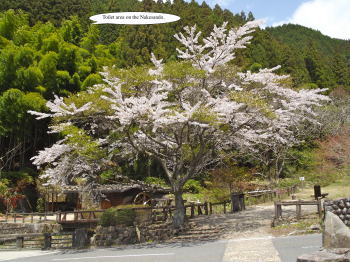 Nakasendo
off to the JR desk to exchange the vouchers for Rail Passes. We also booked reservations and even at this early date the Sendai to Akita train was fully booked. Nevertheless the girl was very good and did all the reservations.
We then caught the trains to Nagiso and a taxi from there to Tsumago. The taxi cannot go to the front door of the Pension at that time of day so we had to walk about 20m. Yohei-san was walking up the street towards us and broke into a run when he saw us. We had the usual welcome and cup of tea. We settled in before going for a walk round the village to stretch our legs. We found a shop that sold roasted adzuki beans, so we bought some. We also stopped for an ice cream before going back to the Pension for a most welcome shower. Shortly afterwards, Sayaka rang to say that she would be coming up from Nagoya to see us tomorrow.
We were called down to dinner at 1800 hours and had a superb meal. After dinner, we went back up to the balcony and read for a while before going to bed at 2000 hours.

Wednesday, 23rd April. Tsumago. Sunny and warm.
We awoke about 0530 hours and lay in bed and dozed until about 0730 hours. We went down to breakfast about 0800 hours which was excellent as usual. Yohei-san drove us along the back roads to Magome.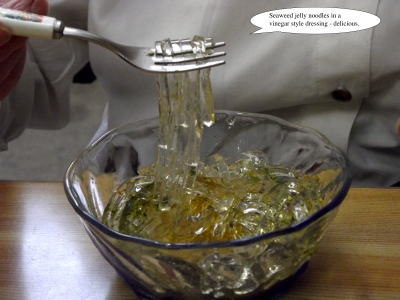 "Tokoroten" is sea-weed noodle.
From here we walked back to Tsumago, an 8.5 kilometre walk. The first part, up the hill from Magome, is a rather difficult and laborious climb. Luckily, there are quite a number of coffee shops on the way so we stopped at a few to have iced coffee or ice cream. We were very tired and sore by the time we got back. In hindsight, it was rather a stupid thing to do after having spent a day and half sitting down. The joints ached for many days afterwards.
We went into a cafe for a bite to eat and ended up with seaweed jelly noodles in a vinegar dressing which was rather interesting. After that, we went back to the Pension for a shower and a bath. Unfortunately, the bath was very hot so it was in and out without a nice long soak.
We rested on the balcony before dinner which, once again, was of a very good standard. Sayaka came and talked with us and after dinner we gave the gifts to the family. Sayaka and her mother came up to our room after dinner with a couple of gifts on their own.
By this stage we were very tired and went to bed at 2115 hours to.

Thursday, 24th April. Tsumago to Aizuwakamatsu. Sunny and warm.
We awoke about 0555 hours and washed and packed before we went down to breakfast at 0700 hours. Because it was so early we had a western breakfast. We had settled the account the previous evening. The taxi was a few minutes early and we said goodbye to Yohei-san before leaving for Nagiso station.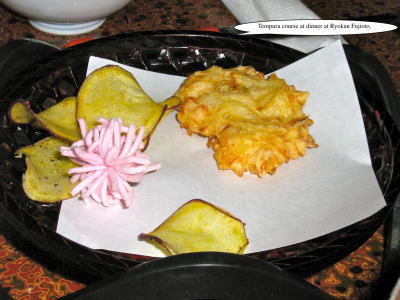 "Tempura" is deep fried fish or vegetables.
The train ride to Aizuwakamatsu was very pleasant. At the station, we found the Information Centre and received some good maps and a guide. We dropped the bags at the Toyoko-Inn and then wandered around the station area and had an iced coffee. As the train from Sendai to Akita was fully booked and we could not get seats, we decided to alter our rail plans and rebooked our tickets to go round to Hirosaki via Shin-Aomori instead. We then went back to the Information Centre to get directions to a restaurant for dinner. We were directed to a restaurant about 50m from the station. After we found it we went and checked in at the Inn and rested before going out to eat at 1830 hours. We were still feeling the effects of yesterday's walk.
The restaurant was very good with a large meal. Ann had tempura and David had sashimi. On arriving back at the Inn we watched the World Curling Championships before going to sleep at 2130 hours.

Friday, 25th April. Aizuwakamatsu. Sunny and warm.
We awoke about 0530 hours and cat napped until about 0745 hours before we went down to breakfast. The breakfast was good and we went out at 0930 hours. We went to the bus depot and bought a couple of day passes. Then it was on the City Loop bus up to Tsurugo Castle.
The sakura was very pretty and we spent about one and a half hour up there. As usual, Ann spent the time on the ground while I went up to the top of the castle. As we left the castle, we decided to have a bite to eat in a nearby restaurant, the Adoria. This was slightly up-market but the meal of beef sandwiches and salad together with iced coffee was very nice. Unfortunately, all the outside tables were occupied so we had to sit in the restaurant.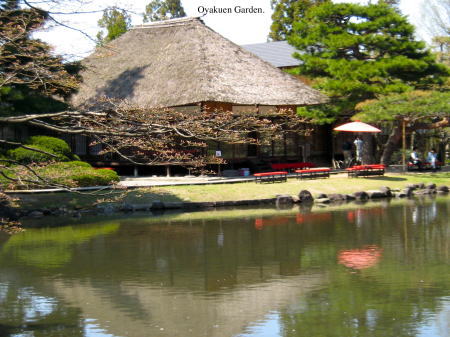 "Oyakuen" The Medicine Garden
We then caught the bus up to Oyakuen, the medicine garden. We wandered around there but many of the plants were still waiting for the warmer weather to start sprouting again. The stroll was still very pleasant.
The next stop was the Aizu Samurai residence where we spent well over an hour wandering around. This was very well set up with good explanations of what each area was. We also bought some gifts for those people back home there. Then it was back to the Inn at 1550 hours, where we rested before heading out to the same restaurant as last night for dinner.
This time David had Unagi (eel) which was very nice but Ann stuck with her tempura. The restaurant was situated on the ground floor of an office building and officer workers used this as a way through from one side of the building to the other, which was obviously an accepted practice as there were greetings as they walked through.
After we had finished, we walked back to the Inn where we packed, ready for an early start in the morning, before reading and going to bed at 2130 hours.


Saturday, 26th April. Aizuwakamatsu to Hirosaki. Sunny and warm, cool breeze.
We awoke about 0545 hours. We got up and finished packing before going down to breakfast at 0710 hours. We left the Inn at 0750 hours and off to the station. The trains were fine and we had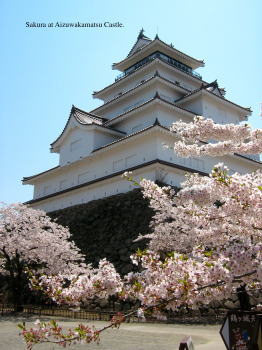 Aizu Wakamatsu Castle
a coffee at Sendai station. By rearranging the routes we arrived at Hirosaki earlier than originally planned.
We dropped off the bags and returned to the station to visit the Information Centre where we got some maps etc. We then went to Doutor's for a light lunch of Midori cake and iced coffee. Then it was back to the Inn at 1505 hours to check in and read the maps as well as doing the washing. We found a place to eat from the Information guides. We did not know where it was, so David went back to the Information Centre to get the directions.
At 1600 hours we went off to find the Waiwai restaurant, which we did quite easily. The place was very busy and we has to wait 10 minutes to get a table. The meal we chose consisted of squid cutlets, shredded cabbage, soup, rice and fresh pickles. It came to ¥2394 including a beer for David.
We went back to the Inn and read until we went to sleep at about 2130 hours.



Sunday, 27th April. Hirosaki. Sunny and warm, 25C.
We got up at 0700 hours. We went down to breakfast at 0800 hours after deciding what we would do in getting to the Castle. We decided to walk. There was Natto for breakfast if you wanted it. I did try it and it was not too bad except for the sticky trails.
The walk up to the Castle was a bit wearing as the body still has not recovered from Tsumago. The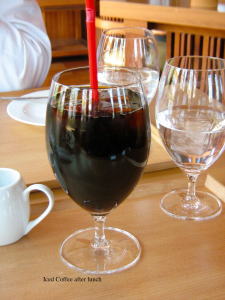 Iced coffee after lunch
place was "CROWDED". You could hardly move but the sakura was something to behold. It was beautiful.
After wandering around the Castle grounds and through the Botanical Garden, we decided to call it a day. We went out and stood waiting for a bus to take us back to the station. We waited for nearly half an hour and watched people in the queue give up and walk away or get a taxi. We decided to get a taxi but it was nearly gridlock all the way but it only cost ¥1180.
We had a late lunch in Doutor's again. The same as yesterday but with the addition of salmon & squid roll. Then it was back to the Inn to rest before going out to dinner at the Waiwai restaurant. This time there was no waiting as we had booked a table before leaving last evening. We had the same meal as the previous evening but with the addition of some sashimi which was very nice indeed.
Back to the Inn to rest and read before going to sleep about 2145 hours.

Monday, 28th April. Hirosaki to Morioka. Overcast & cool, 16C.
We got up at 0645 hours. We went down to breakfast before finishing the packing .It was a very easy journey to Morioka where the Sasakis were waiting for us. We went to the Inn which, unfortunately, involved a subway trip under the road. We dropped the bags and headed off to the Koiwai Farm complex which is a 3000 ha farm and amusement area for children with a few things for adults.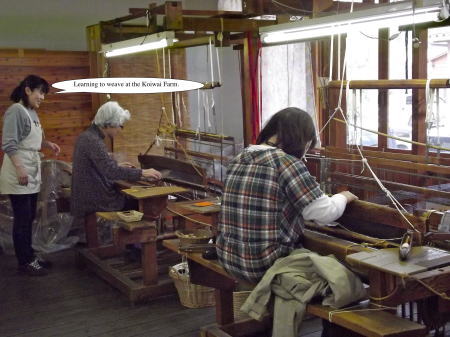 Learning to weave at Koiwai Farm.
It was getting cool so we went to the restaurant for lunch and had a beef-burger. After lunch, we continued our wander.

Madoka made a wooly sheep using died Southdown wool. They obviously do not waste the wool. There were various crafts that you could have a go at if you wanted. The shop contained very expensive milk ($8/L) and cheeses ($80/kg) as well as expensive souvenirs.
It started to rain slightly so we had a coffee and then made our way back to Morioka. Masato-san took us to view a very large Sakura tree but there were no parking spots so we could not get a decent photograph of it.
When we arrived back at the Inn we checked in and this proved a little complex as they had booked 4 rooms for us. They had put Ann & David in a different room each night. The assistant on the desk was either not very bright or had just finished training. We managed to get it sorted in the end. It was maybe my fault in the way I did the booking in the first place.
After doing the washing and resting, we went out to dinner at a nearby Izakaya at about 1800 hours. It was a vert varied and enjoyable meal with many dishes. After finishing, we went back to the Inn where we talked with Masato-san and had a little sample of Cradle Mountain Malt.
We read and went to bed about 2130 hours.

Tuesday, 29th April. Morioka. Sunny & warm with a cool breeze.
We got up at 0645 hours again. We went down to breakfast at 0730 hours where we gave the Sasakis their presents. We left the Inn at 0900 hours to go to the Handicraft Centre a fair way out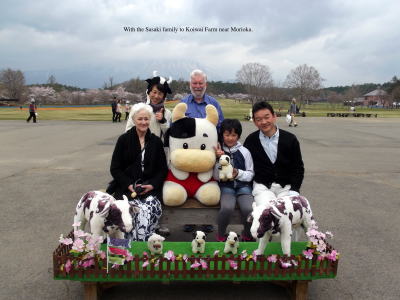 With Sasaki Family at Koiwai Farm
of Morioka at a place called Shizukuishi. It was very interesting and demonstrated many of the local crafts. If you had time you could partake of lessons but most of them had to be booked. David ended up making a peanut biscuit. We bought some iron jewelry for the girls and another kokeshi doll for Ann's collection.
We had coffee and cake before heading back to Miyako for lunch. The place we went to was quite crowded and we had to wait for a table. The meal was good, we had Chinese Crispy Chicken. I also had a taste of the hot chilli that Masato had with his meal and it nearly blew my head off. Then it was back to the Inn and time to say goodbye to the Sasakis at 1430 hours.
We walked down to the station and looked around to find somewhere for dinner, then it was back to the Inn for a rest before going out to dinner at 1830 hours. We dined at a Tonkatsu restaurant and the meal was very good. After dinner we walked around the food area in the basement of the store but everything was closing down. So it was back to the Inn where we watched TV before packing and going to bed at 2145 hours.

Wednesday, 30th April. Morioka to Tono. Overcast & cool to light rain.
We got up early and went down to breakfast at 0730 hours. We finished packing and left the Inn at 0815 hours. It was a reasonably down and up to the station where our train was already waiting. There was someone sitting in our seats but it turned out that they were in the wrong carriage.
We arrived in Tono on time and made our way to the hotel where we checked in and found our room was ready for us. We dropped the bags in the room and headed back to the Information Desk at the station. The level of English was not the best but, as usual, we managed and received some good directions etc.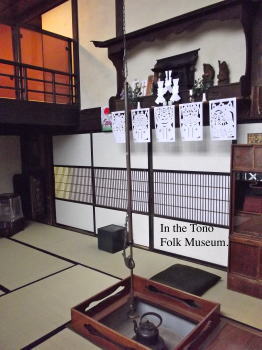 Tono Folk Museum
We found a place to have a coffee and then it was off to the Museum which had some interesting displays although there was a lack of English explanations. From the Museum, we made our way down to the Tono Folk area which consisted of a number of oldish houses and Inn. We started going round there and were spoken to by a gentleman who wanted to know if there was anything that he could help us with. We decided that there was not at the present as we were going out for our lunch. After lunch we were heading back to the Folk area when we met up once again as it was trying to rain. His name was Ichiro Sato and he asked us if we would like to go with him on a drive around the outer part of Tono. We agreed and we waited for him to go and get his car.
We then went for a drive in the hills. We stopped at one place where he & David climbed a hill on which there were hundreds of carved rocks. These were carved during a time of famine and were pleas to Buddha to help the starving people. Then it was back to Tono via a couple of spots to admire the views. WE thanked him after we got back and then went back into the Folk area to finish our tour. The Folk area was very interesting and was quite interactive.
We had seen that there were places that served horse meat so we went back to the Information desk to find one for tonight's dinner. After getting directions we went and found the location ready to go there for dinner. Then it was back to the Kikuyu hotel for a rest.
We went out for dinner about 1830 hours. The place was a small Izakaya where we sat near the bar and ordered horse sashimi and yakitori. The people there were very friendly and the meal was very nice although the horse was not as tender as that which I had had previously. Ann was taken with a small statue which was in front of her as well as the fish in the tank on the bar. Then it was back to the hotel and into bed about 2100hours.

Thursday, 1st May. Tono to Nikko. Overcast & cool t 17C.
We got up early and went down to breakfast at 0705 hours. We finished packing and left the Hotel at 0915 hours. When we arrived at Shin Hanamaki station we found that we had to trek about 100m across a poor road to reach the Shinkansen station. When we arrived and tried to go up to the platform, we were told that the shinkansen would be about an hour later than was advertised. No reason was given for the cause. This, of course, meant that all our connections would be missed.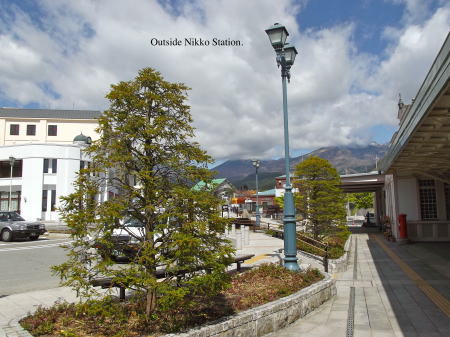 Outside Nikko Station
We were asked if we would go and wait in the waiting room. After a short while, we were advised that it would only be about 20 minutes late. In fact it started about 30 minutes after it was scheduled. It did, however, make up time and we arrived in Utsunomiya station with about 12 minutes to spare to catch the train to Nikko.
We tried to ring the Ryokan when we got to Nikko but without success so we caught a taxi up to Rindou-no-ie. When we arrived we discovered that the lady of the house, Keiko-san, was not well. Consequently, there was no dinner provided. However, Shizuo-san booked us a place at a Yakitori restaurant in town. He later drove us there and arranged for them to ring him when we had finished so that he could come and pick us up.
The restaurant was quite good and also reasonably cheap. The meal consisted of what you wanted so we chose a variety from ham to pork belly to chicken gizzards and chicken. There was also miso soup and rice. Ann talked to a Polish couple who were on an adjacent table for a few minutes after we had finished and I was paying the bill. After paying the bill, they rang Shizuo-san and he arrived about five minutes later to take us back where we had a shower and were back in our room by 2000 hours. We read until about 2130 before going to sleep.

Friday, 2nd May. Nikko. Sunny and warm 21C.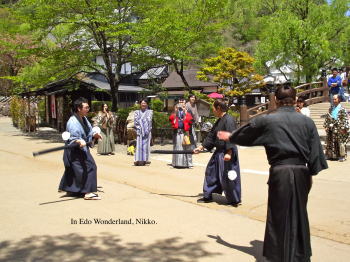 The Edo Wonderland, Nikko
We got up at 0700 hours. We had not thought to order breakfast the night before so we did not get any. We went into town and had a look around and found a nice posh hotel but as it was after 0900 hours, breakfast had finished.
This was just as well as we were able to order a cup of tea each at ¥540 a cup, so goodness knows what the breakfast would have cost.
In the end we bought some biscuits and water from the station. There was a free bus from the station to Edo Wonderland which took about 45 minutes to get there. The driver was very cheerful and helpful when we got off as he told us the best places to go to. We went in and wandered round and watched some theatre. We had soba for lunch as this seemed to be the standard fare in the 1850's. After lunch we continued wandering and came across a girl who was demonstrating some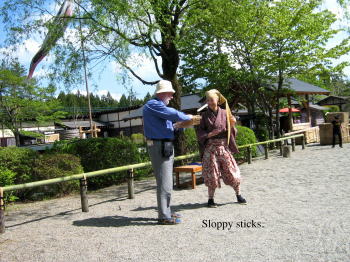 Sloppy sticks
'sliding rods'. This was quite fascinating and she even allowed me to try my hand at them. After that we went in to watch a Ninja show which was great entertainment but very noisy.
Then it was time to catch the bus back to Nikko and a taxi up to Rindou where we rested until about 1800 hours. Shizuo-san then ran us up to an Okonomiyaki restaurant where we had a great meal and were waited on by a very nice lady. Once again, Shizuo-san was rung and came to fetch us back to Rindou. We read for a while before a major packing session and bed at 2130 hours.

Saturday, 3rd May. Nikko to Ueno. Sunny and hot 24C.
We got up at 0700 hours. We had breakfast, packed, and Shizuo-san drove us and another couple to the station. We had an easy train ride to Ueno then bedlam.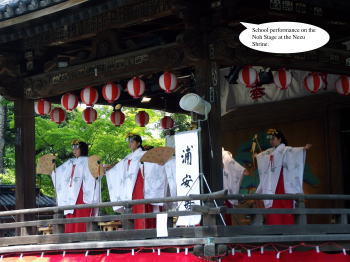 Noh Stage at Nezu Shrine
It was festival day, everywhere was crowded. We waited in a queue for a taxi. The driver had to use a GPS to find his way to the Ryokan from the station. The streets were crowded so it was a slow trip. We had just started to check-in when Hiroko-san arrived which made life so much easier.
We then walked to the Nezu Shrine which is famous for its display of azaleas. These were just past their best but still very pretty. There were open-air performances on a Noh stage in the forecourt of the shrine. One of these was a dance performance by a group of young girls and another was a display of swordsmanship by an 82 year old woman.
We caught a free ride to the nearby Suigetsu Hotel for lunch. The car was traveling at about 5kph in the crowded streets. We had a very nice lunch there in a room that, it seemed, had been set aside to cater for the overflow from lunch. It quickly filled up.
We then walked back to the Ryokan Sawanoya where we retired to our rooms for a rest. Later on Hiroko-san organized dinner at a Yakitori restaurant where we had a very nice meal. Then it was back to the ryokan and we had quite a long chat before retiring at 2130 hours.

Sunday, 4th May. Ueno to Atsugi. Sunny and warm.
We got up at 0630 hours. We packed and went down to breakfast at 0730 hours. After breakfast, we left and walked about 4 blocks to Nezu station. We caught a rapid train to Shibuya and transferred to the local train as far as Hon Atsugi.
We dropped the bags at the Park Inn Hotel and went to the 'Earth' hair salon for Ann to get her 'shampoo & blow dry' hair done. We also said cheerio to Hiroko-san at that time and thanked her for escorting us around Ueno.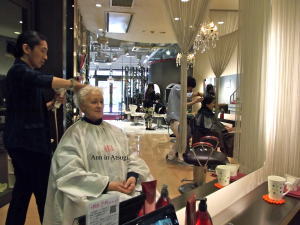 Ann is having her hair done.
While Ann was having her hair done I rang Moena-san to let her know we had arrived. Once Ann had finished, we went back to the hotel to wait for Moena-san & Sho-san to arrive.
After they arrived at about 1230 hours, we went to a tempura restaurant that belonged to the same chain as our favourite in Kyoto. We then went back to their apartment for a chat before heading back to the hotel to check-in. They left after having arranged to come back and pick us up about 1700 hours. It was a very nice room with a large 'disabled' bathroom.
We tried to get into the laundry to get our washing done but the door seemed to be locked as the handle would not move, so we tried the room key but got no where. I went down to the front desk an one of the ladies took me back up and explained that all I had to do was push the door open. I felt a right idiot. We did the washing and read for a while before going out at 1715 hours.
It was a long drive to the restaurant which was part of a brewery complex. We met Haruka-san and looked at her wedding photos which were nice. We then had a wonderful meal with many different courses. We sat and talked for sometime after finishing before setting out on the return journey. We dropped Haruka-san at the station and after saying our goodbyes, we drove back to the Park Inn Hotel. We said our goodbyes to Moena and Sho-san at about 2030 hours and we were ready for bed before 2100 hours.

Monday, 5th May. Atsugi to Karatsu. Overcast to rain to sun.
We were awoken at 0513 hours by what appeared a small earthquake. We got up at 0600 hours and packed etc. We went down to breakfast at 0715 hours. This was rather poor as there was only western - a cheese, ham & egg toasted sandwich. You put your order in and put your hand up when your number was called.
We checked out at 0810 hours and off to the station. We booked tickets on the express to Odawara and thought we had about 30 minutes wait for the train, but when we got onto the platform, it turned out that it was delayed by the earthquake earlier in the morning. We were told it would be about 10 minutes late, then 15 and so on. In the end we decided to get on the local which, unfortunately, arrived at Odawara about 2 minutes too late for our connection.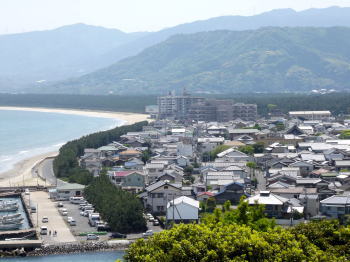 The east part of Karatsu where Yoyokaku is.
We then had to reschedule the trains. We managed to get on one to to Shin-Osaka, with two isolated seats. However, the train from Shin-Osaka to Hakata was fully booked which meant that we has to take our chances of getting seats. Luckily, we had quite a long wait at Shin-Osaka so we were second in the queue for a non-reserved carriage and easily got seats. While we were waiting I rang Yoyokaku and explained the situation and what time we would be arriving at Higashikaratsu station.
Once again I needed help to buy tickets from the machine at Hakata station. This was brilliant as when I pressed the help button, a clerk opened a small hatch above the machine to see what the problem was and then came out to help us. We arrived at Karatsu 2 hours later than we had intended but Den-san was waiting for us and drove us to the Ryokan.
After checking in and going up to our room for a cup of tea, we were escorted to a room downstairs where we had dinner. Shabu-shabu was the main course but there was so much beef that we could not eat it all. As usual, dinner was excellent. Harumi-san was very busy so we did not get a chance for a chat before getting into bed at 2115 hours.

Tuesday, 6th May. Karatsu. Sunny with a cool breeze.
We awoke after a good nights sleep about 0730 hours. We went down to breakfast at 0830 hours. I managed to do what Ann normally does and found a bone in the fish which got stuck in my gum.
We then went back to our room and went out for a wander about 1000 hours. We walked up to the Castle and got a free ride, for the elderly, in the elevator up to the Castle entrance.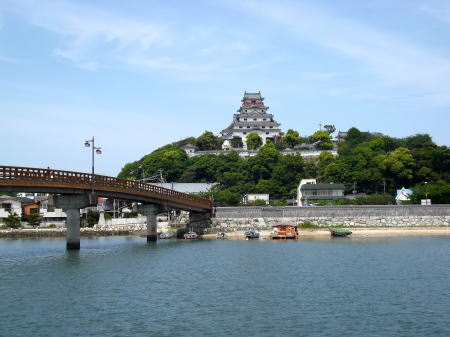 The Karatsu Castle
There was major reconstruction work going on with the foundations and there were still people at the top of the Castle.
We then started to make our way down to the station area in order to get something to eat for lunch. I did not have a map and managed to take us walking in the wrong direction. After walking several hundred metres, and Ann saying we were going the wrong way, we asked a lady the way. She sent us back the way we had come. We met another lady and asked her to confirm that this was correct. She immediately turned round from the way that she was going and escorted us quite a way to an Art Gallery where they were able to provide us with a map. We thanked everyone concerned and our lady set of on her journey once again while we found our way to the station.
The station and surrounds are devoid of restaurants that serve lunch. We even tried the restaurant in the supermarket but by that time we just wanted a coffee, after the large breakfast, and they would only serve it if you bought lunch but there was nothing on the menu that appealed to us. The waitress in the Restaurant took us back to the station and suggested a cafe where we eventually had coffee and cake. On leaving the cafe, we were spoken to by an elderly lady who wanted to chat and asked if we knew how old she was. It turned out she was 72 and was rather astonished to find out we were 76 - "and still traveling?" she said.
After declining her invitation back to her house, we wandered slowly back to the Ryokan. We watched the Island ferry depart as we crossed the bridge. We rested in our room for a while when Den-san came and asked if we would like to go to the 'Farmers Market with them as Harumi-san had to go and buy some flowers. This we did and had an interesting time wandering around and looking at some of the expensive items on sale.

Wednesday, 7th May. Karatsu to Okayama. Sunny.
We awoke after another good nights sleep about 0600 hours. We showered and packed before we went down to breakfast at 0730 hours. We left at 0820 hours and Den-san took us to a station well down the line. The train was on time but we had to change trains at Chikuzemmaebaru but this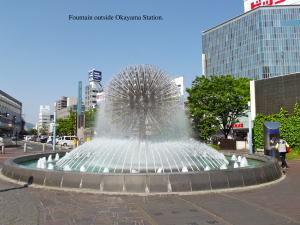 Fountain outside of Okayama Station
was only a matter of crossing the platform. At Hakata, we once again needed help as to which button to press at the fare adjustment machine.
The Sakura Shinkansen was a very easy ride to Okayama. We dropped the bags at the Inn after having to ask the way at the Post Office as we had missed the narrow street that we should have gone down. We then wandered around the station area and the shopping mall looking for a place to have dinner later that day.
We had a cake set at Doutor for lunch which was all we needed after breakfast at Yoyokaku. We then went to the Information Centre to get a few maps for tomorrow morning before we leave for Kanazawa. We window shopped for a while before checking in and doing the washing.
We went out to dinner quite early and once again had a cake set at Doutor before heading up the main street to a restaurant we had found above a Department Store. The dinner was quite pleasant and we came down to earth via the escalators. We had an early night and I used Ann's flight pillow as a means to stop snoring.

Thursday, 8th May. Okayama to Kanazawa. Sunny to light rain.
We arose about 0600 hours, packed and went down to breakfast about 0715 hours. We checked out and left the bags at the Front Desk. We caught the tram on the main street near to the station which took us up to Korakuen. You got off the tram in the middle of the street and had to find your way under the road via a huge multi-exit subway.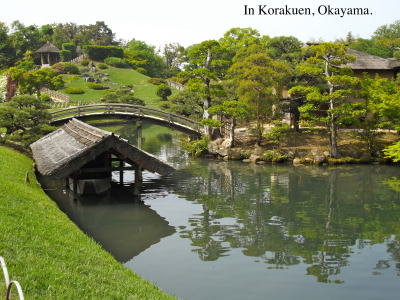 Korakuen in Okayama
We walked a few hundred metres up to the garden and spent about 90 minutes walking round the garden which was very pleasant. We stopped for a coffee outside the garden before trying to negotiate the subway to the tram stop. In the end we enlisted the help of a cleaning lady to find the right exit. We caught the tram back to the station area, picked up our bags from the Inn, went to the station where we bought a couple of rolls from Doutor and onto the Thunderbird for the trip up to Kanazawa.
Once we reached Kanazawa we went up to the Hinoeya Hotel and dropped our bags in our room. Then it was back to the station for a coffee and some cake at Maple House. We bought the Shibafune at Koide. Because the shopping area was being renovated, the shop did not have card facilities so we had to pay cash. We then checked out Forus for dinner tonight. The area was much improved from last time so we decided to return for dinner at a Tonkatsu restaurant.
Back at Hinodeya, we read for a while before going out to dinner at 1845 hours. The meal was very nice and we had tonkatsu with prawns. The meal was massive so we had to leave some. We came out into rain so we hurried back to the hotel at 2040 and got a bit wet on the way. There was thunder and lightning for a while before we went to bed at about 2100 hours.

Friday, 9th May. Kanazawa. Overcast to light rain, cool.
We arose about 0700 hours. We had breakfast and went out about 0915 hours. We bought a day pass for the Shuttle bus at the station and went up to Kenrokuen.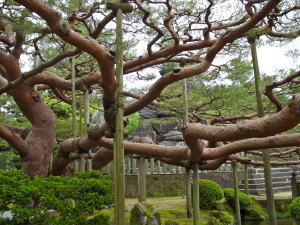 Trees are so much cared in Kenrokuen.
Another free entry for the OAPs. It was cool and cloudy and in between the flowering periods for azaleas and irises.
Towards the end of our stroll it was getting cooler so we went in for a coffee. When we came out, it was starting to spit rain so we decided to return o the station area. By the time we arrived it was raining quite heavily so we went into the Maple House for lunch. Ann had a salad together with bread rolls and a coffee while I had salad and quiche with seaweed tea. Then it was back to Hinodeya to put on some warmer clothes.
We went up to Omicho market for a look round. Somewhere on the journey, Ann lost the arm off her sunglasses. After spending some time looking at the things on offer, such as very expensive crabs, peas etc we returned to the station and looked at the restaurants in the basement at Porte for somewhere to eat this evening. We found an interesting place that looked like an Izakaya so decided on that. Then it was back to Hinodeya to rest and read.
We went out to dinner about 1815 hours. It was as we suspected, an Izakaya type restaurant. The atmosphere was noisy but great. We had tempura fried squid pieces filled with cheese, Gyoza and a beautiful dessert, chocolate cake filled with hot chocolate, cherries, ice creams and drizzled with chocolate. Including a beer, it cost us about $35.
After dinner, we went back to Hinodeya where we paid our bill. It appeared that our booking was lost after we had paid our deposit months ago but it had proved no problem. Then it was back to our room where we watched TV for a while before going to bed.

Saturday, 10th May. Kanazawa to Tokyo. Sunny and warm.
We arose about 0630 hours and went down to breakfast at 0730 hours. After this, we packed and left the Hotel at 0825 Hours. After the short walk to the station, we caught the train to Maibara. When we got there , we could see the shinkansen standing at the platform so we rushed over to it. There was no need for the rush as it stayed there for about 10 minutes before leaving.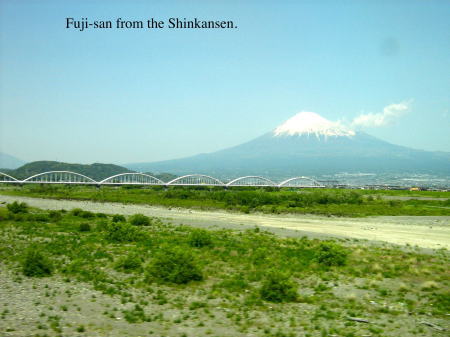 Fuji-san from the Shinkansen
We missed Asuka-san on the platform when we arrived at Tokyo because I had forgotten that she asked me to phone her and tell her which carriage we would be in. We wandered down towards the ticket gate when she came flying down the stairs with Kaito, she having seen us at a distance on the platform.
We caught a taxi to Toyosu and dropped the bags in the 'Guest Room' before heading out to a big department store for lunch. Kaito rode his bike / scooter until we got in the store when he decided that he was a bit tired so I carried his bike round the store. After a late lunch we went to a shop where I was able to get some refills for my biros. We walked back towards Asuka's through a park area where we saw a dog enclosure where for about $10 you can let your dog off its leash so it can run around. We did a bit more shopping at the local Supermarket and arrived back at about 1800 hours.
Kiyo-san came home a bit later and we sat down to dinner at about 2030 hours. Asuka-san had cooked a very nice Nabe hotpot. We eventually went down to our room at about 2300 hours and then had to rush up to get Asuka-san to show us how to get the hot water system to work. Very easy when you know which buttons to press. Then it was into bed about 2330.

Sunday, 11th May. Tokyo. Sunny and warm.
We arose about 0700 hours and after getting ready, we went up to Asuka-san's for breakfast. We gave her her birthday presents. She did some washing for us so we did not have to wear some soiled clothing for the flight home. When everything was ready, we left about 1100 hours to drive over to a place near Yokohama for lunch.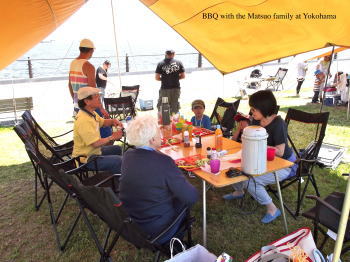 BBQ with Matsuo family
We had originally asked Asuka-san to organize a booking for a restaurant to take everyone to dinner but that had been changed to a BBQ lunch at Yokohama waterfront. It turned out to be a great idea as the kids were able to run around instead of being stuck in a seat at a table and we could also move about and talk to different people. There were a number of areas, each with its own shade cloth , tables, chairs, BBQs and food. The owners even had staff going round showing you how to use the equipment. A small oven was also provided to cook an apple tart that you had to make from ingredients provided. The whole lot cost in the region of about $380 which was less than a dinner for ten would have cost in a restaurant. All in all it was a great day out and there were no flies to bother us. The girls did all the cooking and there was a mountain of food, far more than we could eat between us so the families took some home with them. There was a variety of meats:- beef, pork and chicken as well as different fish, prawns, salads, breads and the apple pie.
We had a good time talking with everyone and we eventually left about 1600 hours. Then it was back to Asuka-san's to pick up the washing and down to our room to start packing which meant taking all the shibafune out of their wrappings to make more room in my case.
We were taken out to dinner at a restaurant that was a bit of a walk from Asuka's. The meal was very nice and was a mixture of many different dishes that you could choose from. We walked back to the apartment and said goodbyes to Kiyo-san and Kaito. Ann picked up Kaito and fell over as she was putting him down and bashed her face but was reasonably OK except for a bit of shin taken off her nose.
Then it was into bed about 2115 hours.

Monday, 12th May. Tokyo to Kuala Lumpur. Sunny and warm.
We arose about 0545 hours and after getting ready, we finished packing and were out by 0625 hours for the taxi. I put the key to the unit through the grill on the Front Desk and were just about getting in the taxi which was waiting for us when Asuka-san appeared with Kaito. More goodbyes and then into the taxi to Tokyo station.
We then had to find our way to the Narita Express platform which took a lot of walking and many questions for directions. The journey to Narita T2 was fine as was check-in. Here we were offered an upgrade to Business Class for $330 but it turned out that it was only to Kuala Lumpur so we refused. Then it was an easy passage through immigration. However, there was another long hike to the Boarding Gate where we had short wait before boarding.
We had an easy flight to Kuala Lumpur where we changed planes. We also had our usual iced coffee at O'Briens before boarding the flight to Melbourne.

Tuesday, 13th May. Kuala Lumpur to Ulverstone. Warm to cool.
The flight was OK but once again the breakfast was rubbish consisting of a hot spicy chicken roll which was almost impossible to remove from the wrapper without breaking it.
We arrived a bit early as usual and had a bit of a problem with my e-passport again, it will not recognize my photo, so I had to join a short queue. Then it was through customs very quickly and over to the REX desk to get a change to the earlier flight. Once this had been done, I rang Richard to tell him of the change in arrival time at Burnie.
We had a pathetic coffee at Hudsons and down to boarding. Richard & Dianne were waiting for us at the airport and drove us home.
---