Dear Readers,

February in Japan is cold. We would rather stay home than going out. It is time to remember. Remember something which we cared for much. People who are gone. Precious things we have lost. Our own youth........

Here, this month, I will introduce Mr. Yoshiteru Egashira again. He has written for this page about his adventure to go to Jeju Island of Korea by his sailboat.
Yoshiteru is going to let us see some of the pictures from his Father's old album.
His father, Ichiro Egashira was born in 1915 in Karatsu, and deceased in 1992. His hobby of the whole life was taking pictures.
Cameras at that time were expensive which general people could not afford. Ichiro developped the film and did printing too all by himself. And on the photos, he impressed his seal "BY ICHIRO", proudly, I guess.
These photos are now silent witnesses of the time. Early Showa Era is printed on his pictures. Yoshiteru will explain.
I hope you will enjoy them.

---
BY ICHIRO
The old photo albums of my father, Ichiro Egashira
Yoshiteru Egashira



     
We have some photo albums of my father, and the pictures were what Father took between 1930 and 1950. It was before, during, and after the World War Ⅱ.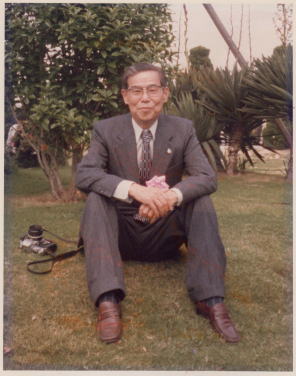 1  Ichiro Egashira, 1990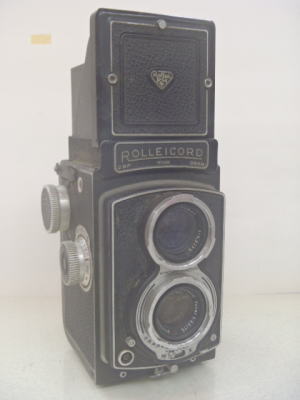 2   Father's camera 
       ROLLEICORD   FRANKES & HEIDECKE (1933)

It must have been very expensive at that time for a young man who was selling women's clothes.
The camera was his treasure. It is still at my hand. It works, but I cannot buy 6x6 films any more.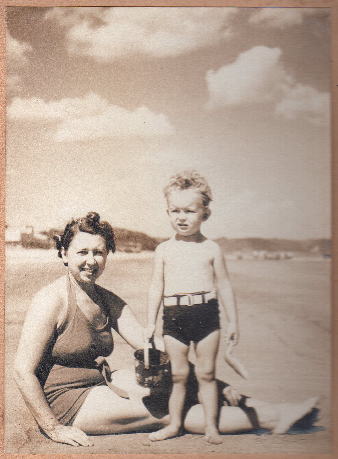 3    This might be Him? 
      Foreign guests from Shanghai for summer vacation around 1932.


 The Diver of Legend, the late Jacques Mayol (1927-2001) wrote in his autobiography that he first met a dolphin in the sea of Karatsu when he was 10 years old. He also wrote that he and his family stayed at a hotel in the Nijinomatsubara Pine Forest in Karatsu each summer. They lived in Shanghai at that time. And there was an ocean liner between Shanghai and Nagasaki.
I remembered this picture above, and when Jacques visited Karatsu again on the yacht [Umi-maru Project], I let him see this picture.
He watched it for a long while, and said. "Sorry, this is not me. But it is a very good picture. It reminded me of the time I was here when I was a child as this boy. Mother was with me."

Though this picture is not Jacques himself, but it is still a witness of the time when he was here in Karatsu.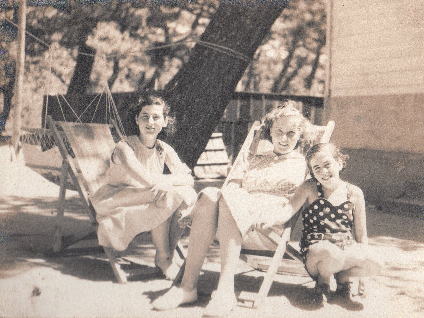 4. A family resting at a hotel in the Pine forest.
 Before the war, there were 8 or 9 resort hotels for only foreign guests. And after the war, the hotels were used as the American occupation camp.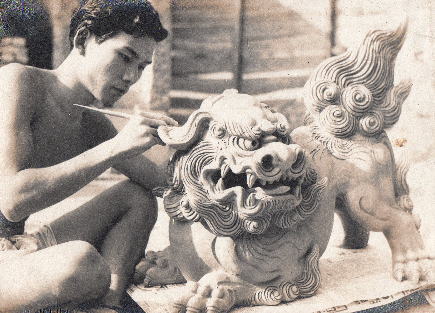 5 Yasumasa Nakano was a promising young potter.
He went to the war and died of a disease at the war front.
Karatsu lost a future treasure.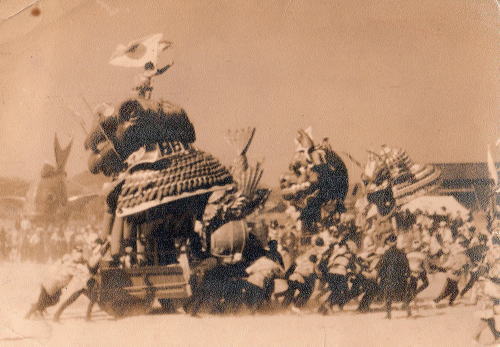 6 Karatsu Kunchi Festival floats being pulled into sands


It looks like the war time, because we see a National flag on top of the float. The sandy place was not the same one where we pull in the floats these days. Buildings were built and one of the sandy places has disappeared now.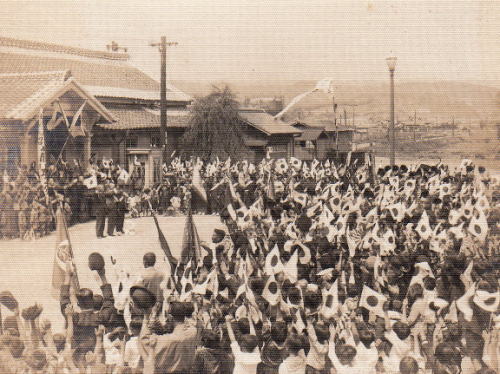 7 Seeing off a soldier who was drafted and leaving for the war front.

In front of the station. Family, relatives, friends and district people all gathered to see a soldier off. You will see many children too waving national flags. To weep or cry was not forgiven. It was the most important thing for a young man to give his life to protect the country.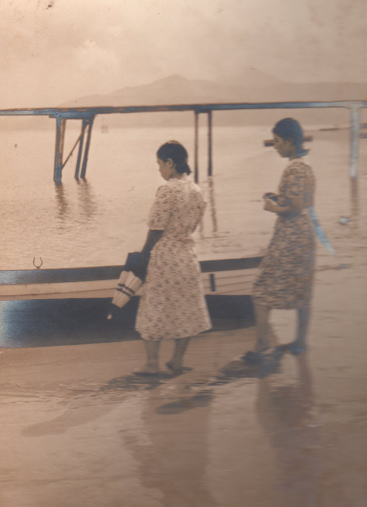 8 At the beach

Some years after the war, people could get back to a daily life. In summer, girls too could enjoy going to the sea. Before the war, women did not go to such a place to have a fun.
The bridge is a board-walk for a boat going to a near island for sight-seeing.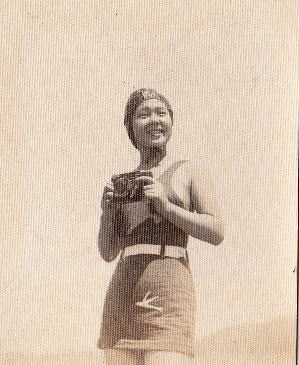 8 Swimming suit


 This girl is probably a model for selling bathing suits. My father sold clothes for women and men.
No bikini at that time.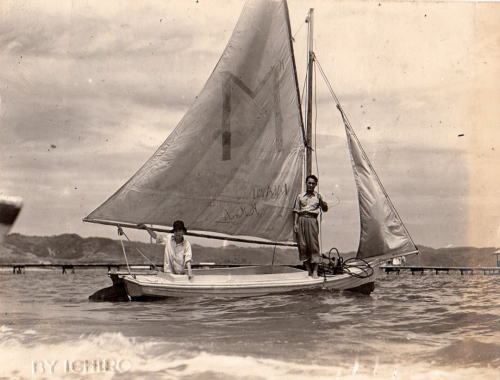 10 Sail boat
 At Nishinohama Beach, near Karatsu Castle, there were 8 or 9 shops which only opened at summer time. They rented floats, boats, and also a few sail boats. Not many young men could afford even one hour's rent of the sail boats.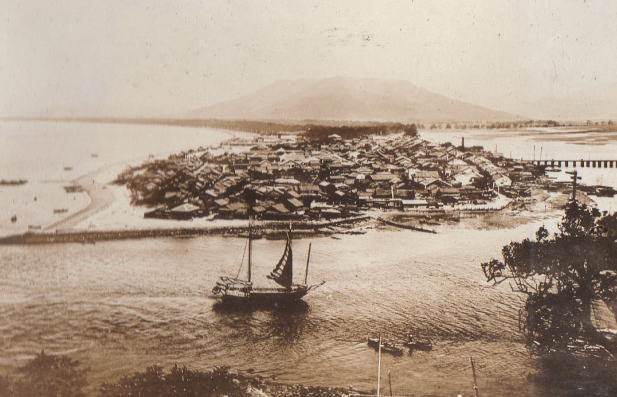 11 Higashi-Karatsu district and a boat


 Seen from the top of The Maizuru Park, where, now, a newly built castle stands.
Higashi Karatsu district is where Yoyokaku is. The right hand water is river, and left is sea.
This place flourished much as a port to export coal from the land up this river.
At that time, Karatsu was famous for its good quality coal for ships and trains.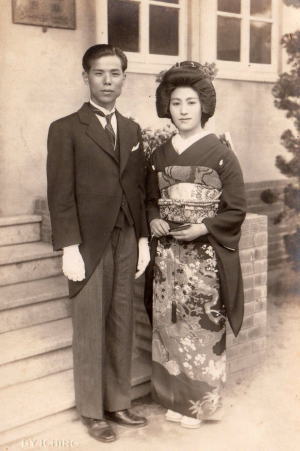 12 The last photo is my parent's' wedding.

They got married in 1939 at a hotel in the Pine Forest at that time.
Father often said, " I married the most beautiful girl in Karatsu!"

My grandfather died when my father was only 18years old. So, Father had difficulties succeeding the shop when he was still a student. But, it seems to me, Father did his job well, judging from the fact that he bought this expensive foreign camera soon.
Our shop developped, and my big brother succeeded Yamatoya and I succeeded Tamaya. We are doing all right, thanks to Father.
Yamatoya is cereblating 100 years' anniversary this year.

My father liked travelling on a cruiser. In 1992, he was on board Cruiser Fuji, his 4th Japan cruising, and while taking pictures, he accidentally fell down from the steep steps in the ship. He was 79 years old then. We were sorry, but the idea that Father was with his favorite camera until his very last moment comforted our sorrow. He had a happy life, we believe.
Ichiro Egashira 1915-1992
Aiko Egashira 1917-1985


  Thank you for seeing my father's pictures.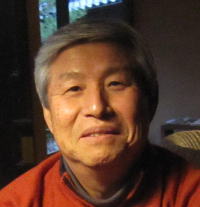 If you drop in my shop, Pepe Tamaya in Kyomachi Arcade near Karatsu Station, you are welcome to see my father's albums. I sell children's clothes and I will be here most of the time
           
 
                                   

---

Thank you, Yoshiteru-san.
And thank you, readers.
How many people, I wonder, can leave something for the future, impressing his name proudly?
I think Mr. Ichiro Egashira had a wonderful life, with his beautiful wife, his treasure cameras and good sons and daughters.


Thank you very much for joining me.
I hope you will visit us again next month.