A doctor who became a potter
Oura Gyounryu and his wife Yoshiko
Last month, December 2013, a house close to ours was dismantled. It was a hospital until some years ago. Three generations' hospital it was. I felt sad to lose this house on our street. This hospital was a symbol of the time when our town was very prosperous and busy. A History ended.

The last doctor was Dr. Jun Oura, a physician who deceased three years ago. Doctor Oura was quite a gentle person, and he encouraged me much when I was too tired. When I felt anemic, Doctor allowed me to sleep for a while in his hospital. At that time, I was so busy. After 1 or 2 ours' nap, I could get back to my job.

The preceding doctor was Jun's father, Masae Oura, an obstetrician and gynecologist. Many mothers of this town delivered their babies in his hospital.

The story of this month is about this doctor, Masae Oura and his wife Yoshiko.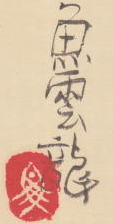 fish, cloud, dragon

Masae was born in 1903. Graduating from Kyushu Imperial University, he started his career as a doctor, but he wanted to be a potter at the same time. He studied pottery by himself even in his busy days as a doctor, and his works were often awarded under the art name of "Gyounryu".The Chinese characters of Gyounryu are Fish, Cloud and Dragon. He liked to paint Dragons or Kappa, which is also an animal in imagination.

His wife Yoshiko understood her husband well. She helped, and they were happy together making pots, or painting pictures. Yoshiko wrote poems of Tanka style.

I remember Mr. Gyounryu well. I didn't see him when he was still a doctor. When I came to this town he had already become a professional artist. I visited his show room of pottery once in a while with our guests. The room used to be the waiting room of the hospital, and it quite looked like it. Mr. Gyounryu was a very quiet person, but from the looks in his eyes I could tell how much he loved pottery. His paintings were very unique, and one of our old American friends Terry Welch bought his pictures everytime he came to Karatsu.
Gyounryu Oura and Yoshiko have been long gone.

Dr. Jun Oura's widow and the daughter Kokoro Oura have kept some of Gyounryu's paintings. They showed me those pictures. I was amazed, and asked them to let me introduce some paintings with Yoshiko's poems here in my January page.
I picked up some of the works which are suitable for New Year or winter.
You will enjoy them, I am sure.



---
"Horai-san" is a mountain where people believe Buddha and his followers live.
This type of picture is hung on the wall when something auspicious happens.

"Bulbuls,
Flycatchers,
Come together
to the garden where
The new sun is glorious."
     
"In the night hours
Husband scatters crumbs
Come, sparrows,
See you
every morning.."
"Narcissus
Smells in the garden.
I pick some
with Granddaughter
for my mother

deceased

."

Gyounryu and Yoshiko had another son. The second son You died at the age of 13 when he, as a highschool student, was working to make an irrigation pond instead of farmers who went to the war. A mudslide happened, and You was buried in the heavy deep mud.
A monument was built beside the completed pond in memory of You Oura.


"Sleep I must.
This snow will
bury and purify
my boy's monument
on the mountain."



"My boy is gone, leaving
A bamboo coin-bank.
How proud he looked
when he made this
all by himself."



When Yoshiko touched this bank, I think, she saved her teardrops in this.

Many of Yoshiko's poems were about her lost son.
Gyounryu painted pictures to comfort her.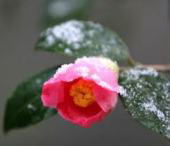 "Snow falling.
One red spot
in white
Camellia endures!
Why can't I ?"
---

As for Gyounryu's pottery, or oil painting, I will catch another chance to introduce them.
First I must do research who has his works.

Gyounryu's granddaughter, Kokoro Oura is an artist herself.
When I said to her, "Your grandfather must be happy because you paint too",
Kokoro said, "Is he? I'm not sure, because WE WERE RIVALS."

Time flies. People in this neighborhood might have forgotten the old doctor.
Their house is now torn down, and soon Kokoro will build her new atelier.

Do sparrows in the garden remember the kind doctor?
This early spring, the narcissus will bloom and smell as they did in old days
when Gyounryu and Yoshiko were there.


Thank you very much for joining me.
I hope you will visit us again next month.