Oxford

September. This month, my husband Den Okochi wrote about Oxford which we visited in June.
We saw more than ten colleges in Oxford, and my memory is in confusion. I can not tell which college was which. But Den has a clear memory, incredible!
We met some elder couples doing the pilgrimage of the colleges as we did, and I heard a gentleman saying to his wife with tears in his eyes ,"This is my college, and it is not changed at all after 60 years"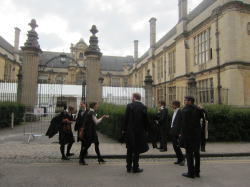 Students in black gowns



 There were so many students, naturally, in the town of Oxford. The time was the examination season in the middle of June, and they wore the black gowns and had a carnation flower in their pockets.
White, before the exam, pink during the exam, and red carnation means 'I finished it!", we learned from the flower shop.

We went back to our youth, not real, but imaginative, and wandered here and there, looking into the cafes or pubs crowded with laughing students. We turned every corner, into narrow passages, and everywhere we found another college with a beautiful church and garden.

 
We can now understand why and how these students are so proud throughout their whole lives.

Now, Den is going to show you round Oxford in his own small way. Please enjoy.

---
Sunday, June 9th
 10:20am We took a Stage Coach bus and left Stratford-upon-Avon. The ride was comfortable, and the fields of Cotswolds were full of colors. Yellow was rape flowers. Changed at Chipping Norton, via Blenheim Palace, where Sir Winston Churchill was born, and arrived at Oxford George Street at 12:15.

Our hotel Hollywell B&B was easily found on the Hollywell Street.


rape flowers in Cotswolds


Blenheim Palace gate

It was a week since we came to England, and I had suspected that Harumi might want to eat Japanese food now, so before coming I had searched a Japanese restaurant on the internet. To my surprise, the restaurant, Edamame, was right the next door to our hotel.
People made a line to get into the place, and after we deposited our baggage to the hotel, we joined the line.
Japanese food was quite popular in the town, and inside the shop, tables were so crowded. The food was a simple type of Japanese family food, not very traditional, and as for the taste, I will not say my opinion.
After eating, we went back to the hotel, and took a short rest.
With a city map, we went out to see the town. On the way, we happened to find a notice board telling that there was a gospel concert that evening. We decided to go there, and without knowing it was far, we started to walk for the St. John, the Evangelist Church. We walked almost one hour, including the loss time of mistaking the way.

people waiting at Edamame Restaurant


Hollywell B&B our room


Gospel singers from many St. John Churches of whole England gathered here and sang in turn. Audience clapped hands, sang together, waved their arms. Luckily, I knew the song 'Oh, Happy Day!", so I sang too. The 4 hours' concert finished too soon.
Unexpected encounters make a travel unforgettable. In London, too, we happened to see masses, organ playing, choirs' songs, even a beautiful soprano at the churches we entered.

Gospel concert at St. John the Evangelist Church


Monday, June 10th

The owner of the Hollywell B&B, Stuart Holloway guides walking tours in town, so we decided to join. It starts at 12:00. so in the morning, we walked round by ourselves.
 First, we visited The University Church of St. Mary the Virgin. The view of the town of Oxford from the tower of this church is said to be the best, but up and down the 124 stairs is too cruel to Harumi's bad knees, so we gave up going up. The architectures of the middle age of Europe are Gothic style and the towers are too high for weak legs.
At the appointed time, we met Stuart at the gate of the Trinity Church. Waiting for some more people to join the tour, we started to walk.

Stuart's tour

We saw some colleges, churches, and gardens.
The Bridge of Sigh of Hertford College, which is on the New College Lane, looks like the Rialto Bridge in Venice.
The New College, founded in 1379, is one of the biggest one in Oxford.


Bridge of Sigh

St. Helen's Passage, narrow for only one person to pass, is quite impressive. 
Japan is a small country, but, we do not use this- narrow passage for the porpoise of making money.
This passage of St. Helen is not only a narrow passway, but also it is a historical passage. That will be the difference.


St. Helen's Passage

Wife of William Morris was born here in this passage, and the famous Bath Place Hotel, and the pub Turf Tavern of 800years' history are located here.


Bath Place Hotel entrance


Day was long in June here, and it was almost nine thirty when we strolled into the Christ Church Meadows. Sun was fading and it was getting cold.
Early summer in England was cold. We did not know.
Harumi had bought a sweater in London, and it helped her much.


Christ Church Meadows


Tuesday, June 11
In the morning, we visited the Bodleian Library of University of Oxford. Here, we saw an exhibition of the winners' works in the World Book-binding Contest. So artistic, beautiful and gorgeous. Leather, embroidery, cloth, paper, metal, bamboo, Urushi-lacquered,...etc. Two Japanese names were between them. Even one of them, we met there. Her work was Shakespeare's Sonnets, and the cover was elaborately embroidered with a design of Shakespeare's birth house.
Other books were Hamlet, Tempest, Romeo and Juliet, Sonnets, and among the many Shakespeare's books, there were Milton, Chaucer, and some other big names. 
Talking about books, the Blackwell's Bookstore was great. We bought some small things here.

Awarded works


This three-dimensional book is 'Romeo and Juliet',
At the same time, it mentions the many conflicts of the world

Then we went to the University of Christ Church.
We entered the Dining room, and there we saw preparation was done for the students' lunch. 10 minutes later, we had to leave the place because of the lunch time.

The low table and high tables, with plates and cutlery fascinated us to sit and eat, but it was of course impossible. On the walls, pictures were hung, and these portraits were benefactors of hundreds of years, masters, scholars, and noblemen. Each picture was quite beautiful.

The dining room


In front of this college, the famous Alice Shop is. It is popular in Japan too. Here, we happened to see a photographer, whom we had known for many years. He and his staff were the reporters to cover this cute shop of Alice in the Wonderland.
We had lunch together, and it was a merry party after silent tables of Japanese old husband and wife.





One of our customers in Japan had recommended to go to the Covered Market as his favorite place when he was an Oxford student, so we went there.
Posters were appealing that the authority's sudden raising of the land rent would distinguish the market.
We bought some light snack here. We were eating too much since we came to this country. Dishes are huge for Japanese stomachs.
 


Mr. Matsukuma and Ms Yamauchi



Covered Market

Wednesday. June 12
We came to the Bodleian Library again. The Extended guided tour of the Bodleian Library is held only on Wednesday and Saturday.
I really wanted to join this, because to see Radcliff Camera, this extended tour is the only way. We went early enough, we thought, but it was already fully booked.
So we joined the 10:30 standard tour. Library building was amazing, and so were the books there. The old books of hundreds of years are human legacy.

A visit to the historic Divinity School, viewing the 17th-century Convocation House and Chancellor's Court, viewing the late medieval Duke Humfrey's Library, as restored by Sir Thomas Bodley.
We climbed up the spiral staircase to the rooftop of this building, and enjoyed the view of this university city with so many towers and gardens of churches and colleges.

Before the entrance of the Bodleian Library


Old books are human legacy.

Jesus, Lincoln,Exeter, Wadheim,Trinity,Balliol, Mansfield,......... we saw as many colleges as our time allowed. Some big, and some smaller, but all of these colleges have magnificent dining rooms, churches and gardens.

We paid a visit to the Ashmolean Museum, and were amazed to see so many fine arts like the British Museum. Ukiyo-e collection was wonderful too. Japanese culture has been accepted long in this country, and some collections are better than those in Japan.

The ceiling of the Sheldonian Theatre

This was the last day in Oxford, and the next morning we went to Bath.
Then back to London to take the Eurostar to go to Paris.

Our travel continued one more week in Europe, but my journal ends here. Thank you for reading.
Den Akihiko Okochi August, 2013
---
Thank you for your visit to this page.
Please come back next month.