Let me introduce myself. My name is Hideki Sonoda, and now I live in Bangkok, Thailand. I retired early from work two years ago at age 58, and came here to study at Chulalongkorn University Intensive Thai Program. In March last year, I entered Mahidol University, International College, Master of Management, Tourism and Hospitality.


I used to work here for two and a half years at a branch office of a Japanese travel agent. So I am familiar to the life in Thailand. I also think that Thailand is a predecessor to Japan in the field of tourism. Here, in Bangkok, experienced teachers, like an official guide, travel agent proprietor, airline executive..., teach us practically, while in Japan, tourism is lectured by scholars. For me, being exposed to frontline of tourism is all the more important.


10 survivors were shortlisted out of about 25 young applicants and 1 old Japanese. At the interview, I was asked why I wanted to study here. My motive was simply to verify how right I was in my judgements from time to time in my 36 years experiences. Now only 5 have survived. Trimester examinations screen students out.
I am the only one Japanese. Students are mostly Thais, naturally, and next, Germans. Others are from Denmark, England, America and Austria.
We make groups of two or three, or eight, to make presentation together. My fellows are in their twenties. Naturally I feel I am getting younger. My age 60 is older than any teacher, but only those who have doctor's degree are qualified to teach here. They don't hesitate to be severe even to a senior student like me. Master of management which I belong to is not a place to teach, but a research institute.

Photo: Ajarn (means teacher in Thai) and my fellow students celebrating my 60th birthday.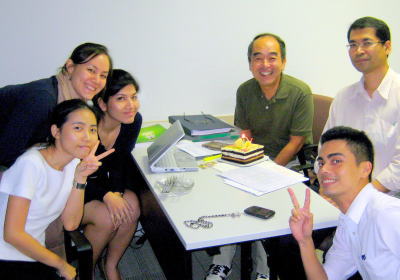 The official language at my school is English. Lectures are done all in English. Teachers are from Thailand, France, Germany, Australia, Hong Kong, and they answer to students' sharp questions with a smile. Students talk to each other in Thai language. One of the benefits of this school is a free meal. I was very surprised to see various Japanese food on the day of entrance examination. I had Sushi, and it was quite delicious. But after that, I have not seen the second Japanese lunch yet. For an Indonesian student, special menu is prepared every day in consideration of her religion. I do not eat three times at school, but this restaurant helps this poor student a lot. In the morning, I eat much vegetable at home, and take lunch at school, and cook for myself in the evening. Pickles, miso-soup, etc., as a traditional Japanese man.
I now live at the back of Jim Thompson House in downtown. Lucky enough that the flood last year didn't reach here, and I felt no inconvenience at all. But a friend who lives in the suburbs could not leave his high apartment for 35 days. He watched the height of the water every day with his binoculars. Only three times he went shopping on boat. The other day I visited that district, and I noticed water marks on the electric poles over 1 meter.

Photo: The boat I ride everyday to and from Library.



By the way, over million tourists visit Thailand from Japan in a year. Attractive points are Palaces, temples and others, but what I think most attractive is Thai people living there. They are the most important tourism asset they have to offer. At first I could not but get angry why these people, Asians like me, think and behave quite differently from Japanese. But gradually I got to understand their way of thinking.Their logic of equality is different from Japanese mentality. If I scold a Thai driver because of his absence without notice and at the same time cut off his wage, then he claims by saying that he was punished twice for his only one failure. I do not know if this logic is good only in Thailand, or common in other Asian countries, I hope Japanese business men who are going to work here would know that Japanese way of thinking is not always predominant here in Thailand.

Well, November came with an unbelievable blue sky as if flooding was an old story. No wonder why this is the month of the most tourists visit here in the year. November is the month of Loi Krathong, which is a festival to thank Water. But after the great disaster, this year's festival was scaled down. Usually, it is as big an event as Songkran, the New Year of Thailand. Tourists see fireworks and lantern floating at the riverside of Chao Phraya, where many renowned hotels in Thailand are located. I am lucky to see lanterns floating on Khlong Saen Saep, very close to my apartment. Couples light the candle, hold the lantern above their head for 1 minute to pray and thank the Water God, and then put it on the water. Free birds to the sky, and let turtles go back to water. Up in the sky, hundreds of air lanterns float. This air lantern is much seen in Chiang Mai in the north, but also we can see them in the World Heritage Sukhothai or Ayutthaya. This is a dry season, and the air condition is stable. So air lanterns make a line as if they are tied all by one string. This is an amazing sight. Last year, in Bangkok, enormously many lanterns were flown. But this year, less.

Photo: a lantern shop, busy preparing for the festival.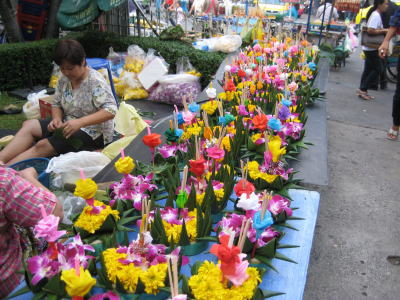 After Loi Krathong, mornings are much cooler and we feel chilly. Now in December, the whole town starts preparation for the King's Birthday. King's portraits are put up, platforms are built, and to the temples all over the country, people go to pray for the health and long live the King, who is 84 years old now. Department stores make Charismas trees.
In the new year of the solar calendar, they do not celebrate as much as Japanese do, but instead they do big celebration of new year in January-February by the lunar calendar.
Migrant workers leave Bangkok and go home. It is just the same in Japanese new year.
On the contrary, Bangkok citizens leave the big city to travel abroad. Any travel agent is the busiest in the year.

Photo: Christmas tree of a department store next to Bangkok Isetan.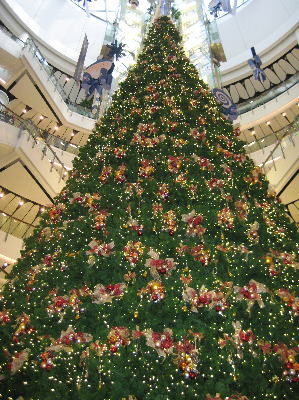 I visited Chiang Sean by myself on November 24. The rainy season was over and the dry season started. Air was fresh and sky was blue. During the day it was still hot, but in the morning and evening, a little cool. In Chiang Sean, people wore jackets. Someone, even mufflers. I was the only one who wore half-pants and sandals on naked feet. I borrow a motor-bicycle and run along mountain sides. It might be a little dangerous for those who are not accustomed to mountain riding. European tourists are also used to enjoy motorcycling but I seldom see any Japanese here. I wear thick when riding. Northern part of Thailand is bordered by other countries, so roads are under strict control of authorities and there are often police inspections. Foreigners are requested to show their passports, but in my case, University ID card will do. Motor-bike is very efficient. The rental fee is THB300 a day no matter how far I drive. Doi Mae Salong, a village where old Chinese soldiers lived, is in the season of cherry blossoms. Around the year end, they are in full bloom. In November, early flowers had started. I have visited many famous gardens in Holland or in Canada. Here in Chiang Rai there is a Royal Garden, which is not yet very famous but the level is a world class.
The setting sun on the border of Myanmar is deep orange or crimson red at this time of the year. Night is blessed with a million of stars, and in the morning we hear the sound of boats sailing in the dense fog over the Mekong. The best of Thailand is in the North. At the end of November, rice fields are harvested. 3 fields our of 4 are reaped by hand of 7 or 8 people, and the other 1 is harvested by a big combine. The rice harvesting view is common to the whole Asia, and I feel at home looking at the scenes.

Photo: Mae Fah Luang Garden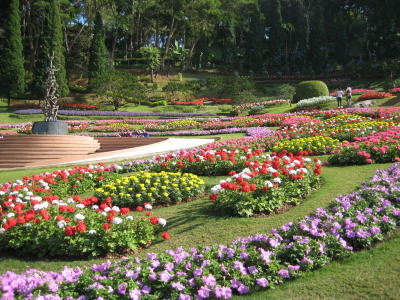 Photo: Hideki Sonoda in

front of Sakura Restaurant on top of the mountain in Doi Mae Salong.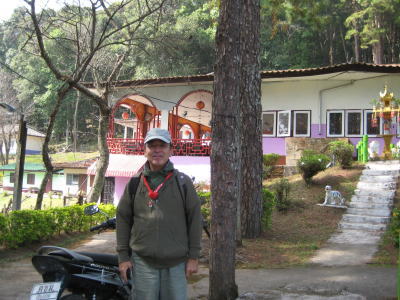 Last year, a wonderful hotel was opened in this Chiang Sean. Rather small hotel with only 52 rooms. Each room is designed well and private bath is attached. Above all, food is delicious here. Small as it may seem, it is as attractive as Yoyokaku in Karatsu. This is my first recommendation in Chiang Sean.
Thank you for reading my letter from Bangkok. I hope I can write to you again someday.