Next year, in 4 months from May to September, the Frazier History Museum in Kentucky has an exhibition titled "Samurai", showing Japanese swords, ornaments of the sword, and armors. Exquisite items will gather here from Japan and all over the world.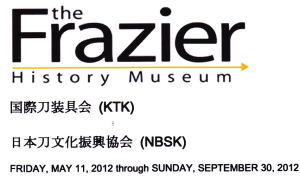 The poster (part)
 I am now making 10 sword racks, ordered by the museum. Mr. Nick Nakamura, who is one of the coordinators of the show, happened to see my rack at Saga Prefecture Museum.
8 years ago, Saga Prefecture Museum was thinking about a new method of displaying Japanese swords. They wanted a simple wooden rack, easy to put together or undo. Mr. Imagawa who is a sword-sharpening professional, and the curator Mr. Takeshita and I talked much about the new style sword-rack, and after 1 year of trial and error, my new woodwork was born.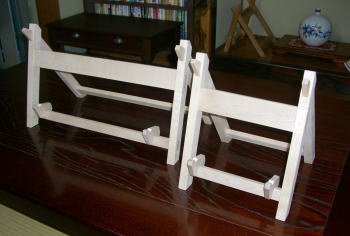 Sword racks, big and small
 I retired from my job as a journalist 9 years ago at the age of 55, and started to study woodworking. The basic skill, I learned at a school in Taku City, and after that I studied by myself with books and magazines in my small studio by the river. Mr. Imagawa's idea was to make me do his experimentation. For me, as a beginner carpenter, it was a wonderful experience.
 To tell everything about the sword rack making will be a bore, so I will briefly state only some points which I intentionally cared about.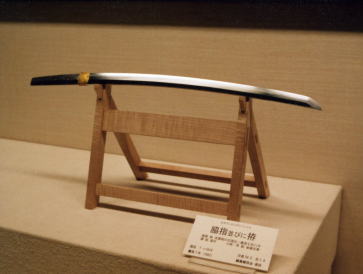 Saga Museum exhibition
First, the star of the display is the sword itself, no need to say. So to show the sword as perfect and as beautiful as it is is most important. The form of the rack must be simple, and so must be the color. It is only a supporter of the star.

Metals or chemicals might harm the sword, so for putting the parts of the rack together, I don't use any nails. Paste, made from rice, is used to unify the wooden parts. Dried Muku tree leaves are used as natural sandpapers.(Aphananthe aspera)
I polish the wood with the dry leaves, and sheen appears on the surface of the wood.
 The most important point for museums is to make this rack as small as possible for the storage space. So my rack can be put apart in some pieces. But for the Museum in the USA, I am afraid the climate is different from Japan, and it will change the wood. So, I fix every part together. In front, I make receivers for the sheath, and put felt cloth on the part where the sword back touches.

Wood is alive even after it is made into some figures. It changes and curves. That makes woodcraft difficult and at the same time interesting.
 The paste to make wood pieces stick together is rice paste, as I said. Cooked rice is kneaded into transparent paste, and this type of glue has been used by Japanese traditional carpentering.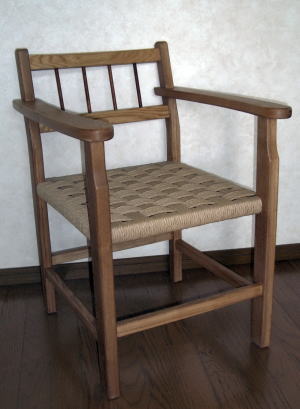 Yoshimi's chair
 Also, the natural sandpaper, Muku tree leaves were used much in old time. Scouring rush, or shark skin were also natural polishers.

 I will finish these sword racks by the year end. and I will use the skill which I learned from making the sword racks for making other furniture.
 Easy things made with plastics or metals are flooding in the cheap shops. But I love natural materials for daily utensils because they are more beautiful and peaceful.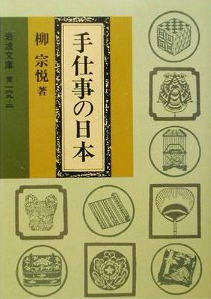 Yanagi's book
 More than 60 years ago, Muneyoshi Yanagi wrote a book on the crafts of Japan. He warned in the book that these beautiful daily things might perish if we are not more careful.
Many of the items in his book have disappeared now. Wooden things are repairable, and they do not harm the circumstances. I am repairing 100 years old small desks, and when I polish the surface, the wood shines as beautifully as a brand new furniture.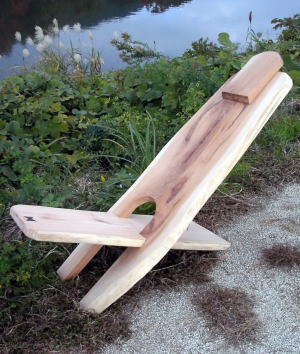 star watching chair

After 10 years of woodworking, I am not yet a skillful carpenter. But someday I will make a work which satisfies myself as a professional.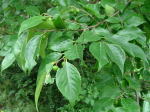 Muku tree leaves