Live Between Korea and Japan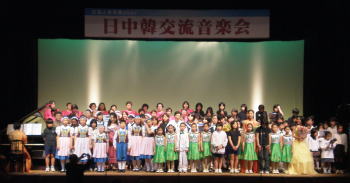 Korea-Japan-China Interaction Concert HwaJun planned



Hello, friends.
This month, too, I would like to introduce you another important friend of mine.
Her name is Yu HwaJun, a Korean lady who's destiny is to live in between Japan and Korea. She calls herself a 'Genkai-jin', meaning 'Genkai Sea people'.
As you may know, the Genkai Sea is the sea between Korean Peninsula and Kyushu, Japan. Yu HwaJun's father was an ambassador, and HwaJun spent her childhood in Fukuoka. At his death-bed, her father said to HwaJun to live a life of Genkai-jin, to build friendship again between Japan and Korea.
So please read how she observed her father's will.


Yu HwaJun
Her 15 years for Korea-Japan Friendship




Yu HwaJun was born in 1953 in Jinju, Korea. From 1954 to 1960, her father worked as the Ambassador in Fukuoka, Japan. She was an active child, among many Japanese friends and neighbors. Her childhood was a happy one, but when she went back to Korea, her Japanese way of behaving herself was disliked by Korean neighbors, and she had a hard time at school too. At that time, Korea and Japan were the nearest, but the farthest country to each other. Unhappy history made this situation, and the two countries had not been friends for a very long time In her highschool days, a kind of anti-Japan education was a general atmosphere, and she gradually began to hate Japan.

After graduation she wanted to go to the USA to study music, but her father forced her to go to Japan. "To overcome the unhappy history, you should study in Japan."
In 1972 she came to Japan again, and worked for the Embassy in Tokyo. HwaJun graduated from Aoyama University in Tokyo, and founded her company 'Jive', and as a journalist, her work covered many Japanese and Korean newspapers and televisions. In 1988, she worked for the Seoul Olympic Games. She thought after these works, she would leave Japan and study in England.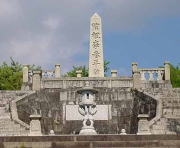 Yi SamPyeong Monument


She made her farewell trip, visiting a porcelain town Arita in Kyushu. Her encounter with a monument there changed her mind ever. It was a monument for Yi SamPyeong, a Korean potter who was captivated and brought to Japan and was made to make pottery in Arita some 400 years ago. The monument said that Yi SamPyeong was the greatest person who lifted Japanese ceramic art up to a high level and that the people of Arita would never forget him.



Note:Yi SamPyeong (died 1655), also known by his Japanese name Kanagae Sanpei (

金ヶ江三兵衛

or

金江三兵衛

) is considered the father of Imari porcelain (Arita porcelain) in Japan. He was born in present-day Banpo-myeon, Gongju, Korean, Joseon Dynasty and abducted by Japanese invaders during the Japanese invasions of Korea along with several thousand other artisans. In 1616, he discovered a Kaolin deposit on Izumiyama mountain in Arita, effectively starting the porcelain industry in Japan. He is honored in a Shinto Shrine, Sueyama-Jinja as the Father of Arita porcelain. (from Wikipedia)


HwaJun was shocked, because her understanding was that the Korean potters who were captured at the time of Shogun Hideyoshi's invasion to Korea were forced to live a miserable, worst life in Japan like as slaves. But, here, in Arita, Yi SamPyeong became a God, and was still now much adored. Is this a fact?

In 1990, she came to Arita again to make three hi-vision programs for a TV company. Before she goes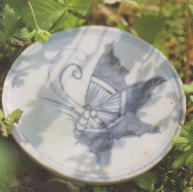 The butterfly
photo from Kyushu-Ryu
away, she will leave a message of this history.
Another item that made her think that the Korean potters were not necessarily unhappy was a small porcelain piece found in the site of an old kiln. The piece had a butterfly design on it, and the butterfly was so graceful and delicate. If the potter was very unhappy, this could not be drawn." Something free is here......." and she noticed that the Korean potters themselves were the Genkai People who lived between Korea and Japan.

She moved and started to live in Arita, and she founded "The Genkai-jin Club" in 1994. The idea of this club is to be a bridge between Korea and Japan. Her motto is "Effort to let it known, Courage to know it". The first thing she did was to send Japanese books to Korean universities where Japanese language is taught. In her community in Arita, she taught Korean language, cooking, and wrote for local newspapers about Korean culture and traditions. Doing these things, she got to know how many things are in common both to Korea and Japan. For an example, in both countries, there is a tradition of Mochi-Fumi (stepping on rice cake) for a baby who became 1 year old. After making the baby step on a big rice cake, then the baby crawls and catches something among the items laid in a far corner of the room. Pen, calculator, ball, doll, etc....
What the baby first takes tells her future, parents think. HwaJun herself seized a PEN! The fortune telling was right.

The population of Japan is 120,000,000 and Korea, 70,000,000. If these people have one mind, there would be no misunderstanding nor conflicts.
"In my generation, it would still be difficult, but maybe children's or grandchildren's generation, it might come true. Then how happy I would be." HwaJun smiles.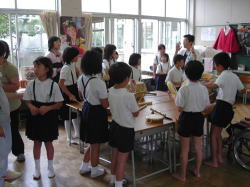 HwaJun teaching Korean culture
to Japanese children
These days, Korea and Japan's interactions are so popular. Movies, TV drams, cooking, etc. make both countries get closer. Korean language is a boom, and many Japanese people like Kimchi at table. This might be a chance to start to know each other. But if you are going to Korea for sightseeing, you must at least know some history or culture before going. And for it, you must know first about your own country.
"I am making a mere chance to be a Genkai-Jin, and my daughter might become a true Genkai-Jin." HwaJun says.
Her daughter, whose parents are Japanese and Korean, answers, "Mom is a try-to-be Genkai-Jin. and I am a born-to-be Genkai-Jin."

HwaJun's father's will will go through HwaJun to her daughter, and she surely will explore a way of 200,000,000 Genkai-Jins.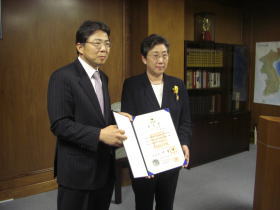 Mr. Kim, Consul General and HwaJun

Yu HwaJun recently received a Korean National Order of Pomegranate for her 15 years' effort to make Korean culture known in Japan. I was invited to the reception, and I was so proud of my friend.
I hope you liked this story.

HwaJun is now also working as the priest of United Church of Christ in Japan in Takeo City, Saga Prefecture.
Her prayer is always with us.

See you next month!



---