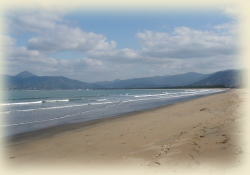 Beach
A skinny asphalt road, one car wide, leads to Yoyokaku. The ryokan, a traditional Japanese inn, is a few blocks off one of Karatsu's main drags on the island of Kyushu. Once you're there, it's only a few more blocks to the coastline – a wide stretch of beach that's a ribbon upon the edge of Niji No Matsubara, the pine forest on the north side of town where the trees lean away from the ocean, windswept.
To enter the inn, you pass through thick pine doors and step into a long foyer. There, in low light, the cold granite floor ushers you toward two steps, where you leave your shoes and slip on a pair of auburn leather slippers. To your left, a small wooden bench awaits guests who are invited to a tea ceremony in the hallowed tearoom beyond. To the right of the steps, a room of shelves stores the shoes of the inn's guests. There are 20 rooms in all, and slots for many shoes.
Before you, there are smiling faces. Miyoko-san bows and sometimes even kneels, greeting you with her quiet enthusiasm. Den-san and his wife Harumi-san, the innkeepers, ask you how you're feeling. They grab your luggage and whisk you into the fine interior.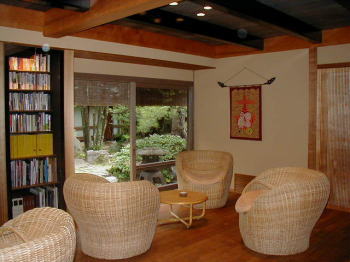 Lobby
The lobby smells of Japanese Cyprus. Though the inn is more than 100 years old, the smell is both old and new. Crisp and fragrant. Clean and cool. Not clean like cleaning supplies, but of lightly scented dried flowers and wood. The inside feels of outside – it is mountain-air refreshing.
You shuffle to your room along the pinewood corridors. The walls are windows, and you are two steps from the garden – a habitat pristine and perfected. Large granite rocks are surrounded by neat, dry grass, and manicured, pruned pine trees whose every dead needle has been plucked from the branches. Waterways carve their ways under the corridors of the inn and through the gardens, home to koi that hide in clusters, their orange bodies glimmering through crystalline water above rocky pool floors.
After creeping up the steep staircase in the rear of the inn you see your quarters. The door swings silently toward you, and Miyoko-san greets you in the entrance. You leave your slippers in the arc of slate floor tiles and step barefoot onto the woven Tatami mats. To your left, a shelf houses a bulbous clay vase, out of which a single flower hangs in a delicate arch. A light shines a pale spotlight upon it.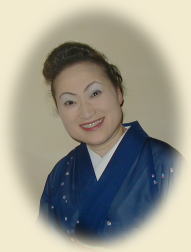 Miyoko
Miyoko-san escorts you through the canvas screen door, where you behold your temporary retreat. Tatami mats quilt the floor. In the middle of the room, a low coffee table tops a heated blanket, which is threaded between the tabletop and its legs. The makings for hot green tea await, alongside light crispy cookies. You slide your legs beneath the heated blanket and relax. Miyoko-san pours you tea and inquires about your dinner plans, then leaves you to unwind.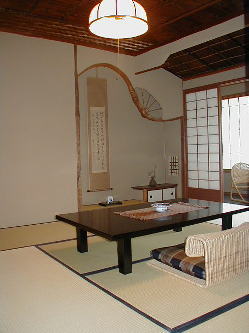 Tokonoma
A raised alcove in the right-hand wall is the room's focal point: the tokonoma, meant for displaying a hanging scroll and a single piece of art – usually pottery or a flower arrangement (Ikebana). Modeled after the shrines in Zen temples, it invites meditation and a sense of reverence for your environment.
The room is otherwise spartan – a box-shaped wood and paper lamp hangs in the center of the ceiling. Straight ahead, an auxiliary room, much like a porch, houses your robes, toe socks, futons and goose-down comforters – your bed sandwiches – which a staff member will roll out for you before your bedtime (which she'll magically sense without your need to announce it).
You are home.
Breakfast at Yoyokaku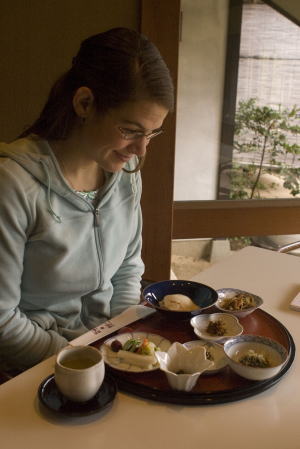 Breakfast
Many of us are not used to fish for breakfast. But like many meals in Japan, breakfast at Yoyokaku makes you crave fish more than cinnamon buns, and rice, not granola.
The Japanese collective palette is not one for sweets, and breakfast at Yoyokaku is in no way sweet. It begins with a parade of dishes. First, eight dishes are placed side by side on a rhombus-shaped tray, each small enough to cup in your hand, and some only large enough to hold a dollop. The eight dishes that fit on the tray are followed by four or five others that didn't fit, and by green tea.
In the mélange of ceramic bowls on the tray, you find the following:
A pile of fresh seaweed faintly flavored with vinegar and sprinkled with shaven flakes of dried bonito (fish)
Marinated slivered burdock root and carrot
A salad composed of a grape tomato, a single broccoli floret, a bite of green leaf lettuce, slivers of Japanese radish called daikon, and a bite of potato salad, topped by the Japanese version of Thousand Island dressing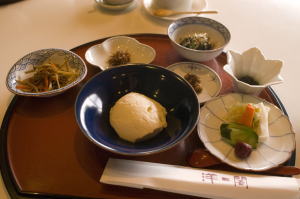 Part of menu
A perfectly rounded mound of white rice
In a lacquer-ware bowl with a lid:
miso soup with chives
In silver dollar sized dishes:
A dollop of marinated barley and seaweed
A pile of tiny dried fish, each the size of a rosemary needle
Pickled items: half of a cucumber slice, a bite of carrot, cabbage and a miniature plum
These items are followed by:
A savory egg custard with a shrimp and a tofu skin, served in a custard dish (a tea cup with a top)
A shallow blue bowl of extremely soft, locally made tofu, which is almost as silky as pudding
A flattened, dried, salted fish marinated in a sweet soy sauce and sesame seeds and fried such that you can eat the bones, too; served with a lemon slice
A slice of omelet marinated in broth
A bowl of barley porridge
Beside the tray is a pair of wooden chopsticks and a small wooden rectangle, on which your chopsticks rest when you do.
That number of dishes for breakfast, or for any meal, seems absurd, but the portions are dainty. The presentation is meant to enhance your appreciation for the ceramics and for the tastes, both individually and as a collective experience. You will cup each dish in the palm of your hand as you take bites only as large as your chopsticks can muster. Many of the dishes used at Yoyokaku are handmade by nominated living national treasure Takashi Nakazato, a 13th generation potter from Karatsu, and his son Taki-san, who produce their work at an expansive studio on the outskirts of town, Ryutagama. Yoyokaku itself features three display rooms for the family's works – two rooms hold Takashi and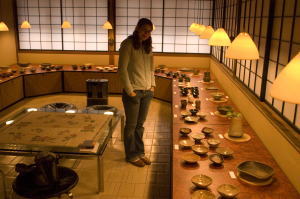 Display room #1
Taki's ceramics, and one room is devoted to the plates, bowls and vases of Takashi's daughter Hanako. Many guests of the inn find it worth their time, after perusing the galleries at the ryokan, to nose their way to Ryutagama for a tour of the studio, followed by a study of the ceramic selections at the on-site showroom.
For the faint of heart, there is an alternative to the traditional Japanese breakfast at Yoyokaku – the American breakfast. But for that, you must warn the staff the day before, so someone can run into town to buy bread for toast. That less exotic option comes with jam, eggs and coffee.
The traditional meal – served between 8 and 9 a.m. in the cafeteria-style room in the rear of the inn overlooking the garden – is a lot to handle. Even so, you'll be hungry for lunch. Somehow there's always room for more when you're eating Japanese food for the first time, and you know you'll have to fly away from it one day soon.
A Bath At Yoyokaku

It is hard to imagine a better way to end a day than to peel off one's clothes, wrap up in a robe, slip on slippers and shuffle over to a steaming bath.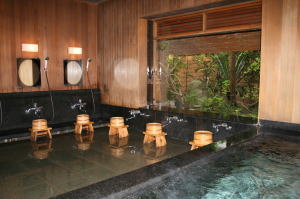 Group bath for men
Group hot baths in Japan are practically a cultural institution and fill a niche in society somewhere between daily bathing ritual and tourist attraction. Japan's islands are volcanic and peppered by natural hot spring resorts called onsen. Where there aren't natural hot waters, you'll easily find bathhouses where you can pay a few dollars to bathe in the group bath for your gender. Some have saunas, too.
At Yoyokaku, there are group baths for men and for women amidst the maze of pottery gallery rooms on the first floor. Drawing back a tall linen curtain leads you to the door to an outer bathroom full of amenities. You drop your slippers there. Step into the room, and along the left-hand wall you'll find a wooden cabinet full of cubbyholes, which have baskets for your robes and personal effects. Tall mirrors line the walls above four pristine sinks. At each sink is a wicker stool, and between the sinks are small ivory combs, Qtips and lotions for your enjoyment. Small "decency" towels lie fresh and folded on a table along the right-hand wall, which is full of windows that look out over the bath. Beside the towel table is the door to that oasis.
Just before stepping through that door the cool air pricks your skin and makes you tiptoe across the cool slate floor tiles. But as soon as you slip into the next room, you are engulfed in warmth and steam. Silence deafens the ears but for the soft sound of hot water trickling steadily into the large bath to your left.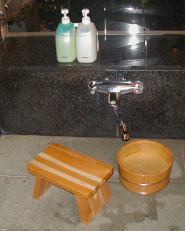 bucket and stool
Etiquette requires you to bathe before you bathe. To your right, four mini shower stations line the wall, each equipped with a wooden bucket and stool. You pull up your foot-high seat to the station, which has a spigot with hot and cold-water levers and a showerhead on a hose. It's your choice, but many men and women will bathe by filling their bucket with water and then pouring it over their heads, repeating the act until they feel clean enough or much more than that. Large bottles of creamy white liquid soap and black licorice shampoo aid each station.
Across the room is the hot bath, a deep rectangular basin of black marble with exact angles and perfectly clear water. A spigot at the far side of the basin replenishes the water continuously, while the extra flows seamlessly out a hidden drain hole. Thus, the water is always piping hot – almost too hot as it gently sears your skin, leaving you soft and pink upon your exit. Depending on how busy the season, you may or may not be alone there. Either way, the quietness allows you to turn inward and release the day's worries, or to share pleasantries, or intimacies, with a companion.
You are ready to submerge yourself – immerse yourself – in the beckoning, scalding bath that is the room's allure. A plunge into it and a gasp, then you can relax, rest, hover and breathe for moments, maybe minutes, letting your muscles release from their tightened bunches, before you crave the reprieve of a cool drink.