Nakazato Takashi
A Potter Who Smells Like Clay

Darren Damonte
Ceramic Artist-Owner , "Bistro Damon-tei"



In the world of ceramics, sometimes we must ask the question. "Did that person really make that pot?" I think that this is the exception rather than the rule, however. In almost every case, the personality of the creator inevitably seeps into his or her work..

I think that Nakazato Takashi and his work exist in just that kind of symbiotic relationship. We look at his work, hold it in our hands, and use it to eat food. Then from somewhere, we hear the laughing voice of Nakazato-sensei himself. On the other hand, if we are lucky enough to get a chance to share a drink with him, we listen to his stories and laugh together with him. Then we realize that he is a natural phenomenon, born from the earth just as he is, and faintly smelling of clay.

Simple, but at the same time rooted in a firm foundation, and possessing great depth. Front and back, corners are never cut, but nothing is belabored more than necessary either. Vibrant and always lively. Respectful of tradition, but not afraid of adventure. Never putting on affectations, but always a strong presence. Like a sunflower always following the sun, always cheerful. Comes to life even more when accompanied by fine wine andgood food.

Makes life more fun.

In writing these words, I've lost track myself of whether I'm describing Nakazato the person, or his pots. I suppose the above description applies to both. That is the wonderful appeal of the world of Nakazato Takashi.

One time Nakazato was making work at the Shigaraki Ceramic Cultural Park. A few weeks later I was scheduled to fire the climbing kiln there with some friends. Nakazato energetically created a number of large jars, but when they were finished, we realized that they wouldn't fit into any of the kilns there. The only place they would fit was in the top chamber of the climbing kiln I was planning to fire.

"Sensei, do you want us to fire those jars for you?"
Without thinking, I frivolously assumed a weighty responsibility.

We finished the first part of the firing successfully, and then began to fire the last chamber with Nakazato's four large jars in it. After some time, I peeked into the white-hot kiln. I was surprised to see no sign of the four jars, which a few minutes before had been standing there deflecting the flames. Where did they go?

The raw jars had absorbed the steam from the lower part of the kiln, developed cracks, and slumped and collapsed onto the kiln floor. Our inexperience had caused a disaster for Nakazato-sensei.

With great trepidation, we telephoned him. "Umm... uhhh..." We explained what had happened.

"Oh, is that so? I guess we should have bisque fired those jars after all! Well...thanks for trying!"

Even though we had destroyed the jars on which he had spent so much time and energy, Nakazato-sensei never showed even the slightest bit of irritation. To the contrary, he laughed about the accident and moved on.

Nakazato Takashi is one of the giants in the world of ceramic art. He had the strength to show a smile under any circumstances. The man and his works are enveloped in an aura of magnanimity. Nakazato Takashi is an artist I will always respect.




variety of soy-sauce servers
from different kilns in different countries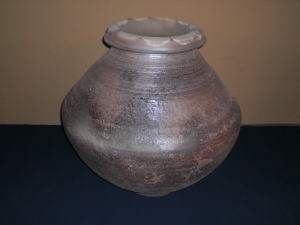 Big Jar made at Anderson Ranch Art Center
height: 64cm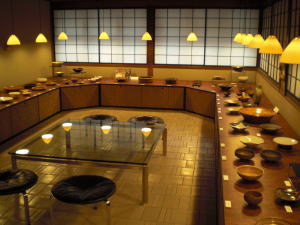 Show room #1 for pieces made in the USA

Show room #2 for Denmark pieces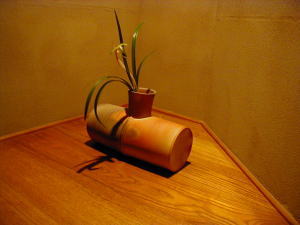 Vase made in Denmark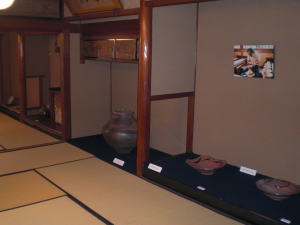 Show room #3 for Karatsu and Tanegashima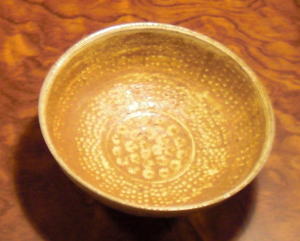 Terra sigillata "Mishima" bowl
made at Anderson Ranch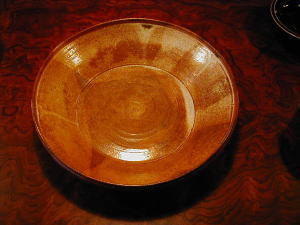 Acero Gglaze plate made at Anderson Ranch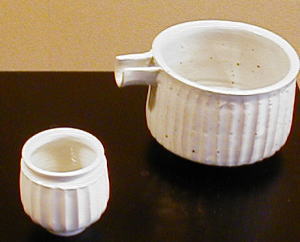 Leach White glaze pitcher and sake-cup
made at Anderson ranch